Lake Bemidji, Minnesota, USA
Lake Locations:
USA - Midwest - Minnesota - Northwest -
Also known as:  Bemidji Lake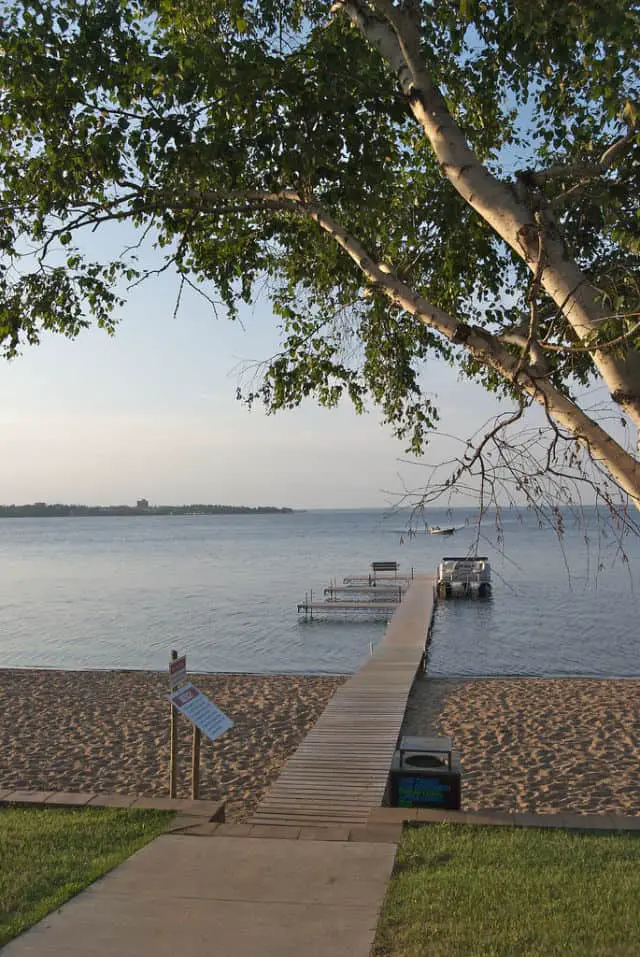 A cornucopia of soothing sound, rejuvenating sights and the invigorating scents of nature at work, Lake Bemidji is one of Minnesota's natural gems. A destination in any season, the lake area offers snowmobiling and cross-country skiing in Minnesota's snowy winters. Spring comes with an announcement of blooms, particularly in the area's tamarack bog. Lady's slippers, pitcher plants, dragon's mouth, orchids, grass pink and insect-eating sundews spiral upward to greet the curious hiker. Summer is the season when fun knows no end. Swimming, boating, fishing, bird watching, hiking, camping, biking and picnicking are all available at the Lake Bemidji State Park at the upper end of the lake. And who can miss out on a Minnesotan fall, when trees shed brilliant red-and-gold glories in preparation for the winter slumber.
Lake Bemidji State Park is a result of Minnesota's last glacial age. It is a rolling landscape of swamps and bogs highlighted by the deep and clear Lake Bemidji which sprawls over 6,000 acres. The Mississippi River cutting diagonally through the lake earned a name from the Anishinabe people – "Bemidjigamaag" – which simply means "lake with crosswaters." Although Bemidji Lake is natural, its waters were harnessed for hydropower in the early 1900s with construction of a dam on the Otter River. Today, the Otter Tail Power Company operates two hydro units that originally went into operation in 1907.
Lake Bemidji's ecosystem is a fertile one found in Minnesota's Northwest region where the prairie grasses merge into the North Woods. Deer, porcupine, squirrels, chipmunks and black bear habituate Bemidji's wilderness. The sounds of frogs, owl, woodpeckers, warbling vireos, and the haunting call of loons engross visitors in the world of the wild. Ospreys, herons and eagles can be seen on the lake and are some bird watching favorites to look out for.
At the park, the year is full of inviting programs that range from boating and hiking tours, evening films, campfire talks, candlelight skiing. Winter offers opportunities to learn about winter wildlife, animal tracking and what life is like under the ice. The Visitors Center often features exhibits about the animals and geology of the area.
Take to the water with your fishing gear. Lake Bemidji is a great fishery for walleye, muskie, northern pike and perch, so don't be surprised if you catch a trophy size.
The Bemidji area, at the headwaters of the great Mississippi River, is a perfect place to get away. Its wildly beautiful nature scenes will invigorate your senses. Although relatively far from any major metropolitan area, there are still many things to do. The city of Bemidji, situated on the southwestern shore of Bemidji Lake, offers many lively cultural and entertainment opportunities. Take a walk on the Bemidji Sculpture Walk made up of sculptures, murals and art galleries in the historical downtown area. Be sure to check out an unforgettable play at the Paul Bunyan Playhouse or take a seat at the Wild Rose Theater, a theatre dedicated to themes about women. Enjoy scheduled folk music performances in various coffee shops and restaurants or take in the Bemidji Symphony Orchestra.
Covered wagon rides, sleigh rides, a visit to a traditional woollen mill, berry picking on a charming farm or trip to a pow-wow will bring magic to your Lake Bemidji experience. Real estate options abound in the area; for such a beautiful and dynamic part of Minnesota, you might want to relocate. Vacation rentals range from large family homes to rustic cabins and are definitely worth the while. Imagine spending a perfect winter, summer, fall or spring with so much beauty, adventure and a world of learning at your fingertips. Immerse yourself in all that Lake Bemidji has to offer and don't forget to take that special walk down the boardwalk into the bog where you witness the unique genius of nature and refresh your spirit.
Things to do at Lake Bemidji
Vacation Rentals
Fishing
Boating
Swimming
Camping
Picnicking
Cabin Rentals
Hiking
Biking
Cross-Country Skiing
Snowmobiling
Wildlife Viewing
Birding
State Park
Fish species found at Lake Bemidji
Muskellunge
Northern Pike
Perch
Pike
Walleye
---
Lake Bemidji Photo Gallery
Lake Bemidji Statistics & Helpful Links
Spread the word! Share our Lake Bemidji article with your fellow Lake Lubbers!