Lake Harris, Florida, USA
Lake Locations:
USA - South - Florida - East Central -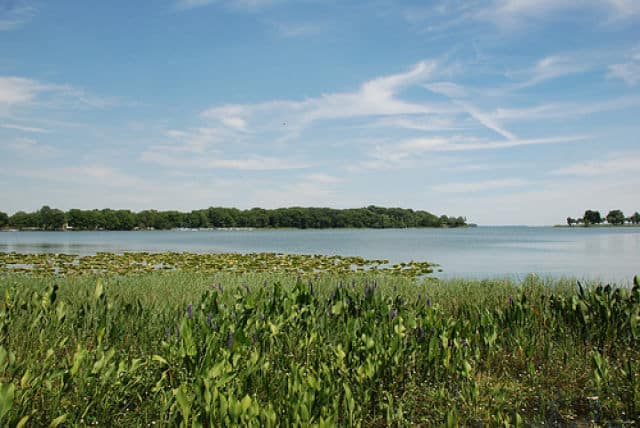 Lake Harris, located in Lake County, sits atop an enviable central Florida location, only 31 miles from Disney World, Sea World, Universal Studios, and all Orlando has to offer. One of the lake's most unique features is its shape: from the air, the lake is shaped just like China. But have no fear, it's hardly as large and you'll be able to traverse a reasonable number of its impressive 13,788 acres during your vacation.
Lake Harris is the namesake for eight lakes that comprise the Harris Chain of Lakes: Lake Harris, Little Lake Harris, Lake Eustis, the East Lakes (Dora, Beauclair, and Carlton), Lake Griffin, and Lake Apopka. A mixture of private residences, citrus groves, and wetlands comprise the eastern and southern shores of the lake, while the north side of the lake is a mixture of commercial, industrial, and private uses. The city of Leesburg is on the northwestern shore of Lake Harris.
Lake Harris has two public boat ramps, one at the western end of lake, the other located in a county park on the southeastern side. Boaters can also access Lake Harris from Lake Eustis and from the Palatlakaha River, offering scenic rides through cypress trees with abundant wildlife and prime fishing. Power boats, sailboats, and fishing boats share Lake Harris waters.
Because of its large size, Lake Harris waters become rough during high winds. Recreational boaters and anglers find respite at Little Harris Lake when waves are too rough on Lake Harris. Little Harris Lake, with 2739 acres, is located at the southeastern end of Lake Harris, divided only by the State Route 19 bridge. The hills around Little Harris Lake are a mixture of residential development, citrus groves, and wetlands.
The St. Johns River Water Management District (SJRWMD) operates a series of dams in the Harris Chain of Lakes to stabilize water levels. The reduction of normal water level fluctuations, draining of marshes for farming, and runoff from agricultural, municipal, and commercial sources over many years led to the decline of fisheries habitat in the lakes. The SJRWMD's 5-year restoration plan has significantly improved water quality in the Harris Chain of Lakes. The clean-up has been a cooperative effort between SJRWMD and federal, state, county and local governments, citizen support groups, and environmental organizations.
Lake Harris is humorously and lovingly called "The Mountains" because of its topography. Unlike the notoriously flat Greater Orlando area, the lake area is hilly and punctuated with cypress trees. This is a nice break from the surrounding flat terrain, and provides a safe haven for some beautiful flora and interesting fauna.
Nature photographers, rejoice, for Lake Harris is what you've been looking for. Blue waters framed by equally blue skies, swooping bald eagles and hawks, and long Kissimmee reeds providing the perfect hiding place for bullfrogs, toads, and other adorable creatures. And even if a camera isn't one of your favorite accessories, you'll still enjoy the towering cypresses, jumping fish, and singing birds.
Lake County is well regarded as a premier fishing destination in the southeastern United States. In fact, Florida has been nicknamed "The Fishing Capital of the World" by the satisfied anglers who come to drop a line in year after year. If you find yourself lucky enough to be sitting in a fishing boat, trolling down Lake Harris, prepare to reel in mostly black crappie and largemouth bass with the occasional bluegill, redear sunfish, and sunshine bass.
Even if you don't fish, you owe it to yourself to take a boat out onto the lake and investigate the coves, dip your feet into the cool waters, and simply enjoy the sun on your face as you enjoy the bountiful nature that makes Lake Harris its home. For that's what a vacation at the lake is all about: wind in your hair, water between your toes, and a few days that you will never forget.
Things to do at Lake Harris
Vacation Rentals
Fishing
Boating
Sailing
Wildlife Viewing
Birding
Fish species found at Lake Harris
Bass
Black Bass
Black Crappie
Bluegill
Crappie
Largemouth Bass
Redear Sunfish (Shellcracker)
Sunfish
Sunshine Bass
---
Lake Harris Photo Gallery
Lake Harris Statistics & Helpful Links
Spread the word! Share our Lake Harris article with your fellow Lake Lubbers!