Lake Griffin, Florida, USA
Lake Locations:
USA - South - Florida - East Central -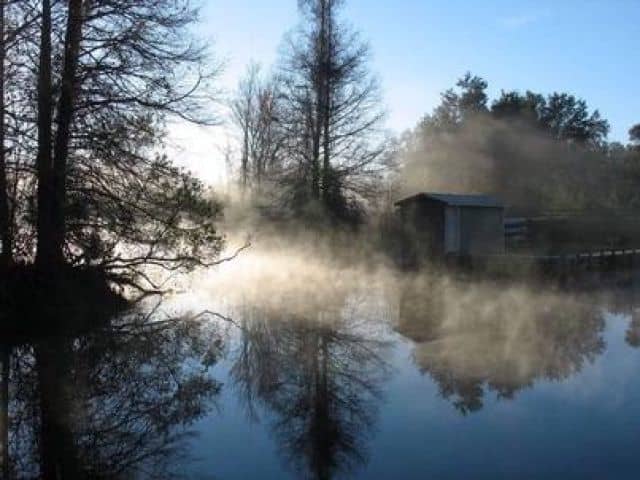 Headwaters of the Ocklawaha River, 9,500-acre Lake Griffin offers a bit of everything to Harris Chain of Lakes visitors. The long, shallow lake is the terminus of the chain which includes Lake Harris, Little Lake Harris, Lake Dora, Lake Beauclair, Lake Carlton, Lake Eustis and several canals. Mostly suitable for smaller boats, the Chain has heavy boating activity during nice water, including power boats with water skiers, pontoon boats, bass boats, canoes and kayaks. Lake Griffin has far more natural shoreline remaining than other lakes in the Chain. That means one's chances of seeing wildlife in their natural setting are better, making it a favorite of photographers and nature lovers.
The Harris Chain of Lakes is enhanced for boat travel with several dams and locks maintaining water levels and providing passage for small boats. The Moss Bluff Dam on the Ocklawaha River keeps Lake Griffin's water levels stable. A system of lighted directional signs guide boaters through what can appear to be a labyrinth of waterways in some areas. Several fueling locations on the bigger lakes assure boaters will have adequate fuel for a day of fun on the water. Two marinas on Lake Griffin offer slip space, supplies and fishing necessities. Several boat launch ramps allow public access to the water, and a number of private resort docks will permit launches for a small fee. The lake has for many years been a well-known location to spend a week at a fishing resort where a guide will assure that visitors catch some of the 'big ones'. Increasingly, these fish camps are becoming popular with paddle sports fans who wish to enjoy the local flora and fauna. Many Florida residents claim they saw their first alligator here, no doubt because many areas of the shoreline remain wetlands. The Haynes Creek Canal leads boaters to Lake Eustis to the east.
The Lake Griffin State Park and Recreation Area treats campers to a small campground with few modern campsite amenities but does provide copious amounts of shade under live oaks. In fact, one of the nation's oldest live oaks holds an honored place in the park. Canoes and kayaks can be rented in the park with which to reach Lake Griffin down a short channel. A number of walking trails can be enjoyed through the recreation area. For those wishing to get away from the noise of the larger Florida vacation spots, Lake Griffin State Park offers a welcome respite.
Two small cities share portions of the shoreline: Fruitland Park and Leesburg both hold a small corner of the western lakefront. Both have fishing piers and boat launch facilities. Fishing is popular on the lake, with largemouth bass attracting the most attention. The lake also holds crappie, bluegill, catfish and sunfish, favorites among the youngsters. Both towns offer supplies, needed services, shopping and entertainment. Both offer parks and walking trails so residents and visitors can get out and enjoy the outdoors.
Lake Griffin has suffered for several years from poor water quality, but that is changing. Early efforts at drainage for farming purposes and development upset the balance of water in many areas. Early channelization of creeks for water transportation and dams to stabilize water levels also aided in a decline of water quality and the natural flushing action of wetlands and swamps. Recently, concerns about lowered water levels led to the realization that, either there was less outflow coming from the lakes into the rivers or that the previous flows had been improperly measured. Larger populations have lowered the water tables in some of Florida's aquifers in recent years, and those aquifers exchange water with many of the lakes under certain circumstances. Several recent years of drought have compounded the problems.
Studies showed the lakes were receiving too many nutrients from farm run-off leading to degraded water quality. Years of study convinced the St. Johns River Water Management District and its local partners to apply for grants from federal and state governments to buy much of the farmland near both Lake Griffin and Lake Apopka to the south. Allowing those lands to revert to natural wetlands have begun to clean the lake naturally, and water quality is steadily improving.
Several natural areas near the lake offer excellent bird-watching opportunities. Covering a large area near the lakeshore at the entrance to the Haynes Creek Canal, the Emeralda Marsh Conservation Area preserves over 7,000 acres of restored wetland eco-systems. Restoring the previously drained farm and pasture land to its natural condition allows the marsh to filter the water from Lake Griffin, resulting in better water quality. In the process, several types of wetland ecosystems have developed, attracting a treasure trove of wildlife and birds. A 4.3-mile elevated drive through the conservation area was constructed on top of the dikes in the treatment marsh; it allows observers to see the birds and wildlife in their natural habitat without disturbing them. The Bourlay Historic Nature Park in Leesburg preserves both a historic steamboat landing on Lake Griffin, an old "shotgun-style cracker house" and an additional 88-acre section of natural habitat along the lake open to the public for picnicking, trail walking mountain biking, kayaking and bird watching.
Hotel and motel lodgings are available in Fruitland Park and Leesburg, while fish camps, resort cabins and private rental home offer weekly rentals. Several RV camps and assorted campgrounds join the State Park in providing camp space for more mobile visitors. Some real estate is available, usually in the form of existing homes and cottages, often on the lakefront. There's plenty to see here and plenty to do, even if boating and fishing aren't your hobbies. A camera is a must as are good hiking boots suitable to a wetland environment.
Things to do at Lake Griffin
Vacation Rentals
Fishing
Boating
Canoeing
Kayaking
Water Skiing
Camping
Campground
Picnicking
Cabin Rentals
Hiking
Biking
Wildlife Viewing
Birding
State Park
Shopping
Fish species found at Lake Griffin
Bass
Black Bass
Bluegill
Catfish
Crappie
Largemouth Bass
Sunfish
---
Lake Griffin Photo Gallery
Lake Griffin Statistics & Helpful Links
Spread the word! Share our Lake Griffin article with your fellow Lake Lubbers!