Lake Harriet, Minnesota, USA
Lake Locations:
USA - Midwest - Minnesota - Minneapolis-St. Paul Metro -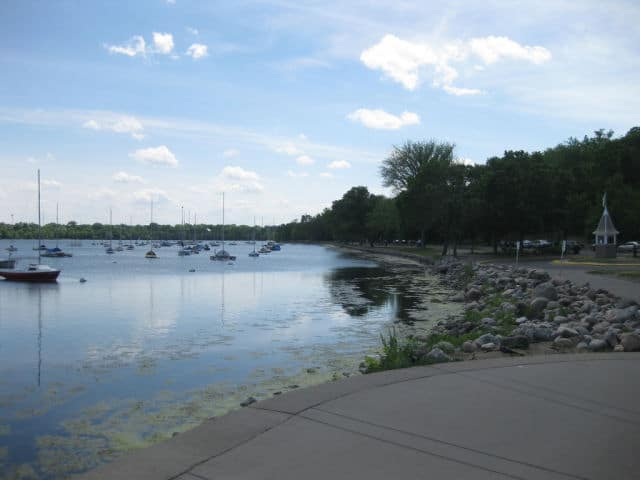 Part of the Minneapolis Chain of Lakes, Lake Harriet is located in the southwest part of Minneapolis. This 353-acre lake, which has a maximum depth of 25 feet, is a very popular recreation spot for local Minnesotans. It has two beaches (North and Southeast), biking and walking trails, sailing, and is part of the trail and parkway system that connects to Lake Calhoun to the north. Situated in the Minneapolis-St. Paul Metro Region, Lake Harriet is surrounded by parkland and scenic roads.
Lake Harriet was named for Harriet Lovejoy who came to the area in 1819 with her husband Colonel Henry Leavenworth who fought in the War of 1812. He also has the distinction of having had Fort Leavenworth in Kansas named after him as well as Leavenworth Penitentiary. The lake and surrounding land were owned by Colonel William S. King who donated it to the City of Minneapolis in 1885.
Lake Harriet is located on the Grand Rounds Scenic Byway, which connects with Lake Calhoun to the north and with the Minnehaha Creek trail system to the southeast. The Grand Rounds Scenic Byway is a series of parks in Minneapolis that wind through the city and includes paths for cars, pedestrians, and bikes. Created in the 1930's as part of the Civilian Conservation Corps projects, it is about 50 miles long and includes seven districts. Lake Harriet connects to the Minnehaha district and is part of the Chain of Lakes district. Designated as a National Scenic Byway in 1998, the Grand Rounds are considered one of the most significant examples of an urban byway in the country.
Lake Harriet, which is known for its 2.99 miles of bike trails and 2.75 miles of walking and running trails, is also popular for water activities and summer concerts at the famed Bandshell. This concert pavilion was first built in 1888 and then rebuilt several times over the years due to destruction by fire and wind. The current Bandshell was completed in 1985 and hosts numerous concerts throughout the summer months. Other parks in the area include Lyndale Park and the Thomas Sadler Roberts Bird Sanctuary. Adjacent to the bird sanctuary and part of the Lyndale Park Gardens is the Peace (Rock) Garden. Other Gardens include the Rose Garden, Annual/Perennial Garden, and Perennial Trail Garden.
Amenities at Lake Harriet include a boat dock, parking, restrooms, playgrounds, drinking fountains, two fishing docks, picnic area, and tennis courts. When fishing the lake, expect to catch black crappie, bluegill, golden shiner, green sunfish, hybrid sunfish, largemouth bass, muskellunge, northern pike, pumpkinseed sunfish, walleye, white sucker, yellow bullhead, and yellow perch. Refer to the Fish Consumption Guidelines on the Minnesota Department of Natural Resources website below.
Lake Harriet is also home to some of the area's most palatial homes. The Lake Harriet Trolley travels from the lake's northwest corner. The west side of the lake is part of the historic Como-Harriet Streetcar Line that runs from Lake Harriet to Lake Calhoun. Hop aboard for an old-fashioned ride on a streetcar through some of the prettiest neighborhoods of Minneapolis.
As one of the largest lakes of the Chain of Lakes, Lake Harriet is a known as a sailing lake with plenty of room to let out the sails and glide along on a relaxing afternoon. There are limited vacation rentals in the neighborhoods around Lake Harriet if you want to stay for longer than an afternoon. Whether you want to get away for the day or for the month, Lake Harriet offers plenty of outdoor activities in an area known for its natural beauty.
Things to do at Lake Harriet
Vacation Rentals
Fishing
Boating
Sailing
Swimming
Beach
Tennis
Picnicking
Hiking
Biking
Playground
Fish species found at Lake Harriet
Bass
Black Bass
Black Crappie
Bluegill
Carp
Crappie
Largemouth Bass
Muskellunge
Northern Pike
Perch
Pike
Pumpkinseed
Sucker
Sunfish
Walleye
Yellow Bullhead
Yellow Perch
---
Lake Harriet Photo Gallery
Lake Harriet Statistics & Helpful Links
We strive to keep the information on LakeLubbers as accurate as possible. However, if you've found something in this article that needs updating, we'd certainly love to hear from you! Please fill out our Content Correction form.
Looking for the Lake Harriet forum?
For years, we offered LakeLubbers visitors the option to create an account, vote on favorite lakes, edit lake descriptions and participate in forums.
In 2021, we embarked on a major site overhaul with a new content database system. While the result is a modern and faster site which is now optimized for both desktop and mobile users, it also meant we had to put account options on hold and take some time to reevaluate ways to interact with our visitors. 
We hope you'll stick around and see what's new here, and of course, we still welcome your comments and feedback regarding anything on LakeLubbers! You can do that here.
Spread the word! Share our Lake Harriet article with your fellow Lake Lubbers!