Lake Calhoun, Minnesota, USA
Lake Locations:
USA - Midwest - Minnesota - Minneapolis-St. Paul Metro -
Also known as:  Minneapolis Chain of Lakes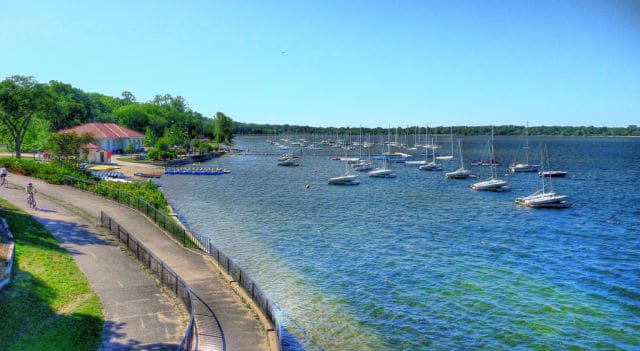 Thousands of people come to Minneapolis' Chain of Lakes every year. The five beautiful lakes (Lake Harriet, Cedar Lake, Brownie Lake, Lake of the Isles and Lake Calhoun) are connected by channels and a 12-mile system of recreational paths making it the place to be for anyone that loves all the activity of a major lake park set in the backdrop of a buzzing and dynamic city. Lake Calhoun, the largest of the five, offers no shortage in play and amusement. On an average summer day you will see the sails of windsurfers and sailboats, fishers lounging on the waters waiting for a catch, and canoeists gracefully cutting the surface of the water. Around the lake, pathways accommodate walkers, runners, bicyclists, and skaters. Three guarded beaches provide swim areas, and in the surrounding park you will find archery, eateries, picnic areas, a soccer field, a volleyball court, a softball field, drinking fountains and wells.
In this "city of lakes," Lake Calhoun is the home of the Lake Calhoun Sailing School and is also the popular site of yacht racing and competitions. In 1817, it was named after John Caldwell Calhoun (1782-1850), who served as a United States Senator, Vice President, and Secretary of War and who was a controversial politician to say the least. As Secretary of War, Calhoun authorized the establishment of Fort Snelling, which brought settlement to the area. Before Calhoun's surveyors came to the area however, the land and lakes were home to Dakota people, who called the lake "Medoza" or "Lake of the Loons." Fishing the lake provided subsistence for the Dakotas, and they also harvested its wild rice, fruits and berries. Today, it is hard to imagine wild rice, fruits, berries or loons for that matter on the lake. Formed by Minnesota's last glacial events thousands of years ago, the lake's habitat has evolved to an urban oasis, surrounded by the pace, traffic and myriad amusements of a big city. But the lakes and their surrounding wetlands still support a variety of wildlife, especially birds. Even bald eagles are seen on Lake Calhoun.
The water offers up a great fishery. Black crappie, bluegill, bowfin, common carp, hybrid sunfish, largemouth bass, northern pike, pumpkinseed sunfish, tiger muskellunge, walleye, white sucker and yellow perch are the range of species living in Lake Calhoun's deep waters. Anglers will have a ball with reputable, large-sized largemouth with a view of the city skyline hugging the distant shores. Gas motors are not allowed on the lake, and electric motors are allowed only with a permit, but there are plenty of boat rentals available so you have options.
The Minneapolis-St. Paul Metro region is vibrant with activity. Cutting edge museum exhibits, art, live performances, competitive shopping and dining and all kinds of events and nuances are the city's norm. The Grand Rounds National Scenic Byway is a great way to get to know the area and encompasses all of the Chain of Lakes. The byway will take you through seven of Minneapolis' most picturesque and historically momentous districts. From Lake Calhoun as a starting point, you can visit the bird sanctuary near Lake Harriet, a stopover for migratory birds. Visit the 53 foot Minnehaha Falls, the Mississippi River Gorge, the cosmopolitan downtown area and the Theodore Wirth Park, the largest regional park in Minneapolis.
Your real estate options are truly limitless on and around Lake Calhoun. Minneapolis boasts a range of apartments, condominiums, and duplexes suitable for the typical urban dweller. Family homes and expensive lakeshore residences, more suitable for the relaxed-pace person, offer more privacy, space, comfort and luxury. Vacation rentals run the gamut from studios to condos to cabins.
Lake Calhoun is a little bit of peace in a lot of bit of action. If this defines what you're looking for then the Chain of Lakes is where you should be.
Things to do at Lake Calhoun
Vacation Rentals
Fishing
Boating
Sailing
Swimming
Beach
Canoeing
Picnicking
Cabin Rentals
Biking
Wildlife Viewing
Birding
Museum
Shopping
Fish species found at Lake Calhoun
Bass
Black Bass
Black Crappie
Bluegill
Bowfin
Carp
Crappie
Largemouth Bass
Muskellunge
Northern Pike
Perch
Pike
Pumpkinseed
Sucker
Sunfish
Tiger Muskellunge
Walleye
Yellow Perch
---
Lake Calhoun Photo Gallery
Lake Calhoun Statistics & Helpful Links
Spread the word! Share our Lake Calhoun article with your fellow Lake Lubbers!