Lac La Belle, Michigan, USA
Lake Locations:
USA - Midwest - Michigan - Upper Peninsula -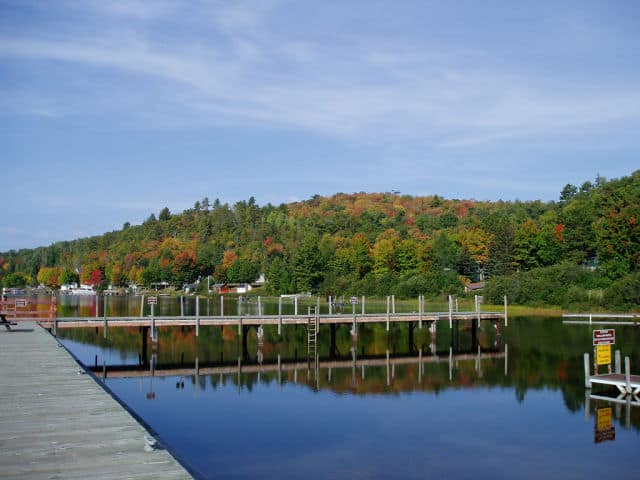 Located within Keweenaw County, Michigan, Lake La Belle certainly lives up to its French translation: "Beautiful Lake." It is located on the Keweenaw Peninsula, a finger-shaped portion of land that seems to poke Lake Superior. This crystalline body of water has a surface area of about 1,100 acres and an average depth of 30 feet. In the Ojibwa Indian language, Keweenaw means "place of the crossing," in reference to the channel (maintained by the U.S. Army Corps of Engineers) that weaves across most of the cape.
Fishing is one of the most entertaining pastimes at Lac La Belle, where common catches include walleye, perch, musky, crappie, northern pike, and small mouth bass. Water skiing, canoeing, kayaking and boating are other popular activities. Swimming conditions are particularly favorable at a shore known as Bete Gris Beach, where wildlife watchers frequently spot hawks and eagles soaring overhead. White water rafting along the St. Louis River and golfing at one of the three local greens are other amusing activities.
An intense getaway for skiing enthusiasts, Mount Bohemia is situated just north of Lac La Belle. Steep slopes and powdery snow make it a thrilling place for experienced skiers and snowboarders to practice their crafts. Just minutes south of Lac La Belle lies Haven Falls,a scenic 20-foot waterfall with a 5 to 10-foot crest. Perfect for a day trip, Eagle harbor is located less than a half an hour away; its lighthouse and handful of fascinating museums make it well worth the trip. For scuba divers, Lake Superior offers at least 13 bona fide shipwrecks – one of which dates all the way back to 1865.
Northwest of Lac La Belle sits Isle Royal National Park, a remote island that is only accessible by boat or seaplane. Isolated trails, waterways, and shipwrecks are the park's main attractions. To the south you'll find the Baraga State Forest Area, 142,900 acres of woodlands popular with snowmobilers during the wintertime. Even farther south lies the Ottawa National Forest, which is constituted of nearly one million acres of rivers, lakes, waterfalls, and tumbling hillsides.
Lac La Belle tells a riveting history in the mining industry. Often referred to as "Copper County," Keweenaw County was once a chief supplier of this precious metal. Millions of years ago, volcanic eruptions spewed copper out from under the ground around Lac La Belle. Native Indian inhabitants were the first to use the precious metal to build tools, utensils, and other instruments. In the 1800s French explorers began to capitalize on this national resource . The community of Lac La Belle emerged as a result of a local stamping plant, a facility that that crushed rocks to extract copper. The area was also home to countless mines, along with the immigrants who worked them – mostly Finnish, Italian, and Balkan men. In fact, in 1870 over 70% of the county's residents were foreign-born. These cultures merged to form a veritable melting pot of influences that are evident in modern regional art. The mining boom reached its peak around 1900, and basically ended after a calamitous strike in 1913. The economy struggled and declined for more than 50 years afterward; although the very last mine did not officially close until 1968.
Dozens of heritage sites can be found close to Lac La Belle, including mineral museums, theaters, old copper mines, and historic churches. The Keweenaw National Historic Park consists of two buildings, Calumet and Quincy, each about 12 miles apart. The park manages to bring the compelling story of the mining trade to life in a touching, entertaining, and educational manner. Likewise, the Keweenaw County Historical Society – instituted in 1981 – serves a similar function in preserving local memoirs and culture.
Lac La Belle's marina is owned by the State of Michigan. It features a boat launch, bathroom facilities, and picnic areas. Real estate properties and vacation rentals are available. Lac La Belle is a picturesque and unforgettable, little-known lake. Come explore all of the natural beauty this Michigan escape has to offer.
Things to do at Lac La Belle
Vacation Rentals
Fishing
Boating
Swimming
Beach
Canoeing
Kayaking
Whitewater Rafting
Water Skiing
Scuba Diving
Golf
Picnicking
Hiking
Waterfall
Wildlife Viewing
Birding
State Forest
National Park
National Forest
Museum
Fish species found at Lac La Belle
Bass
Crappie
Northern Pike
Perch
Pike
Smallmouth Bass
Walleye
---
Lac La Belle Photo Gallery
Lac La Belle Statistics & Helpful Links
Spread the word! Share our Lac La Belle article with your fellow Lake Lubbers!