Lake Garda, Lombardy & Veneto, Italy
Lake Locations:
Also known as:  Garda Lake, Lago di Garda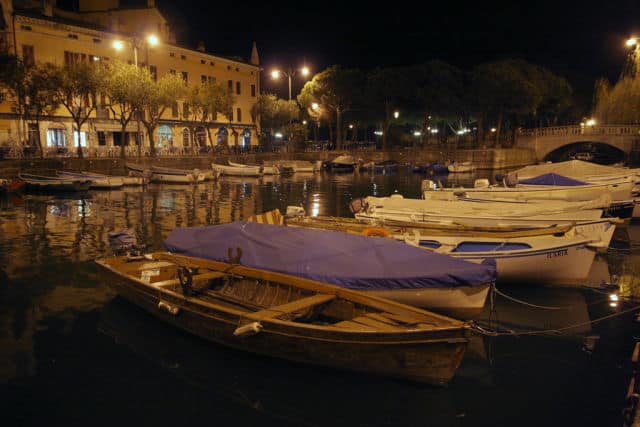 Lake Garda, or Lago di Garda in Italian, is the largest lake in Italy, sprawling over 90,000 acres with beautiful vistas. To the north, the lake is graced by the mystical Dolomites, whose awkward and angular rock formations, towering at heights close to 10,000 feet, and soul-inspiring beauty earned them the UNESCO Natural Heritage label in 2009. To the south of the lake, the rather low and gentle rolling hills are accentuated by vibrant and colorful Italian architecture. Along the coasts of the long and narrow water body, in the many towns and villages, are hundreds of historical sites and places for nature, adventure, entertainment and rejuvenation.
Lake Garda is conveniently located less than 20 miles from Verona (think Romeo and Juliet), 60 miles east of Milan, and 80 miles west of Venice. Choose your activity level in this vibrant part of Italy. For cyclists, Largo di Garda is a biker's paradise with biking trails and pathways suitable for beginners as well as tough climbs and terrains for more advanced cyclists. Regardless of skill level, biking in, up and around the natural landscapes surrounding the lake is a thrilling experience.
Nordic walking and hiking are popular activities. Many walking routes explore the various historical and scenic sights around Lake Garda, and hiking up the mountains proves itself an adventurous and challenging activity. The breathtaking panoramic views of the lake and altering shorelines will be rewarding. Trekking and horseback riding is another way to appreciate the scenery. There are also many opportunities for rock and cliff climbers, paragliders and skiers! Visitors can also ride a cable car to the top of Mount Baldo for panoramic lake views. Cable car tours originate from the town of Malcesine on the lake's eastern shore.
During a visit to Lake Garda, one must save time to take advantage of its proximity to Italy's incredible art, culture and history. There are many sites of historical import to explore and appreciate. Begin with the ruins and remains belonging to the early Romans and first settlers to the Lake Garda area. Next, learn how Napolean left his mark on this Italian countryside, how the Red Cross formed as a result of lakeside battle, and why Lake Garda was so important to Mussolini.
The warm, summery Mediterranean climate is a fertile atmosphere for Italy's grape vineyards, famous olives, and lemons. From Lake Garda, you will have access to some of the finest products.
After you have finished exploring the region, it's time to explore Lake Garda's 90,000 acres of water. Sailing and windsurfing are extremely popular — watch the colorful sails glide gracefully over the water. Rent a motorboat, paddleboat or kayak for a cruise on the lake. There are over 30 species of fish in Lake Garda; the most common are trout, chub, carp, salmon, whitefish, pike, perch, bleak, tench, and eel. Swimmers enjoy plenty of choice areas in the lake: Though the southern end tends to be warmer and shallower nearer the shore, Lake Garda is deep with an average depth 346 feet and a maximum depth of over 1000 feet! Take extra care when swimming and keep in mind that you won't have to venture too far from the shore before the bottom drops out from beneath your feet.
Boat tours are available to the largest island in the lake, Isola del Garda, to view its ornate Venetian villa and magnificent gardens. The island's long history dates back to the Roman Empire. Saint Francis of Assisi founded a monastery on the island around 1220. Today, the island is owned by the Cavazza family who opened the island to public tours in 2002. Boat tours are available from several locations on the southern and western shores of the lake.
Vacation rentals and real estate are so abundant around Lake Garda that you will have no excuse not to spend a whole summer enjoying one of Italy's most dynamic destinations.
Things to do at Lake Garda ITA
Vacation Rentals
Fishing
Boating
Sailing
Swimming
Kayaking
Hiking
Biking
Horseback Riding
Ruins
Fish species found at Lake Garda ITA
Carp
Eel
Perch
Pike
Salmon
Tench
Trout
Whitefish
---
Lake Garda ITA Photo Gallery
Lake Garda ITA Statistics & Helpful Links
Spread the word! Share our Lake Garda ITA article with your fellow Lake Lubbers!