Lake Como, Lombardy, Italy
Welcome to the ultimate guide for history, statistics, local fun facts and the best things to do at Lake Como ITA.
If you're considering Lake Como ITA vacation rentals, we've made it super easy to explore accommodations and nearby hotels using the interactive map below. Simply click on a listing to compare similar properties, best rates and availability for your dates. Or keep scrolling to read our Lake Como ITA guide!
Lake Como ITA visitor and community guide
One of the most recognizable and visited European lakes, Lake Como — also known as the Lago di Como — snuggles into the mountains and valleys of the Lombardy region of Italy. With over 36,000 acres and almost 1,350 feet deep, it is the third largest lake in Italy and one of the deepest lakes in Europe. These superlatives are only part of what sets Lake Como apart – its incredible sapphire depths set against beautiful mountain peaks make for one of the most breathtaking scenes in the region. Fig, pomegranate, olive, chestnut, and oleander trees line the verdant shoreline.
Lake Como is shaped like an inverted Y. The town of Colico is located at the tip of the northern arm where the Adda River enters the lake. The town of Como sits at the southern tip of the western branch, and the town of Lecco sits at the southern tip of the eastern branch. A boat service, located at the intersection of the three branches, provides service among the three arms of the lake.
The Adda and Mera Rivers are the two major bodies of water flowing into Lake Como. In 1946 a dam was completed on the Lecco branch of the lake to regulate the Adda River's outflow for irrigation, hydropower, and flood control purposes. Since the 1960s the central part of the City of Como has dropped about two feet in elevation, increasing the risk of flooding. The public agency that controls the dam has the responsibility of minimizing flood control while maximizing water for irrigation and hydropower. The western arm of Lake Como has ongoing water quality problems due primarily to agricultural nutrient inflows from the Cosia River, prompting No Swimming signs along some beaches.
Lake Como's history is romantic and painted with creative beauty. Due to its location, the lake has long been a meeting point between Central Europe and the Mediterranean. The cultural influences of these crossing cultures allowed Lecco and Como — the two provinces that encircle the lake — to develop a strong artistic history and an eclectic mix of traditions and architecture that reflect its past. In the 19th century, the area developed from a mix of small villages into a large, concentrated center. Today, Lake Como's surrounding areas offer visitors and residents a generous combination of art, culture, and history that perfectly complement the amazing views at the lake.
Any architecture buff, history lover, or fan of cobbled streets and European charm will find their dream playground near Lake Como. Old Town, a walled city in the heart of Como, offers centuries-old towers and a basilica masterpiece created by the maestri comacini (masters of Como), the itinerant guilds of masons and architects who spread the Lombard style throughout Europe during the Middle Ages. Cernobbio, a nearby town, offers old-style pensiones (family bed and breakfast) and incredible old villas fit for royalty. Lakeside Tremezzo boasts a classic promenade and picturesque panoramas. Lovely towns like these dot Lake Como's 106 miles of shoreline, providing you with days of sightseeing and whimsical photo opportunities.
Lake Como offers more than can be put to words: tiny cafes with huge views, endless panoramas, and sparkling blue waters that earn the lake its moniker as the jewel in the crown of Italy's spectacular lakes. A ferry tour will show you much of what this Italian treasure has to offer.
On your Western Shore tour of Lake Como, begin with Cernobbio, home to the Villa D'Este, a perennial favorite retreat for the rich and famous. Travel next to Brienno, a medieval village with old buildings, wooden front doors, and streets straight out of a fairy tale. Visit Argegno, gateway to Switzerland and home to spectacular views of neighboring Lake Lugano. Continue to Isola Comacina, the lake's only island, populated with perfect old churches and artist homes.
Crossing over to the East Shore, hop from village to village, enjoying the shoreline cliffs and plunging views to match. Next on your itinerary is Torno, a medieval village populated by old churches and typical Italian architecture. After Torno, drink in the sights of Nesso and Lezzeno, small villages that seem to linger in the glow of the 16th century. Travel on to Bellagio, considered by many to be one of the most beautiful towns in Italy. Dance along the cobbled streets and take a moment to absorb the culture and history around you. When you're finished, if that is even possible, make your last stop in Varenna, a town that rivals and may even surpass the beauty of Bellagio.
When you've finished sightseeing and are itching to have a go at the lake yourself, you'll have many activities to choose from. From sailing to kayaking to windsurfing, there's something for everyone. Even the very adventurous will find their niche here, testing their Superman skills at the local hydroplane piloting school. If you'd like to pick up the pace, hop behind a boat for a bit of fast-paced waterskiing fun, or grab onto a tube for the ride of a lifetime.
Of course, Lake Como is as much Italian as it is aquatic, so the offerings don't stop with water sports. Indulge your taste buds with some of the most delicious food the world has to offer, sampling the local cuisine and testing your gastronomic boundaries. For a bit of local flavor, take a bite of missultin (dried lake shad), or try a peasant cuisine combining polenta, chicken, and cheeses. Pestos, marinaras, and homemade pastas are also on the menu.
Lake Como is a study in diversity, offering you almost anything that your heart desires. Explore old towns, gape at amazing villas, and dip your toes in the refreshing lake waters. At the end of the day, savor authentic Italian cuisine and wash your meal and day down with a deep, rich sip of area wine. You'll soon see that nothing's better than a day that begins and ends on Lake Como.
Custom Lake Como ITA house decor
Read our full review of these personalized lake house signs.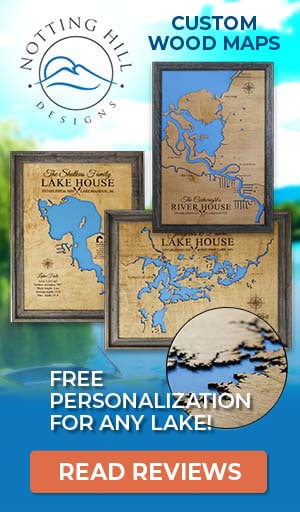 Things to do at Lake Como ITA
Vacation Rentals
Boating
Sailing
Swimming
Beach
Kayaking
Water Skiing
Tubing
Playground
Fish species found at Lake Como ITA
---
Best hotels and vacation rentals at Lake Como ITA
The Lake Como ITA map shown above is a simple and stress-free way to search for trip accommodations. But if you want to take a deeper dive to find the ideal waterfront home, cabin, condo, hotel or resort, visit our favorite lodging partners by clicking the buttons below.
Note: These are affiliate links so we may earn a small commission if you book through them. While there is no extra cost to you, it helps provide resources to keep our site running (thank you)! You can read our full disclosure policy here.
---
Lake Como ITA photo gallery
New photos coming soon!
Lake Como ITA statistics & helpful links
We strive to keep the information on LakeLubbers as accurate as possible. However, if you've found something in this article that needs updating, we'd certainly love to hear from you! Please fill out our Content Correction form.
Advertise your Lake Como ITA vacation rental
LakeLubbers will soon offer homeowners and property managers the opportunity to to showcase their vacation rentals to the thousands of lake lovers searching our site daily for accommodations. If you'd like additional details, please contact our advertising team here.
Looking for the Lake Como ITA forum?
LakeLubbers previously offered visitors the ability to create accounts and participate in lake forums. When we overhauled the site's content management system in 2021 we had to disable those features. We're evaluating options and welcome your comments and feedback here.
We also encourage you to join our lake-lovin' community on Facebook and Instagram!
Spread the word! Share our Lake Como ITA article with your fellow Lake Lubbers!