Lake Elsinore, California, USA
Lake Locations:
USA - West - California - Inland Empire -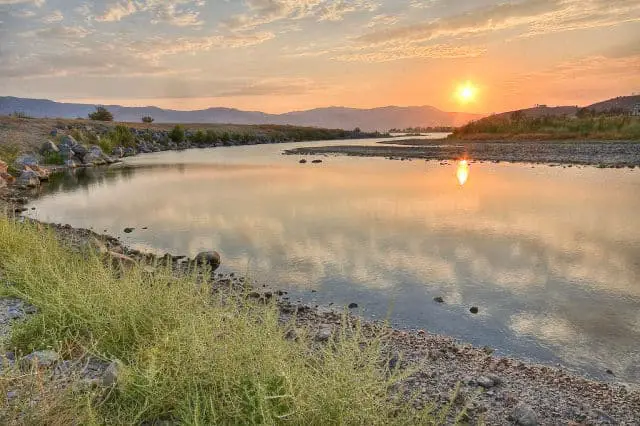 Cradled at the foot of the Ortega Mountains and at the entrance to the Cleveland National Forest, Lake Elsinore enjoys an ideal location. At about 3,300 acres, the lake also holds the title of largest natural freshwater lake in southern California. Boasting a temperate climate year-round and known for its diverse water offerings, the lake has gained a following of visitors and area residents that enjoy all that the Lake Elsinore has to offer.
The greater Lake Elsinore area was inhabited by Native Americans before the white settlers arrival in the 1800s. In 1888, the town of Lake Elsinore was incorporated, enjoying a location convenient to the nearby natural lake. By the early 1900s, the lake had become a popular destination for celebrities to enjoy the warm California sun and refreshing lake waters. Unfortunately, Lake Elsinore's water levels are unstable, fluctuating from excessive evaporation during drought periods to flooding during periods of heavy rain. The lake last went dry in the 1960s and flooded in 1983, causing significant damage. The Elsinore Valley Municipal Water District took steps to stabilize water levels. A levee and an outlet channel were constructed to control flooding. During periods of too little rainfall, the District has supplemented water supplies with recycled water and water from refurbished lakeside wells.
Nature lovers will enjoy the over 460,000-acre Cleveland National Forest, home to the Sunrise Scenic Byway, many miles of well-maintained hiking trails, picturesque picnic locales, and everything from primitive campgrounds to trailer-friendly sites. Both amateur astronomers and passing stargazers can participate in the National Forest's Explore the Stars program, an amateur astronomy project that occurs every summer and autumn at the Palomar Mountain Observatory Campground.
Back at Lake Elsinore, myriad activities await you, as well. Take the plunge into extreme sports and test your courage – take a skydiving lesson or try your hand at hang-gliding. The incredible views will be worth the sweat, but if extreme isn't your favorite flavor, the lake offers plenty of other activities. Fishing, hiking, bird-watching, boating, and swimming are all some of the lake's favorite offerings.
Rent a boat and hop on board for an afternoon of fun in the sun. Power boats and jet skis will get you around fast, offering you cool splashes of water and a bumpy adventure on Lake Elsinore. If you're up for it, jump behind and go waterskiing or, if you get inspired by the lake's other riders, have a go at wakeboarding. To slow it down a bit, grab a paddle and take a canoe or kayak ride. Taking a relaxed approach will let you get up close and personal with the animals and flora that call Lake Elsinore home.
If you're itching to get your heart rate up and your camera full, consider going mountain biking or hiking on one of the area's trails. In addition to those at Cleveland National Forest, Elsinore Lake's shoreline and surrounding area are dotted with old logging roads and developed hiking and biking trails. Enjoy vistas that stretch for as far as the eye can see, peaceful treks through the woods, and the unique scent of pine wafting through the air. Your hike can take as long as you like, so prepare ahead for a day of nature that is all yours.
The lake also prides itself on its gastronomic delights, offering anything from quiet little street cafes to diverse international offerings such as Thai or Italian cuisine. After a long day out on the water or investigating the countryside, a hearty meal will be just what you crave, and you'll soon find that your favorite way to end your day is with a glass of California wine.
Lake Elsinore is an area that offers a unique blend of developed city and tranquil nature, making it an ideal place for your next vacation. Here, you'll wrap yourself in the comfort of solitude by day and go out on the town each evening, mixing and matching your tastes to your every whim.
Things to do at Lake Elsinore
Vacation Rentals
Fishing
Boating
Swimming
Canoeing
Kayaking
Jet Skiing
Water Skiing
Wakeboarding
Camping
Campground
Picnicking
Hiking
Biking
Birding
National Forest
---
Lake Elsinore Photo Gallery
Lake Elsinore Statistics & Helpful Links
Spread the word! Share our Lake Elsinore article with your fellow Lake Lubbers!