Lake Gregory, California, USA
Lake Locations:
USA - West - California - Inland Empire -
Also known as:  Lake Gregory Regional Park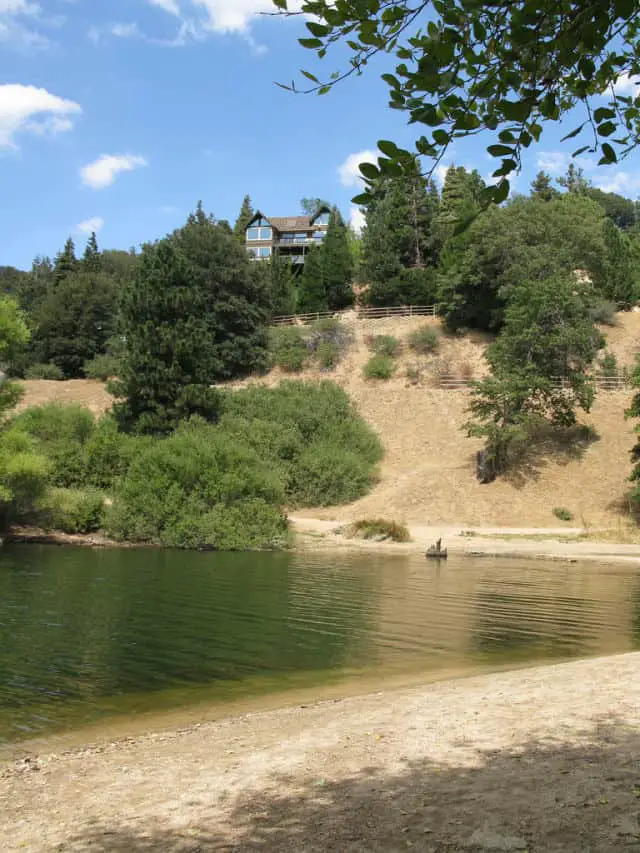 Lake Gregory is a recreational retreat situated almost 5,000 feet above sea level in the San Bernardino Mountains of Southern California. Surrounded by the the San Bernardino National Forest's majestic pines and picturesque vistas, the lake's air is cool and clean.
Rather small, at 86 acres, compared to other popular lakes nearby, Lake Gregory is ideal for families. Part of a regional park, it offers recreational activities that center around swimming, boating and fishing. The swimming area has sandy beaches and popular amenities like restrooms, grills, picnic tables, picnic shelters, and volleyball courts. On hot days, you will see scores of families escaping the Southern California heat to take advantage of the relief offered by Lake Gregory and its cooler heights.
Beyond the bustling swimming area, boaters can take advantage of other water activities on Lake Gregory. Although personal watercraft are not allowed, you can rent small sailboats, paddles, aqua cycles, paddle boards, sail boards and rowboats for use on the lake. You and your family will have a ball. Anglers take charge of the waters looking for trout, bass, catfish, carp, and bluegill from boat, shore or fishing tube. Be sure to find out about one of the trout derbies hosted on the lake.
Lake Gregory Regional Park offers, in addition to water activities on the lake, a water slide park on the western side, featuring a 300-foot water slide. A fitness trail encircles the lake and can be used by hikers, joggers and walkers. The trail, which meanders through the pines, beaches and the lake's mountain town of Crestline, has 10 fitness stations featuring exercise equipment collectively called the Steel Challenge Course.
A great site for birdwatching, many avian species can be spotted on Lake Greogory. Blue herons, pelicans, golden eagles, woodpeckers, mallards, hummingbirds and ospreys are just a few of the feathered beauties you might see.
Lake Gregory came into existence one rainy March in 1938 after construction under a Works Progress Administration (WPA) grant was completed. Once a source of water supply, the lake was transferred into the hands of San Bernardino County Regional Parks Development in 1977. Today, Lake Gregory's shoreline is completely surrounded by recreation land for the public's enjoyment. And in the surrounding mountains, cozy chalets, cabins, and family homes lie tucked away. These vacation rentals offer seasonal enjoyment of one of the most accessible mountain towns of Southern California and all the beauty and rejuvenation that nature can offer. Real estate options are just as abundant for those of you who gravitate towards a mountain getaway lifestyle.
Beyond Lake Gregory's fun-packed itineraries, Crestline's village ambience, and San Bernardino's urban sprawl just 20 minutes away, the San Bernardino National Forest awaits. The forest offers all kinds of activities, from target shooting and hunting to wildlife viewing and from off-highway vehicle adventure to mountain biking. Camping, hiking, horseback riding, skiing and snowboarding also make an appearance. The forest has two national scenic byways — one of which passes through Crestline — that traverse California's awe-inspiring natural beauty, including forests, deserts and snow-covered mountains.
Your whole family will enjoy all that Lake Gregory and its mountain landscape has to offer.
Things to do at Lake Gregory
Vacation Rentals
Fishing
Boating
Sailing
Swimming
Beach
Tubing
Camping
Picnicking
Cabin Rentals
Hiking
Biking
Snowboarding
Horseback Riding
Hunting
Wildlife Viewing
Birding
National Forest
Fish species found at Lake Gregory
Bass
Bluegill
Carp
Catfish
Sunfish
Trout
---
Lake Gregory Photo Gallery
Lake Gregory Statistics & Helpful Links
At LakeLubbers.com, we strive to keep our information as accurate and up-to-date as possible, but if you've found something in this article that needs updating, we'd certainly love to hear from you!
Please let us know about it on our Content Correction form.
Spread the word! Share our Lake Gregory article with your fellow Lake Lubbers!