Lake Davenport, Florida, USA
Lake Locations:
USA - South - Florida - East Central -
Also known as:  Old Lake Davenport, North Davenport Lake, Davenport Lake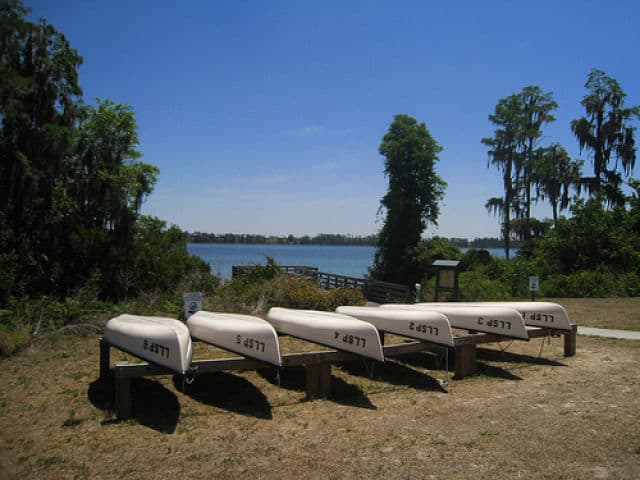 If you're looking for a Florida lake vacation that's close to the Disney theme parks yet away from the constant hustle around Orlando, Lake Davenport may be just the spot. Lake Davenport lies near the Lake Wales Ridge, the ancient sea islands that predate the Florida Peninsula. The area is called Four Corners because of its location at the juncture of Lake, Orange, Polk and Osceola Counties and is one of the fastest growing areas in Florida.
Lake Davenport, also called North Davenport to separate it from another Lake Davenport in the area, is a natural seepage lake. The sandy ancient dune soils are dotted with many lakes in the area, and most are seeing resort development in recent years. The prime location, near the junction of US 27 and US 192 makes Lake Davenport an easy commute from the Orlando area 30 miles away. The Disney theme parks are only 12 miles to the east. It's no wonder the Lake Davenport area has become home to many vacation rental resorts and high-end villas. In the process, the lake has grown in reputation beyond its relatively small 178 acres. Most of the western lakefront is occupied by resort developments, and the southern end has recently become home to yet another resort, complete with separate man-made lake. Other acreage on the west shore is taken by an RV park and a golf course. Interestingly, the majority of the eastern lakefront is wooded wetland and undeveloped. Efforts are underway to purchase these undeveloped acres for wetland preservation. The water quality in Lake Davenport is very good, making it an ideal boating location.
Lake Davenport is reported to be popular as a fishing lake, although there is no formal public access. Fishing and paddleboats can be rented along the lakefront, and multi-slip docks are provided for the convenience of residents and villa patrons. Florida Fish and Wildlife does not report any recent stocking activity but it can be assumed that Lake Davenport holds the usual four varieties that inhabit most lakes in the area; largemouth bass, bluegill, crappie and catfish. An all-sports lake, boating variety is limited to the types of watercraft residents bring with them, mostly fishing and pleasure boats, canoes and kayaks. Water skiing and tubing are popular activities here. Walking trails have been constructed around the lakeshore, several with boardwalks across the wetlands. Lake Davenport is known for the variety of wildlife inhabiting the waters and shoreline, including the occasional alligator. The remaining wetland areas support a healthy population of native plants, small animals and birds. Resorts also provide clubhouses, tennis, shuffle board and basketball courts, playgrounds, fitness rooms and picnic areas. Although some resorts provide a swim area, all have community pools, and many villas contain private pools.
Most visitors choose to come to Lake Davenport intending to visit the nearby Disney theme parks. With Epcot, Animal Kingdom, Magic Kingdom, Disney-MGM Studios, Blizzard Beach Water Park, River Country Water Park, Pleasure Island and Typhoon Lagoon all centered around Disney Downtown, there is plenty to keep the active family busy for several days. In addition, the area is famous for specialty shopping with two open-air markets, Point Orlando and the Mercado offering local specialty clothing, art and crafts. The Florida Mall, Orlando's largest with 245 shops, will keep any bargain hunter happy. And, not far from Disney, Sea World and Wet 'N Wild offer a variety of attractions. Busch Gardens-Tampa is an easy hour west on Interstate 4.
Sports fans will enjoy Lake Davenport's location close to Cracker Jack Stadium where they can watch the Atlanta Braves spring training matches. Waterhouse Center in Orlando is the home turf of the Orlando Magic and where they play their home games. If golf is a favorite activity, the golfer's game isn't limited to the course adjacent Lake Davenport; central Florida is rich in golf courses, so fitting in a round should never be a problem. Many of the top courses are limited to resort guests, and vacationing golfers often make their reservation choices based on the golf course available.
Thirty miles from Lake Davenport, Orlando is home to several interesting museums, including some that will hold the interest of children: Ripley's Believe-It-Or-Not Museum, WonderWorks and the Orlando Museum of Science will be of great interest to children and adults alike. As part of the allure of a visit to Florida is the chance to see native animals and reptiles, a visit to Gatorland is a must. Here, visitors can see both white alligators and the breeding marshes where they live and reproduce. And the Central Florida Zoological Park will fill the need to see the elusive, rare and exotic animals that can only be seen in a zoo-like setting.
Only 10 miles north of Lake Davenport, Lake Louisa State Park is noted for its scenic landscapes, rolling hills and six beautiful lakes. The park has over 20 miles of hiking trails with excellent wildlife viewing opportunities. Sherman fox squirrels, otters, bobcats, gopher tortoises, wild turkey, white-tailed deer, sand skinks, bald eagles and ospreys are often sited here. Hammond Lake, Lake Louisa and Dixie Lake provide access for fishing, canoeing, and kayaking. Forty miles north of Lake Davenport is the Lake Apopka Restoration Area and Oakland Nature Preserve. The highlight of the preserve is a 3,000-foot-long boardwalk that ends at a dock and pavilion overlooking Lake Apopka, so visitors can enjoy the wetlands without getting their feet wet. A paved, 57-mile, multi-use recreation trail called the Lake Apopka Loop Trail is being built to encircle the lake, giving nature lovers an ideal vantage point from which to enjoy Lake Apopka's natural bounty.
Visitors have a choice of vacation rentals at Lake Davenport. Private villas, townhouses and condos are available by the night, the week or the month. RV facilities are also located near the lake. Real estate is available at Lake Davenport, some with lake frontage and lake views. One visit to Lake Davenport is all it will take you convince you to spend more time here. Come here once and we know you'll come back!
Things to do at Lake Davenport
Vacation Rentals
Fishing
Boating
Swimming
Beach
Canoeing
Kayaking
Water Skiing
Tubing
Golf
Tennis
Picnicking
Hiking
Hunting
Wildlife Viewing
Birding
State Park
Museum
Playground
Shopping
Fish species found at Lake Davenport
Bass
Black Bass
Bluegill
Catfish
Crappie
Largemouth Bass
Sunfish
---
Lake Davenport Photo Gallery
Lake Davenport Statistics & Helpful Links
Spread the word! Share our Lake Davenport article with your fellow Lake Lubbers!