Lake Cumberland, Kentucky, USA
Lake Locations:
USA - South - Kentucky - Southern Lakes -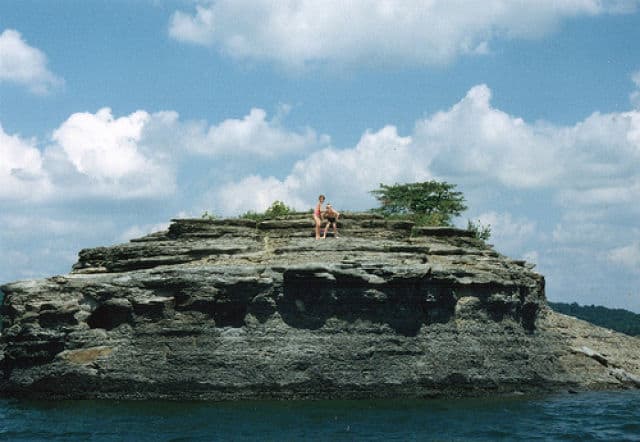 Lake Cumberland boasts an impressive 50,250 acres and 1,255 miles of winding shoreline at its normal full pool level of 723 feet above sea level. The lake covers parts of Clinton, Laurel, Pulaski, Russell, and Wayne counties in southeastern Kentucky.
Lake Cumberland reservoir was created by the U.S. Army Corps of Engineers for flood control and hydroelectric power. Construction of the Wolf Creek Dam in 1950 backed up the Cumberland River for 100 miles; Congress named the reservoir Lake Cumberland in 1952. The lake has prevented an estimated $500 million in flood damage over the last 50+ years, and has become one of Kentucky's most treasured recreational gems.
A lake as large as Lake Cumberland offers its residents and visitors myriad opportunities. Among the most popular is fishing, as the reservoir holds the state records for brown trout (21 lb.), lake trout, (5 lb., 5 oz.), rainbow trout (14 lb., 6 oz.), sauger (7 lb., 7 oz.), striped bass (58 lb., 4 oz.), sturgeon (36 lb., 8 oz.), and walleye (21 lb., 8 oz.). Renting a boat, if you choose not to take your own, is easy, so you'll be able to spend countless hours indulging in a bit of angling fun.
Boating is perhaps Lake Cumberland's biggest draw, due to its large size and miles of shoreline. The lake reigns as unofficial Houseboat Capital of the World, and houseboats with almost every conceivable amenity are rented from the many marinas that dot the lake's shores. After you've woken up to the gentle lap of lake waves, eaten lunch while overlooking your 360 degree lake view, taken a one-way ride down your houseboat's slide, and fallen asleep surrounded by miles of quiet waters, you'll know that renting a houseboat is a one-of-a-kind vacation experience.
Lake Cumberland is a deep water lake, approximately 200 feet deep near the dam, with an average depth of 90 feet at summer pool. Normal summer pool elevation is 723 feet above sea level with 50,250 surface acres and 1085 miles of shoreline. The Army Corps of Engineers reduces the lake level in winter to prevent flooding in the spring. Winter pool elevation ranges from 690 to 673 feet above sea level. Even at the minimum winter level, Lake Cumberland boasts 35,820 surface acres.
For outdoorsy types, Lake Cumberland is a green wonderland, full of nature walks, beautiful flora, and shy-but-present fauna. Luckily, there are several state parks to use as your starting point: Cumberland Falls State Park, General Burnside Island State Park, and Lake Cumberland State Resort Park all border the lake; several other parks pepper the surrounding areas. Combined, these parks offer miles of nature hikes, horseback riding, white-water rafting, canoeing, and a few golf courses.
At Lake Cumberland, you'll discover deep blue waters, a big blue sky, and all the activities your heart could dream of. Wake up on a houseboat, score a hole in one, have a lakeside picnic, and water ski for as long as you can stay up, all in one day. Endless fun is what awaits you at this spectacular Kentucky lake.
Things to do at Lake Cumberland
Vacation Rentals
Fishing
Boating
Canoeing
Water Skiing
Golf
Picnicking
Hiking
Horseback Riding
State Park
Fish species found at Lake Cumberland
Bass
Brown Trout
Lake Trout
Perch
Rainbow Trout
Sauger
Striped Bass
Sturgeon
Trout
Walleye
---
Lake Cumberland Photo Gallery
Lake Cumberland Statistics & Helpful Links
Spread the word! Share our Lake Cumberland article with your fellow Lake Lubbers!