Dove Lake, Tasmania, Australia
Welcome to the ultimate guide for history, statistics, local fun facts and the best things to do at Dove Lake.
If you're considering Dove Lake vacation rentals, we've made it super easy to explore accommodations and nearby hotels using the interactive map below. Simply click on a listing to compare similar properties, best rates and availability for your dates. Or keep scrolling to read our Dove Lake guide!
Dove Lake visitor and community guide
One of Tasmania's most popular natural destinations, Dove Lake greets visitors from around the world. This small glacial lake in the Cradle Mountain-Lake St. Clair National Park is one of the easiest destinations to reach and the starting point for many outback adventures. In contrast to much of the national park, Dove Lake is accessible by car.
Many visitors come just to enjoy the Dove Lake Circuit, a 3.5-mile walking circle around the 213-acre lake. The shallow and pristine lake offers reflections of striking Cradle Mountain as a backdrop and a landscape dominated by some of Tasmania's unique flora such as the Tasmanian deciduous beech. The country's only deciduous tree, this beech offers brilliant foliage colors in April and May. A section of cool temperate rain forest occupies a spot near the lake's south end containing some of the most ancient species of plants found in Australia. Dove Lake and its environs seems frozen in time.
Located an hour by car from Sheffield or an hour-and-a-half from Devonport on the north coast, Dove Lake can be reached either by personal vehicle or shuttle bus. The shallow lake is a favorite for kayak exploration. Some lake information reports that it is stocked with rainbow trout and brown trout, although it is unclear whether fishing is allowed. Much of the lakeside circle trail is boardwalk, so specialized hiking gear is not required. The four peaks of nearby Cradle Mountain reflect from the clear waters. In addition to the deciduous beech and the cool temperate rain forest, the Tasmanian environment also contains unique native animals such as the wombat, Tasmanian devil, pademelons, echidnas, Bennett's wallabies, quolls and tiger snakes.
Trails leading off from the Dove Lake Circuit head into the bush and to local preserved structures built during the era of the national parks' founding by Gustav and Kate Weindorfer. A boat house remains along the lakeshore from a time when boat rides were provided. A short side-trek takes hikers to the site of a reconstructed Weindorfer Chalet where the founders entertained guests. Although the chalet no longer entertains overnight visitors, there are cabins that may be reserved behind the original structure.
Trails from the Dove Lake Circuit lead to other small lakes and interesting vantage points, including the four named peaks: Cradle Mountain, Weindorfers Tower, Smithies Peak and Little Horn. Although hikers climb the mountain to the peaks all year round, they must be prepared for harsh weather during their climb in nearly all seasons. The trail is strenuous and involves scrambling over large boulders to attain the full view of surrounding points of interest such as Barn Bluff, Mount Ossa and Dove Lake. Cradle Mountain itself is named for its reported resemblance to an old gold mining cradle.
The Park is a part of the Tasmanian Wilderness World Heritage Area. The most extensive hiking trail available from the Dove Lake Circuit is the Overland Track. The entire route takes at least six days and requires a booking pass from Park management in advance. A series of rustic bunkhouses along the trail provide communal shelter, rudimentary kitchens and heating stoves. Although the cabins are usually available, hikers are required to carry their own tent with them in case they are caught in unexpected bad weather and cannot make it to the shelters.
Several guide companies offer guided treks across the Overland Track, known for its spectacular views of the mountains within the Cradle Mountain-Lake St. Clair National Park. The 35-mile trail takes adventurers from Ronny Creek near Dove Lake to the head of Lake St. Clair where they board a ferry to the Lake St. Clair Visitors Center. Those who wish to walk through the rain forest surrounding the lake to reach the endpoint add another day to the trek.
A number of adventure concessions provide guided tours to Dove Lake. Canoe treks and helicopter rides over the rugged peaks can be arranged just outside the park entrance. A separate trail just inside the entrance leads to Kynvet Falls. Horseback trail riding facilities are available on the road leading to the park entrance. Several tourist lodgings, an RV campground and organized walking trails are found nearby as well. A popular spa is located near the entrance, and a Tasmanian Devil sanctuary offers visitors the chance to see these unusual creatures up close. Canoeing treks and local exploration opportunities offer even more chances to explore the unusual vegetation, bird and animal life endemic to Tasmania.
The unique flora and fauna of Tasmania were created in extreme isolation from much of the rest of the world, allowing life forms to evolve without outside influence. Some of the plant species, particularly the unusual ferns found in the cool temperate rain forests, are considered to be 'left-over' from 60 million years ago when the ancient southern continent of Gondwana existed encompassing much of Antarctica, Australia and Southern Africa. This unique ecology is easily seen at Dove Lake.
Because these unusual species are seen nowhere else on earth and closely resemble fossil remains of plants from the Jurassic time period, the plant and animal life of Tasmania is of great interest to scientists and in need of protection from changes caused by human interaction. For this reason, visitors to the Dove Lake area and other areas within the national park system must be particularly careful to stay on the marked pathways and not disrupt native vegetation. Dove Lake is the most accessible place to experience this unique and rare landscape. Local guest facilities and lodgings can provide comfort and modern convenience while investigating Earth's most ancient natural habitat.
Custom Dove Lake house decor
Read our full review of these personalized lake house signs.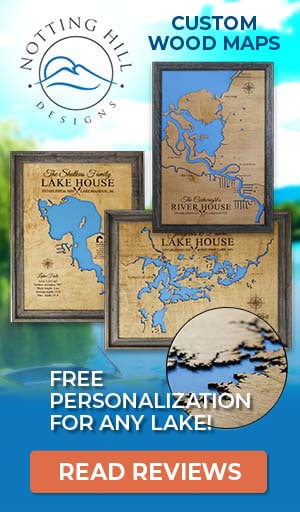 Things to do at Dove Lake
Vacation Rentals
Fishing
Boating
Canoeing
Kayaking
Camping
Campground
Cabin Rentals
Hiking
Horseback Riding
National Park
Fish species found at Dove Lake
Brown Trout
Rainbow Trout
Trout
---
Best hotels and vacation rentals at Dove Lake
The Dove Lake map shown above is a simple and stress-free way to search for trip accommodations. But if you want to take a deeper dive to find the ideal waterfront home, cabin, condo, hotel or resort, visit our favorite lodging partners by clicking the buttons below.
Note: These are affiliate links so we may earn a small commission if you book through them. While there is no extra cost to you, it helps provide resources to keep our site running (thank you)! You can read our full disclosure policy here.
---
Dove Lake photo gallery
New photos coming soon!
Dove Lake statistics & helpful links
We strive to keep the information on LakeLubbers as accurate as possible. However, if you've found something in this article that needs updating, we'd certainly love to hear from you! Please fill out our Content Correction form.
Advertise your Dove Lake vacation rental
LakeLubbers will soon offer homeowners and property managers the opportunity to to showcase their vacation rentals to the thousands of lake lovers searching our site daily for accommodations. If you'd like additional details, please contact our advertising team here.
Looking for the Dove Lake forum?
LakeLubbers previously offered visitors the ability to create accounts and participate in lake forums. When we overhauled the site's content management system in 2021 we had to disable those features. We're evaluating options and welcome your comments and feedback here.
We also encourage you to join our lake-lovin' community on Facebook and Instagram!
Spread the word! Share our Dove Lake article with your fellow Lake Lubbers!