Lake Celilo, Oregon & Washington, USA
Also known as:  Dalles Lock and Dam
Welcome to the ultimate guide for history, statistics, local fun facts and the best things to do at Lake Celilo.
If you're considering Lake Celilo vacation rentals, we've made it super easy to explore accommodations and nearby hotels using the interactive map below. Simply click on a listing to compare similar properties, best rates and availability for your dates. Or keep scrolling to read our Lake Celilo guide!
Lake Celilo visitor and community guide
Beautiful and serene Lake Celilo is located off of I-84 about an hour and a half east of Portland, Oregon. Lake Celilo stretches 24 miles long and straddles the border of Oregon and Washington. Majestic Mount Hood is visible while looking downstream towards The Dalles. Although most of the shoreline is bordered by highways and railroads, there are several recreational facilities that provide ample activities for lake visitors. Recreational activities include fishing, camping, boating, swimming and much more.
Lake Celilo was created by impounding the Columbia River two miles east of the city of The Dalles, Oregon. The dam, known as The Dalles Dam and Locks, was authorized by the Flood Control Act and is part of The Dalles – John Day- Willow Creek Project. The Project consists of The Dalles Dam, John Day Dam, and the Willow Creek Dam. Both The Dalles and John Day Dams combined produce more hydroelectric power than any other dam in the United States. Construction of Dalles Dam began in 1952 and was completed in 1960. One of the purposes of Dalles Dam was to provide safe navigation between The Dalles and Celilo Falls. Called The Great Falls by Lewis and Clark, Celilo Falls was flooded by the rising waters of Lake Celilo. Along with safe navigation, the 8,735-feet wide dam also provides power production. Tours of Dalles Dam have been limited recently due to Homeland Security directives, but plans are to reopen parts of the project for public viewing in the near future. Visitors may check the Corps of Engineers website to see when tours will be open. The tour includes a train ride from the Seufert Park Interpretive Center to the powerhouse, fish ladder, and petroglyphs.
Fish navigation is very important on the Columbia River, and much has been done on Lake Celilo to make sure that fish continue to move freely along the River. One of the ways this has been accomplished is by installing fish ladders. By installing two one-third mile long fish ladders into The Dalles Dam, adult Pacific Salmon, including Chinook, Coho, Sockeye and Pink, are able to migrate upstream. Other fish make use of the fish ladders including lamprey, steelhead and shad. Since 1957, fish moving up the fish ladder have been counted and recorded at the Dalles Dam. About 450,000 adult salmon and steelhead migrate upstream each year.
The landscape around Celilo Lake is primarily mixed grasses and shrubs with a few small clusters of cottonwood, willow and locust along the shoreline. The open and beautiful views of the lake can be seen at nine different recreational areas. Recreational areas can be found on both the Oregon and Washington side of Celilo Lake. Horsethief State Park and Maryhill have camping sites, while Celilo Park, Heritage Landing, Horsethief State Park, Maryhill, and Spearfish Park all have boat ramps. Other amenities at the lake include handicap facilities, marinas, picnic sites, restrooms and pull-through camper sites. The Dalles Dam Visitor Center was opened to the public in 1981 and is on the Oregon shore at Seufert Park. Exhibits at the visitor center include information on the history of The Dalles area and the Corps of Engineers. There is not an admittance fee for the visitor center, and it is a nice place to stop by while visiting Celilo Lake.
Boating is permitted on Celilo Lake, and windsurfing, waterskiing, and pleasure boating are all fun pastimes. However, due to the sudden discharges of water from the dam and current changes of the water, there are some restricted access areas called the Boat Restricted Zone or BRZ. These areas are above and below the dam. You can check with the Corps of Engineers to see where these areas are located.
Words cannot describe the beauties of Celilo Lake. Visitors of all ages will enjoy their trips to the lake. Whether visitors go to relax away from the busy cities, or enjoy a day of play in the waters, there is something for everyone at Celilo Lake.
Custom Lake Celilo house decor
Read our full review of these personalized lake house signs.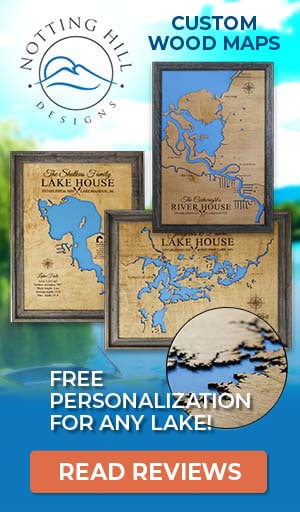 Things to do at Lake Celilo
Fishing
Boating
Swimming
Water Skiing
Camping
Picnicking
State Park
Fish species found at Lake Celilo
Chinook Salmon
Lamprey
Salmon
Shad
Steelhead Trout
---
Best hotels and vacation rentals at Lake Celilo
The Lake Celilo map shown above is a simple and stress-free way to search for trip accommodations. But if you want to take a deeper dive to find the ideal waterfront home, cabin, condo, hotel or resort, visit our favorite lodging partners by clicking the buttons below.
Note: These are affiliate links so we may earn a small commission if you book through them. While there is no extra cost to you, it helps provide resources to keep our site running (thank you)! You can read our full disclosure policy here.
---
Lake Celilo photo gallery
New photos coming soon!
Lake Celilo statistics & helpful links
We strive to keep the information on LakeLubbers as accurate as possible. However, if you've found something in this article that needs updating, we'd certainly love to hear from you! Please fill out our Content Correction form.
Advertise your Lake Celilo vacation rental
LakeLubbers will soon offer homeowners and property managers the opportunity to to showcase their vacation rentals to the thousands of lake lovers searching our site daily for accommodations. If you'd like additional details, please contact our advertising team here.
Looking for the Lake Celilo forum?
LakeLubbers previously offered visitors the ability to create accounts and participate in lake forums. When we overhauled the site's content management system in 2021 we had to disable those features. We're evaluating options and welcome your comments and feedback here.
We also encourage you to join our lake-lovin' community on Facebook and Instagram!
Spread the word! Share our Lake Celilo article with your fellow Lake Lubbers!