Lake Catatoga, Illinois, USA
Lake Locations:
USA - Midwest - Illinois - Central -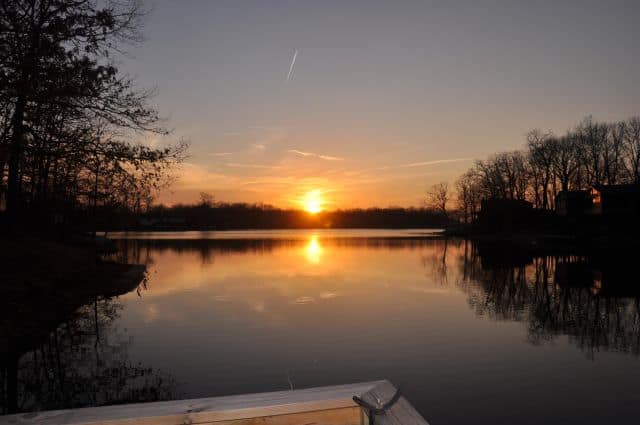 Illinois' peaceful Lake Catatoga is situated between St. Louis and Springfield, just 15 miles west of the city of Litchfield. This sparkling body of water features a surface area of 66 acres and a dam on its northern end. It is nestled in Macoupin County – named after Macoupin Creek, a strong stream that winds throughout the area. 'Macopina' is the Native American word for 'water lily.' Indigenous tribes, such as the Peoria and the Cahokia, used to eat the roots of these fragrant plants.
Hundreds of years ago, the lands of modern day Lake Catatoga and Macoupin County were heavily utilized for hunting waterfowl, prairie chicken, and deer. Buffalo and elk were also pursued up until the mid-1700s, when a heavy snowstorm wiped them out in one fell swoop. Artifacts are frequently found in the region to this day, with the oldest specimen dating back ten thousand years. Back then, the area was covered with swampy lakes, marshes and wetlands before settlers drained most of them for cultivation purposes.
Today, Lake Catatoga's laid-back ambiance and convenient location have established it as a highly desirable place to live and visit. Real estate properties are available. A "no wake" policy is enforced upon the lake, creating safer conditions for swimming and boating. This also keeps the noise level down for residents with lakeside property. These waters are stocked with crappie, walleye, bluegill, catfish and bass; such variety combined with an irregular shoreline make it a phenomenal fishing location.
One of the most fascinating places near Lake Catatoga is Beaver Lake, a 59-acre body of water with nearly two miles of shoreline and an average depth of 10 feet. Just before the turn of the twentieth century, a group of 18 men from Carlinville formed the Beaver Dam Lake Club. They pooled their money and came up with $2,500, which they used to build a dam and raise the lake's water level. The surrounding lands became a state park in 1947, boasting 425 acres.
Beaver Lake State Park consists of 751 acres. White squirrels, wild turkeys, fox and deer are just a few of the hundreds of species of wildlife found throughout the preserve. Birds like orioles, bluebirds, nuthatches and peewees are common. Leisure activities include hiking the eight-mile trail system, as well as hunting for turkey, deer and squirrel. Ice fishing, cross country skiing, ice skating and sledding are popular during the winter. Camping is a joy year round, as restrooms, fresh water, fire pits, picnic tables, and cabins are available. A concession stand selling bait, snacks and other supplies is open from April to October. The lake is stocked with largemouth bass, bluegill, sunfish and catfish – and it comes as no surprise that fishing is outstanding. Convenient public docks and boat launches serve electric engine boats only.
Each year in the small town of Gillespie, just a short distance from Lake Catatoga, the Annual Black Diamond Days are held. This coal festival celebrates the mining industry, and all who participate in it, with a three-day carnival. Gillespie Lake is composed of two parts – the larger New Gillespie Lake and the smaller Old Gillespie Lake. Together they total about 216 acres.
A great day trip from Lake Catatoga is the Shoal Creek Nature Conservation Area, located east of Island View Lake. The park is comprised of 276 acres of gorgeous prairie, rocky area and forest. Over 700 kinds of plants, 74 pairs of breeding birds and 71 species of butterflies attract outdoor enthusiasts from near and far. The Rotary Trail is an interpretive trail made up of two loops, totaling just under a mile in length. It is named for the Litchfield Rotary Club, an organization that installed numerous bluebird houses along the path.
The Denby Prairie Nature Reserve is also near Lake Catatoga, offering endless fields of tall grass and wildflowers. Hunters should check out the 40-acre Goode's Woods nature preserve and hunting area. It is situated just above Otter Lake, which offers some of the best muskie fishing in the state.
Whether or not you have an active imagination, at Lake Catatoga it is too easy to envision yourself living in a world before cars, computers or cell phones. Any avenue of exploration undoubtedly leads to a place where Native Americans stood hunting, foraging or simply relaxing hundreds or even thousands of years ago. Let the woes and troubles of modern life melt into the waters of this exceptional Illinois lake.
Things to do at Lake Catatoga
Fishing
Ice Fishing
Boating
Swimming
Camping
Picnicking
Cabin Rentals
Hiking
Ice Skating
Cross-Country Skiing
Hunting
Wildlife Viewing
Birding
State Park
Fish species found at Lake Catatoga
Bass
Black Bass
Bluegill
Catfish
Crappie
Largemouth Bass
Muskellunge
Perch
Pike
Sunfish
Walleye
---
Lake Catatoga Photo Gallery
Lake Catatoga Statistics & Helpful Links
Spread the word! Share our Lake Catatoga article with your fellow Lake Lubbers!