Lake Bogue Homa, Mississippi, USA
Lake Locations:
USA - South - Mississippi - Coastal Region -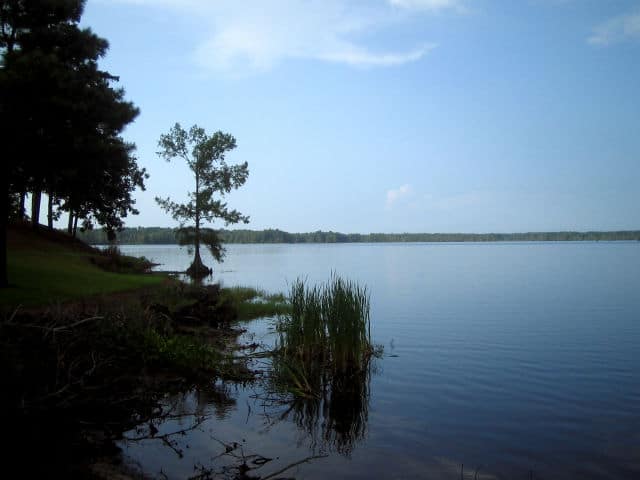 In Jones County of Mississippi's Coastal region, Lake Bogue Homa covers 882 surface acres. A mild and "friendly" climate year round and the comfort of countryside greenery make the lake a pleasant place to be for a relaxing boating trip. Lake Bogue Homa, which comes from the Choctaw words "bok" meaning "creek," and "homma" meaning "red," was constructed in 1939 and then transferred to the Mississippi Department of Wildlife, Fisheries and Parks (MDWFP) in 1959 making it the department's largest lake.
Lake Bogue Homa was drained in 2007 so that the dam could be rebuilt. Refilled and restocked with largemouth bass, crappie, bluegill, and channel catfish, the lake will reopen for fishing in 2010. The Mississippi Department of Wildlife, Fisheries and Parks reopened Lake Bogue Homa to recreational boating and waterskiing in designated areas in 2008 on a Thursday to Sunday schedule. Waterfowl hunting on specified days is also permitted with special permit. For additional information on lake activities and amenities, visitors can contact MDWFP (601-425-2148).
Until fishing reopens, you might want to consider Big Creek Lake, located in Soso, minutes from Lake Bogue Homa and accessible from Highway 84. Look for bass, crappie, bream and catfish. Camping, swimming, hiking and picnicking are are other popular activities at the lake.
After testing the waters, you will want to get out and explore Jones County. Known for industry, agriculture, and increasingly, technology, Jones County is one of those small town southern communities that offers the ease and access of modern city living but in a laid back, friendly, and pleasant setting. Laurel, just six miles west of Lake Bogue Homa, has been awarded numerous awards for its commitment to improving quality of life for its residents. It is a simply beautiful city with a Central Historic District that is part of the national register of historic places. The district features an exceptional collection of architectural styles. You can view colonial, Queen Anne, bungalow, craftsman and classical styles in especially designed landscape. There's a ton to do in Laurel. The internationally acclaimed Lauren Rogers Museum of Art, Mississippi's first art museum, hosts an impressive art history library. It also offers intriguing collections of European and American art, Native American baskets, British Georgian silver, and Japanese woodblock prints. The city has great parks full of recreational possibilities, and a playhouse that puts on several productions a year. Also, don't miss one of Laurel's attractive festivals. Its blues and arts festivals attract crowds each year.
There are a wide variety of real estate options near Lake Bogue Homa. In Laurel, family homes are the dominant fare, with options including historic sites on the national register. New subdivisions offer townhouses and apartments in addition to single-family homes. You will find the perfect pace living in a "livable city" with small town character, great access to fun, entertainment and outdoor activity, and not to mention a great lake just a stone throw away.
A trip to Lake Bogue Homa will prove simply delightful. The lake invites you to warm, cheerful days lounging on the water, contemplating the wildlife and watching the evening sun dip beyond view. You couldn't want anything more.
Things to do at Lake Bogue Homa
Vacation Rentals
Fishing
Boating
Swimming
Water Skiing
Camping
Picnicking
Hiking
Hunting
Wildlife Viewing
Museum
Fish species found at Lake Bogue Homa
Bass
Black Bass
Bluegill
Catfish
Channel Catfish
Crappie
Largemouth Bass
Sunfish
---
Lake Bogue Homa Photo Gallery
Lake Bogue Homa Statistics & Helpful Links
Spread the word! Share our Lake Bogue Homa article with your fellow Lake Lubbers!