Okhissa Lake, Mississippi, USA
Lake Locations:
USA - South - Mississippi - Capital-River Region -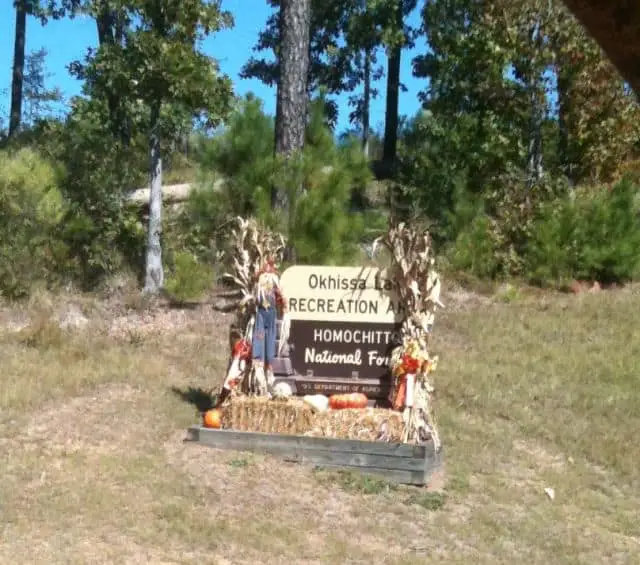 Okhissa Lake, the first Bill Dance Signature Lake, opened to the public on November 7, 2007 with huge success. The 1,000-acre lake was created to encourage economic growth, and with the name Bill Dance attached to it, anglers far and wide are sure to visit. Located off of Highway 98, in the Homochitto National Forest, Okhissa Lake currently is an excellent place to fish and boat. Future plans are to make Okhissa Lake a recreational get away and feature campgrounds, swimming beaches, and other recreational areas.
The Okhissa Lake project was launched in 1999 with the goal of providing economic diversity and rural development in the Capital/River Region of southwest Mississippi. The building of the earthen dam in the Porter Creek Watershed was contracted to the Natural Resource Conservation Service (NRCS). In 2004 the water valve in the dam was closed and in 2005 the Forest Service and the Natural Resource Conservation Service hosted a Dedication for the dam. Even before the dam was complete Okhissa Lake received the "Rise to the Future Award", which is a Forest Service National Award for recreational fishery resources accomplishment. This award was given in 2003.
Fishing is a big deal at Okhissa Lake. With the help of renowned bass fisherman Bill Dance, Okhissa Lake is expected to become one of Mississippi's premier largemouth fisheries. Okhissa Lake was stocked with bluegill, redear, crappie, threadfin shad, channel catfish, fathead minnows and largemouth bass. Every effort is taken to keep other fish out of Okhissa Lake. This is done to keep a balance to the fish population and to keep the fish from dying off. Due to the lack of natural spawning sites, spawning bids were placed before the lake bottom was flooded to enhance the productivity and fisheries habitat of the lake. Okhissa Lake opened to the public for fishing on November the 7, 2007 and was a glorious day for anglers. There is a 16-20 inch slot limit at Okhissa Lake. Anglers may keep up to 10 bass per day with only one more than 20 inches long. There is a $5 per car fee to enter the lake. This fee also covers day use activities.
There are future plans for campgrounds, cabins and as well as a resort with meeting rooms, but for now visitors to Okhissa Lake may stay at a couple of nearby campgrounds. The Homochitto Hide-Away is located off Highway 84 and features full hookups, full hot water baths and fish and deer cleaning stations. Also visitors may stay at the Clear Springs Campground located within the Homochitto National Forest. Other lake facilities planed are swimming beaches, environmental education sites, trails and day-use areas. The lake currently features a boat ramp on the north and south ends of the lake, picnicking areas as well as a gazebo looking out over the lake and dam.
Although Okhissa Lake is known for its fishing, visitors can now enjoy pleasure boating and water skiing at Okhissa Lake. There is a buoyed ski area set aside for water skiing. Recreational activities at Okhissa Lake will increase in the years to come. So whether visitors enjoy sinking their line in for a record catch or taking a relaxing boat ride, Okhissa Lake is a place to keep your eyes on. Visitors can watch the beauty and fun of a new lake transform before their eyes.
Things to do at Okhissa Lake
Fishing
Boating
Swimming
Beach
Water Skiing
Camping
Campground
Picnicking
Cabin Rentals
Hiking
Wildlife Viewing
National Forest
Fish species found at Okhissa Lake
Bass
Black Bass
Bluegill
Catfish
Channel Catfish
Crappie
Largemouth Bass
Redear Sunfish (Shellcracker)
Shad
Sunfish
---
Okhissa Lake Photo Gallery
Okhissa Lake Statistics & Helpful Links
Spread the word! Share our Okhissa Lake article with your fellow Lake Lubbers!