Ross Barnett Reservoir, Mississippi, USA
Also known as:  The Rez
Welcome to the ultimate guide for history, statistics, local fun facts and the best things to do at Ross Barnett Reservoir.
If you're considering Ross Barnett Reservoir vacation rentals, we've made it super easy to explore accommodations and nearby hotels using the interactive map below. Simply click on a listing to compare similar properties, best rates and availability for your dates. Or keep scrolling to read our Ross Barnett Reservoir guide!
Ross Barnett Reservoir visitor and community guide
Ross Barnett Reservoir, known locally as The Rez, has found its way into the hearts of the Capital River region of Mississippi. The 33,000-acre reservoir was formed in 1965 when the Pearl River was dammed to create a water supply for the City of Jackson. Located less than 20 miles from downtown Jackson, Ross Barnett Reservoir plays a part in the recreational plans of generations of Mississippians. Well over two million people visit the reservoir each year in search of watersport venues, camping, swimming and fishing. With five campgrounds, 16 parks, 22 boat launches, three handicapped-accessible trails, two multi-purpose trails, and a mountain bike trail, there is something here for everyone.
Ross Barnett Reservoir is relatively shallow with an average depth of about 12 feet. Visitors enjoy sailing, power boating, water skiing, tubing, wakeboarding, pontooning and leisurely cruises. A handful of marinas along the 100 miles of irregular shoreline offer fuel, bait and tackle, convenience items, full-service restaurants and docking space. Rentals are available for pontoons, personal watercraft, skis, wakeboards, water toys and life preservers. Maps are available showing no-wake areas. Some of the marinas are conveniently located near campgrounds along the shoreline. Those bringing their own boats will find a number of public boat ramps available for launching and a water patrol in case they encounter problems.
Swimming areas are located in some of the public parks, although many also provide swimming pools as the water is sometimes muddy after heavy rain. A local yacht club located on the lakefront offers sailing and boating lessons to members and non-members alike for a fee. Sailboat races and regattas are held here regularly. The many coves and bays are ideal for canoeing and kayaking, with even better paddle venues upstream along the Pearl River. The public lands upstream along the Pearl River are particularly good for wildlife watching and stream fishing.
Ross Barnett Reservoir is known as prime catfish water to anglers, with channel catfish, blue catfish and flathead catfish all caught. Some of the 'cats' can reach nearly a hundred pounds. Crappies are also abundant and have provided many a meal for anglers wishing some fresh-caught table fare. But it is largemouth bass that attract the most attention. Striped bass and hybrid bass are also caught along with panfish. The lake has many stumps and pockets of standing timber-great fishing for those who can read the water. Fishing tournaments are held here regularly. Children's access to the smaller fish from fishing piers makes this lake particularly memorable. The campgrounds and parks offer dock fishing along with boat launches, 24 hour security, charcoal grills, picnic tables, paved RV sites with patios, volleyball and tennis courts, pavilion rental, playgrounds, rest rooms and showers with some having swimming pools.
All facilities in the parks are controlled by the Pearl River Valley Water Supply District, the state agency that owns the dam and reservoir. The agency also operates the campgrounds upstream along the Pearl River. Conveniently, the reservoir lies next to the Natchez Trace Parkway which is bordered by a swathe of public land, preventing intrusive development. Between the Trace and Ross Barnett Reservoir, almost 7000 acres is leased by the water district to the Mississippi Department of Wildlife, Fisheries and Parks as the Pearl River Wildlife Management Area. Nearly 1500 acres on the southwest corner of the WMA is designated the Pearl River Waterfowl Refuge with viewing platforms and a variety of trails. Much of this area is designed to be accessible to the disabled. Birding brochures are available. The area is rich in water-loving birds, including eagles, egrets, a variety of herons and migrating birds of all kinds. Numerous trails within the area are available for exploration. All visitors must obtain a Daily User Permit. The WMA is available for hunting in season with appropriate license as long as all regulations are followed.
A number of walking and nature trails radiate from the parks along the shoreline of Ross Barnett Reservoir, some of which are available for bicycling and horseback riding. Because the area is such an attractive landscape, the Pearl River Valley Water Supply District has leased areas along the southwest shoreline to developers to build condos and private homes with water access. The new housing is hugely popular; nearly 4000 homes are now located in off-water neighborhoods in these development parcels. A new condo project is planning its own marina, complete with houseboat slips. Homeowner associations are becoming involved in lake-based activities, and a community-wide effort produces the annual Waterfest at Old Trace Park. The festivities include kayak racing, children's activities, free music, food and educational activities.
Grocery stores, services and fast food can be found in the City of Madison off the northwest shore. Family Circle magazine recently named Madison as one of the Best Ten Towns in America for raising a family. Children's activities and services are plentiful and convenient. Jackson's big-city attractions are only a few minutes' drive away, with a number of other small cities nearby.
Few private vacation rentals are available near Ross Barnett Reservoir, but there are several hotels, motels and bed-and-breakfast inns within a short distance. One golf resort with lodging is located near the southwest shore. Real estate can be found, both as existing homes or in brand-new developments. With excellent fishing, boating and services, Ross Barnett Reservoir is the perfect place to spend a few days engaging in waterfront living, even if the accommodations are a tent or RV. So come enjoy some leisure time on the Pearl River and Ross Barnett Reservoir. The fishing is great-and so is the hospitality.
Custom Ross Barnett Reservoir house decor
Read our full review of these personalized lake house signs.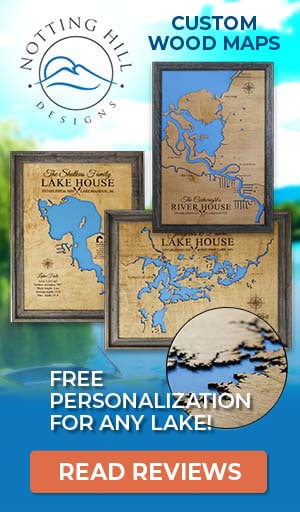 Things to do at Ross Barnett Reservoir
Vacation Rentals
Fishing
Fishing Tournaments
Boating
Sailing
Swimming
Swimming Pool
Canoeing
Kayaking
Water Skiing
Wakeboarding
Tubing
Golf
Tennis
Camping
Campground
Picnicking
Hiking
Biking
Horseback Riding
Hunting
Wildlife Viewing
Birding
Playground
Fish species found at Ross Barnett Reservoir
Bass
Black Bass
Blue Catfish
Catfish
Channel Catfish
Crappie
Flathead Catfish
Largemouth Bass
Striped Bass
---
Best hotels and vacation rentals at Ross Barnett Reservoir
The Ross Barnett Reservoir map shown above is a simple and stress-free way to search for trip accommodations. But if you want to take a deeper dive to find the ideal waterfront home, cabin, condo, hotel or resort, visit our favorite lodging partners by clicking the buttons below.
Note: These are affiliate links so we may earn a small commission if you book through them. While there is no extra cost to you, it helps provide resources to keep our site running (thank you)! You can read our full disclosure policy here.
---
Ross Barnett Reservoir photo gallery
New photos coming soon!
Ross Barnett Reservoir statistics & helpful links
We strive to keep the information on LakeLubbers as accurate as possible. However, if you've found something in this article that needs updating, we'd certainly love to hear from you! Please fill out our Content Correction form.
Advertise your Ross Barnett Reservoir vacation rental
LakeLubbers will soon offer homeowners and property managers the opportunity to to showcase their vacation rentals to the thousands of lake lovers searching our site daily for accommodations. If you'd like additional details, please contact our advertising team here.
Looking for the Ross Barnett Reservoir forum?
LakeLubbers previously offered visitors the ability to create accounts and participate in lake forums. When we overhauled the site's content management system in 2021 we had to disable those features. We're evaluating options and welcome your comments and feedback here.
We also encourage you to join our lake-lovin' community on Facebook and Instagram!
Spread the word! Share our Ross Barnett Reservoir article with your fellow Lake Lubbers!