Lake Arrowhead, Georgia, USA
Lake Locations:
USA - South - Georgia - Historic High Country -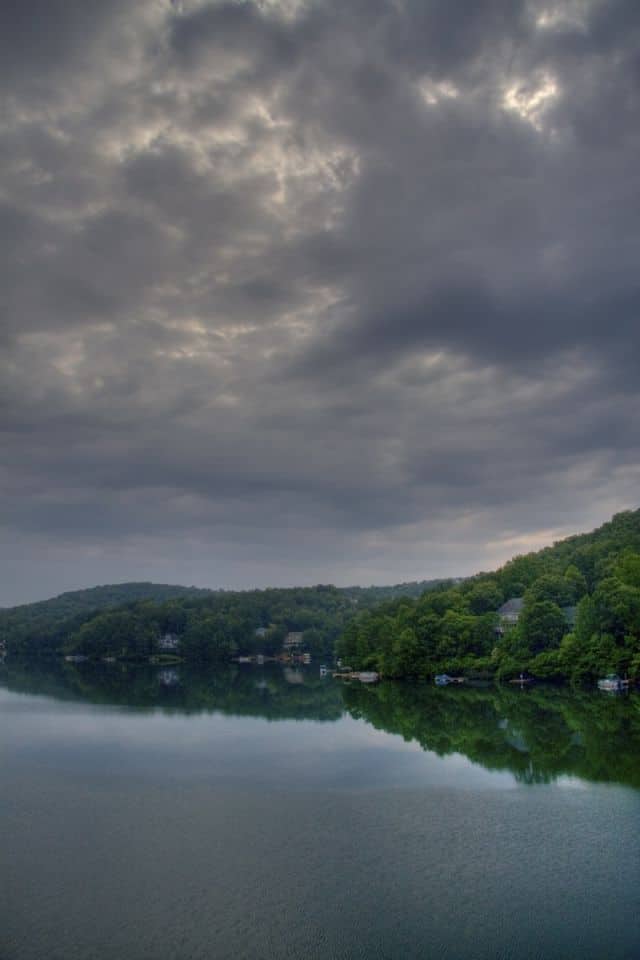 Imagine verdant forests and alluring mountain peaks reflected off crystal clear, Georgia spring-fed water – and you're picturing Lake Arrowhead. This private lake is tucked in the outskirts of Metro-Atlanta's Cherokee County. Its name can be attributed to both its physical shape resembling an arrowhead, as well as the huge community of native Americans that once flourished here. Both lush vegetation and the majestic Blue Ridge Mountains lend the lake an organic, peaceful quality – one that is in stark contrast with the hustle and bustle of Atlanta life just 45 minutes to the south.
Boasting a surface area of 540 acres and a maximum depth of about 90 feet, Lake Arrowhead features 11 miles of sandy shoreline and some of the most consistently pristine waters in the state of Georgia. Not surprisingly, the lake is a highly desirable place to live; real estate and vacation rentals are widely available, mostly on the upper neck known as "The Narrows." This northern portion of the lake is littered with secluded bays and coves. It is a designated "no wake zone," out of respect to the many homeowners who live in these parts. To the south lies the "Big Basin," where most of the area's water skiing and boating takes place. The Arrowhead Dam is also located toward the southern end of this spectacular body of water.
Swimming, wake boarding, tubing, and kayaking are some of the area's finest outdoor activities. Pontooning and boating are also popular, but jet skis are not allowed due to noise restrictions. An 18-hole golf course can be found on the premises, as well as a marina and boat launch. Anglers are likely to catch catfish, bream, crappie, and bass. Hiking along Lake Arrowhead's eight-mile trail system yields fantastic wildlife watching opportunities, particularly for water turtles, blue herons and deer. The three primary paths are the Flat Rock, Lake Shore and Wilderness Trails – which stretch for one, two and four miles, respectively.
Red Cloud Park and Great Festival Parks are the two swimming and tennis centers within Lake Arrowhead's residential community. Attractions like a junior Olympic-sized swimming pool, basketball courts, and batting cages constantly draw visitors of all ages. Public parks like the Waleska City Park offer baseball fields, playgrounds and pavilions; Cline Park features additional tennis courts, volleyball courts, and an outdoor running track.
To the north lies Lake Chickasaw, Lake Arrowhead's crisp and tiny neighbor. It is fed by a hefty creek, and features a 1,141-foot dam. Only electric motors are permitted on this small body of water. Lake Allatoona, with an enormous surface area of 12,000 acres, can also be found nearby. Eleven hiking trails and 270 miles of shoreline attract a jaw dropping six million visitors to this magnificent body of water each year. It is adjacent to Red Top Mountain State Park, a popular place for hiking, biking, and tent or yurt camping.
Lake Arrowhead is also close in proximity to the historic city of Waleska, in northwest Georgia. This municipality was officially incorporated in 1889, named for a Cherokee Indian princess called Warluskee – a girl who dwelled in these parts long ago. The city once enjoyed a prominent place in the grain-grinding, timber, manufacturing and tobacco industries before finally developing into the college town that it is today. As the proud home home Reinhardt College, modern Waleska revolves almost exclusively around academia. The institution began back in 1883 as a one room schoolhouse for elementary-high school children, and over the years expanded to serve the higher education needs of greater Atlantans. A second campus was constructed in North Fulton County to meet such great demand.
Don't miss out on the incredible solitude and serenity that Lake Arrowhead has to offer. Come spend a tranquil sunset or two kayaking along the shoreline, as this is the pinkish hour when deer like sip water from the edges of the lake. A convenient location near the cities of Waleska, Canton, and Atlanta permits visitors to enter another world without having to stray too far from the modern conveniences that urban life provides.
Things to do at Lake Arrowhead GA
Vacation Rentals
Fishing
Boating
Swimming
Swimming Pool
Kayaking
Jet Skiing
Water Skiing
Wakeboarding
Tubing
Golf
Tennis
Camping
Hiking
Biking
Wildlife Viewing
State Park
City Park
Playground
Fish species found at Lake Arrowhead GA
---
Lake Arrowhead GA Photo Gallery
Lake Arrowhead GA Statistics & Helpful Links
Spread the word! Share our Lake Arrowhead GA article with your fellow Lake Lubbers!