Lake Petit, Georgia, USA
Lake Locations:
USA - South - Georgia - Historic High Country -
Also known as:  Big Canoe- Lake Petit, Lake Sconti, Lake Disharoon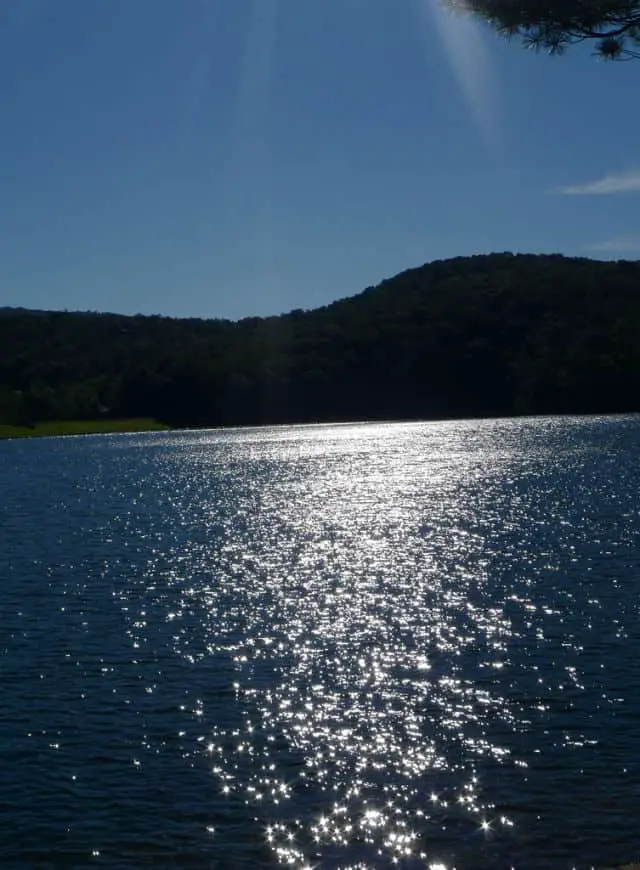 Lake Petit, Lake Sconti, and Lake Disharoon are located in Georgia's premier mountain community known as Big Canoe. Nestled in the Blue Ridge Mountains, Big Canoe was called the Enchanted Land by Native Americans. Seven of Georgia's largest mountain peaks cradle the resort community, while the sparkling blue waters of the three lakes add to the serenity. Lake Petit covers about 110 acres, Lake Sconti about 45 acres, and Lake Disharoon about 30 acres.
The area that is now Big Canoe Community was once inhabited by the Paleo Native Americans who left behind a set of rock mounds which can still be seen to this day at Indian Rocks Park. Sometime after the Paleo Native Americans moved on, the Cherokee took up residence until they were relocated in the 1830s. Later in the 1800s the land was purchased by Colonel Sam Tate, who promoted improvements in the North Georgia Mountains. The school that Colonel Tate helped to build is now the Big Canoe's tennis pro shop. In 1972, development of Big Canoe was begun by a joint effort between Tom Cousins of Cousins Properties in Atlanta and Sea Pines Corporation of Hilton Head. The name Big Canoe was chosen to honor the Native American heritage that was once a large part of the area. The Byrne Corporation took over the development of Big Canoe in 1987 and continued expansion of the project. The property is now owned by the Big Canoe Property Owners Association (POA); in addition to the three pristine lakes, the community offers a fitness center, swim club with pool, golf course, clubhouse, hiking trails, tennis courts, and a marina.
Big Canoe is an 8,000-acre private community offering mountain homes and condominiums. The community includes full-time residents, part-time residents with vacation homes, and vacation rentals. The three lakes provide a natural central focus for Big Canoe. Lake Petit, the largest, has a marina and boat ramp. Lake Petit and Lake Sconti offer fishing and boating (electric motors only). Anglers enjoy casting their lines in both lakes for a chance to catch some of the stocked rainbow trout and bass.
The Big Canoe clubhouse and golf course are located around Lake Sconti. Lake Disharoon features a sandy swimming beach, swim club with a swimming pool, snack bar, picnic areas, and a waterslide that connects Lake Disharoon to Lake Sconti. Although fishing and boating are not permitted on Lake Disharoon, canoes and paddleboats are popular on the lake's smooth waters.
The Big Canoe community offers outdoor enthusiasts 20 miles of hiking trails, 7 of which are paved for hiking and hiking. The northern part of Big Canoe borders Dawson Forest, and some of the community's trails connect into the forest. The Dawson Forest Wildlife Management Area (Dawson Forest WMA) spans an impressive 25,000 acres offering plenty of room for hikers, backpackers, bikers, equestrians, anglers, and hunters. Also nearby Big Canoe is Amicalola Falls State Park. Amicalola is the Cherokee word for "tumbling waters." The state park features a 729-foot waterfall, the tallest cascading falls east of the Mississippi River.
The town of Jasper is about 12 miles west of Big Canoe, and Atlanta is about 60 miles south of the community. Pack your bags and plan a visit to Lake Petit, Lake Sconti, and Lake Disharoon. Just one day experiencing the beauty of the lakes and mountains will leave you wanting more of the "endless vacation" that residents enjoy.
Things to do at Lake Petit
Vacation Rentals
Fishing
Boating
Swimming
Swimming Pool
Beach
Canoeing
Golf
Tennis
Picnicking
Hiking
Horseback Riding
Hunting
Waterfall
Wildlife Viewing
State Park
Fish species found at Lake Petit
---
Lake Petit Statistics & Helpful Links
Spread the word! Share our Lake Petit article with your fellow Lake Lubbers!