Carters Lake, Georgia, USA
Lake Locations:
USA - South - Georgia - Historic High Country -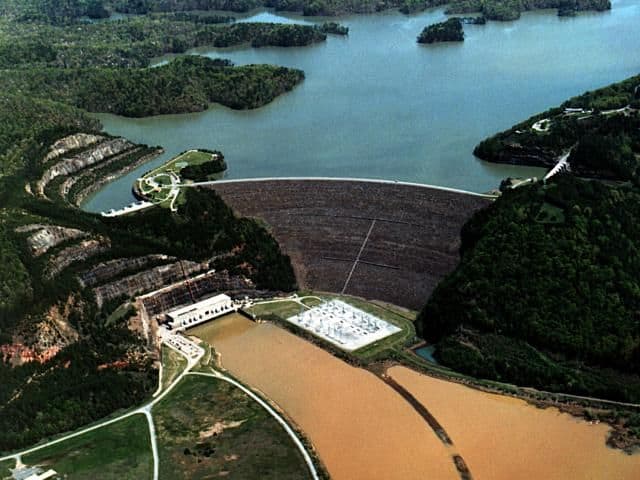 Positioned at the south end of the majestic Blue Ridge Mountains in North Georgia, Carters Lake is a small, deep lake with a little over 60 miles of shoreline and approximately 3,220 acres of clear water. It is one of Georgia's newest Great Lakes, offering plenty of traditional lake activities like boating, fishing, camping, and water sports. The lake is named for 19th century nearby property owner Farrish Carter. Carters Dam is the highest earth-filled dam east of the Mississippi River – a whopping 445 feet high! It is one of only a few "reverse dams" in the United States, where water flows down pipes to generate power during the day, and is pumped back up the generators at night to recycle the water for the next day's use.
Carters Lake, a peaceful destination for family fun by the water, has many park areas that make it an ideal location for nature lovers. These designated areas have been developed by the U.S. Army Corps of Engineers to provide visitors with places to relax on the lake's beach, areas to camp, and other recreational activities. Six public boat ramps are available to boaters. The lake took 15 years to construct and was finished in 1977 after damming the Coosawattee River that runs into Georgia from Tennessee.
Anglers flock to Carters Lake for largemouth bass, smallmouth bass, hybrid bass, striped bass, walleye, crappie, bream, and catfish. The Georgia Department of Natural Resources actively stocks the lake with walleye, striped bass, and hybrid bass. Although shoreline fishing on Carters Lake is limited due to steep terrain, anglers have additional fishing opportunities on the peaceful lower lake (reregulation pool) and the swift waters of the Coosawattee River.
Miles of hiking, biking, and nature trails stretch along the lake's shoreline, and gorgeous sloping hills provide a perfect, natural setting away from it all. Look to the north and east parts of Carters Lake to enjoy beautiful mountain views beyond the dam. No private docks or development obstruct the lake's naturally scenic shoreline; this is truly one of Georgia's best kept secrets. Exciting nature hikes abound along Carters Lake, including the Oak Ridge Trail, which runs lakeside and finishes near a creek. Another great trail in the area is Tumbling Waters which takes hikers to a gorgeous waterfall, one of the few falls not hidden underneath the lake. Even the casual hiker can take a walk on the Hidden Pond Songbird Trail, an easy hike that takes visitors to a beaver pond. If the most scenic route is desired, take a stab at the Carters Lake Nature Trail itself, which is near the visitor center.
The north central Georgia location of Carters Lake has a rich Native American and Civil War background, with several important historical sites nearby, including the Chief Vann House State Historic Site and several well-preserved Cherokee ruins and plantation homes. Located in nearby Calhoun, New Echota Historic Site is home to the Cherokee nation capital and the first Indian language newspaper.
Several festivals take place throughout the year in the lake's surrounding areas to honor Native American history and heritage. Also nearby is Ellijay, an area famous for its fall apple harvests and home to an Apple Festival complete with apple tastings and orchard tours. Carters Lake is conveniently located about an hour drive from both the busy city of Atlanta and the charming city of Chattanooga, TN.
Although built for flood control and hydroelectric power generation, Carters Lake has become a major recreation destination for boating, fishing, camping, and water sports. Whether visitors come here to fish, camp, hike, bike, or just to enjoy and learn about the deeply historical landscape, Carters Lake will provide genuine outdoor fun for every lake lover.
Things to do at Carters Lake
Vacation Rentals
Fishing
Boating
Swimming
Beach
Camping
Hiking
Biking
Waterfall
Ruins
Fish species found at Carters Lake
Bass
Black Bass
Catfish
Crappie
Largemouth Bass
Perch
Smallmouth Bass
Striped Bass
Walleye
---
Carters Lake Photo Gallery
Carters Lake Statistics & Helpful Links
Spread the word! Share our Carters Lake article with your fellow Lake Lubbers!