Chicagon Lake, Michigan, USA
Also known as:  Chicaugon Lake
Welcome to the ultimate guide for history, statistics, local fun facts and the best things to do at Chicagon Lake.
If you're considering Chicagon Lake vacation rentals, we've made it super easy to explore accommodations and nearby hotels using the interactive map below. Simply click on a listing to compare similar properties, best rates and availability for your dates. Or keep scrolling to read our Chicagon Lake guide!
Chicagon Lake visitor and community guide
Chicagon Lake lies in Michigan's western Upper Peninsula only a few miles from the Wisconsin state line. The 1000-acre natural lake isn't well-known except for the generations of lakelubbers who have returned here year after year. That's probably the reason why much of the lakeshore still remains wooded and natural, imparting a real 'up-north' feel to those lucky few who have found it. In actuality, the lake was 'found' many years ago. When European adventurers arrived, a band of Ojibwa Native Americans already made their home along the shore, clearing the surrounding forests to plant their fields of corn. Also known as the Chippewa, these people called the lake Ga-no-na-co-si-kag (trout) Sa-ka-egon (lake). The name Chicagon is likely a misinterpretation of Sa-ka-egon. The Ojibwa, relocated to the area from New York state, held the land patent on much of the land in the area until 1891. The remains of their burial structures still stand within Pentoga Park along the southern shore.
Chicagon Lake offers all types of water recreation to residents and visitors: The pristine lake is a favorite spot for swimming, boating, sailing and water-skiing. There is little commercial development on the lake. Most people stock up on supplies in either Crystal Falls or Iron River, a few miles to the east or west respectively. The rugged, tree-lined shoreline holds a number of summer cottages and year-round homes. There is no public marina and just one public boat launch on Chicagon Lake, which limits the number of visitors. Lakefront property owners share their lake primarily with fishermen. At least one resort rents cottages by the week to visitors, many of whom return yearly. Another lodge also rents rooms to vacationers. The lake remains quiet and serene, inviting to both wildlife and nature lovers.
Pentoga Park is located on the southern tip of Chicagon Lake. This park offers a campground with full amenities, playground, picnic pavilions, swim area, concession stand, park store and boat launch. Iron County purchased the land for this park in 1924 as a tribute to the Native Americans that congregated here, and to preserve their burial grounds. A few of their burial enclosures can still be seen here. The park is where most day visitors access the lake. A major, championship golf course nearby overlooks the lake with lovely lake views from the 'back nine', another drawing card that makes Chicagon Lake a desirable destination. The few roads along the lakeshore are not busy and make for excellent walking and nature-watching strolls.
Fishing is a major attraction at Chicagon Lake and accounts for many of the guests at both the lodge and the resort. The lake holds walleyes, northern pike, muskellunge, largemouth bass, smallmouth bass, rock bass, yellow perch, crappies, pumpkinseed, lake trout, brown trout, whitefish and lake herring. Chicagon Lake has developed a reputation as an excellent fishery for champion walleye and muskellunge. Although parts of the lake reach 115-feet in depth, other areas are shallower, with underwater shoals and emergent weeds. This varied fish habitat provides good structure for a variety of fish. The lake hosts ice fishermen in winter who hope for a catch of perch, northern pike and panfish.
With nearby Iron River as the hub of the 300 miles of snowmobile trails in Iron County, many winter visitors make a snow holiday out of their visit to Chicagon Lake. One of the trails skirts the lake itself, so it is convenient to use Chicagon Lake as home base for snowmobiling. Networked as it is with old decommissioned railroad beds left over from its mining days, Iron County could easily be called the snowmobiling capital of the Midwest. From here, snowmobilers can travel connecting trails all across the Upper Peninsula and into northern Wisconsin on excellent groomed trails. This same trail network makes for excellent cross-country skiing and snowshoeing. In the warmer season, the trails provide hiking paths, with some open for off-road vehicle use. If downhill skiing is what visitors desire, the biggest ski resort in the Upper Peninsula is less than ten miles from Chicagon Lake. Several other well-known downhill ski areas are also located within 30 miles of the lake.
To understand Michigan history, one has to explore this rugged western U.P. location at least once. This area of Michigan was actually settled before most of the warmer, flatter and more hospitable Lower Peninsula. The area was both logged for timber and mined for valuable ores, principle among them copper and iron. The hills and ravines that make up the 'Iron Range' drew husky immigrants from all over Europe who hoped to find a better future. Many towns were settled by Welsh, Scandinavians, Germans and the natives of Eastern European countries. Entire towns were abandoned when the iron ore played out and the timber was gone, leaving the area dotted with the ruins of old smelters, farmsteads and the artifacts of a bygone era. The immigrants, now fully American in outlook, moved south to the more hospitable farmlands of the Lower Peninsula. For history buffs, the Upper Peninsula is a gold mine in its own right: nearly every town has a historical museum that preserves both the records and the items of daily living these pioneers left behind. The Harbour House Museum is located in Crystal Falls, and the Iron County Historical Museum Complex is located in Iron River. The Complex is Upper Michigan's largest local museum, covering 10 acres on a former mine site, with 26 building, over 100 major exhibits and three special arts galleries. Both museums are located within 10 miles of Chicagon Lake.
Although Chicagon Lake seems remote, it is closer to the major cities in Wisconsin than to the Lower Peninsula. Green Bay is 130 miles, Milwaukee 230 miles, and Chicago Illinois 320 miles away. Rentals can often be found either along the lake itself or on the lakes nearby. Several bed-and-breakfasts are located in the area, and modern lodgings are available in both Crystal Falls and Iron River. Real estate is sometimes available on the lakefront for those lucky enough to buy. So bring the fishing boat and the golf clubs, or the snowmobile and the skis and come for a week to Chicagon Lake. You will have discovered your own treasure in Iron County. We hope you'll stay.
Custom Chicagon Lake house decor
Read our full review of these personalized lake house signs.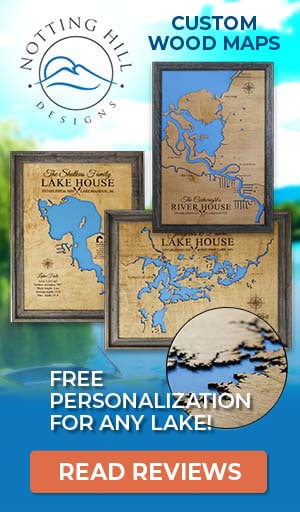 Things to do at Chicagon Lake
Vacation Rentals
Fishing
Boating
Sailing
Swimming
Water Skiing
Golf
Camping
Campground
Picnicking
Hiking
Downhill Skiing
Cross-Country Skiing
Snowmobiling
Wildlife Viewing
Museum
Ruins
Playground
Fish species found at Chicagon Lake
Bass
Black Bass
Brown Trout
Crappie
Lake Trout
Largemouth Bass
Muskellunge
Northern Pike
Perch
Pike
Pumpkinseed
Smallmouth Bass
Sunfish
Trout
Walleye
Whitefish
Yellow Perch
---
Best hotels and vacation rentals at Chicagon Lake
The Chicagon Lake map shown above is a simple and stress-free way to search for trip accommodations. But if you want to take a deeper dive to find the ideal waterfront home, cabin, condo, hotel or resort, visit our favorite lodging partners by clicking the buttons below.
Note: These are affiliate links so we may earn a small commission if you book through them. While there is no extra cost to you, it helps provide resources to keep our site running (thank you)! You can read our full disclosure policy here.
---
Chicagon Lake photo gallery
New photos coming soon!
Chicagon Lake statistics & helpful links
We strive to keep the information on LakeLubbers as accurate as possible. However, if you've found something in this article that needs updating, we'd certainly love to hear from you! Please fill out our Content Correction form.
Advertise your Chicagon Lake vacation rental
LakeLubbers will soon offer homeowners and property managers the opportunity to to showcase their vacation rentals to the thousands of lake lovers searching our site daily for accommodations. If you'd like additional details, please contact our advertising team here.
Looking for the Chicagon Lake forum?
LakeLubbers previously offered visitors the ability to create accounts and participate in lake forums. When we overhauled the site's content management system in 2021 we had to disable those features. We're evaluating options and welcome your comments and feedback here.
We also encourage you to join our lake-lovin' community on Facebook and Instagram!
Spread the word! Share our Chicagon Lake article with your fellow Lake Lubbers!