Kinkaid Lake, Illinois, USA
Welcome to the ultimate guide for history, statistics, local fun facts and the best things to do at Kinkaid Lake.
If you're considering Kinkaid Lake vacation rentals, we've made it super easy to explore accommodations and nearby hotels using the interactive map below. Simply click on a listing to compare similar properties, best rates and availability for your dates. Or keep scrolling to read our Kinkaid Lake guide!
Kinkaid Lake visitor and community guide
Kinkaid Lake is a scenic 2,350-acre reservoir surrounded by sandstone bluffs and rolling hills of oaks and hickories on the edge of the Shawnee National Forest in southwestern Illinois. The lake is located in Jackson County about 15 miles northwest of Carbondale, home of Southern Illinois University. Kinkaid Lake was created in 1972 for recreation and water supply when Crisenberry Dam impounded Kinkaid Creek. The dam is owned by the Illinois Department of Natural Resources (DNR). The lake receives water from Kinkaid, Little Kinkaid, Spring and Johnson Creeks. Ownership of the land surrounding the lake is shared among the U.S. Forest Service (5,000 acres), the Illinois DNR (4,000 acres), and the Kinkaid-Reed's Creek Conservancy District (300 acres) which oversees the lake's water quality. Although Kinkaid Lake supplies water to Jackson and Perry County residents, it is better known for its plentiful recreational offerings.
Four public boat ramps and a full-service marina provide access to Kinkaid Lake. Although there is no horsepower restriction, there are many no-wake areas along the lake's beautiful 73-mile shoreline. Boaters, canoeists, kayakers, and anglers share the waters of Kinkaid Lake, exploring topography ranging from sandstone bluff formations to hills blanketed with oak and hickory trees to flat expanses of prairie grasses.
Nationally known for its fishing, Kinkaid Lake provides anglers with ample opportunity to catch largemouth bass, crappie, catfish, walleye, muskellunge (muskie), and bluegill. With depths reaching about 80 feet at the dam's spillway, Kinkaid Lake's cool waters have supported a successful muskie stocking program since 1985, with fish reaching 40 inches just five years later. Illinois DNR also stocks the lake with walleye with excellent growth to 16 inches. However, during periods of heavy rain, fish would escape the lake over the spillway. In order to prevent the loss of large fish, DNR constructed a spillway barrier in 1998. The Illinois Department of Public Health recommends limiting consumption of predator fish species such as walleye and largemouth bass due to the possibility of mercury in the food chain.
The Shawnee National Forest beckons outdoor enthusiasts. For boaters, the Buttermilk Hill Picnic Area provides boat docks, picnic tables, and restrooms; these facilities are located on the western shore of Kinkaid Lake within the forest trail system. The Kinkaid Lake trail system consists of about 31 miles of maintained trails for hikers, bicyclists, and equestrians. Several trailheads provide access to the trail system, including the Buttermilk Hill Trailhead, Hidden Cove Trailhead, Crisenberry Dam, and the Johnson Creek Recreation Area. Hikes range from short loop trails to long, linear trails to scenic and remote areas of the lake. The Kinkaid Lake Trail is almost 15 miles long, ideal for serious hikers and equestrians. The Waterfall Trail (3.1 miles) and the Buttermilk Hill Trail (4.5 miles) provide opportunities for shorter day trips. Bicyclists are permitted on Waterfall Trail and on forest roads. The U.S. Forest Service permits primitive camping at least 150 feet off of trails and 150 feet from the lakeshore with a maximum of 14 days. Take time to enjoy the trails during the fall when forest leaves put on a majestic display, or during the winter when snow-covered trails provide an aura of serenity.
On September 22, 2006 a tornado crossed over the Mississippi River from Missouri into the Buttermilk Hill area of the Shawnee National Forest, impacting about 2,450 acres. Portions of the Kinkaid Lake trail system were buried under "blowdown debris." Debris removal has been ongoing, but trail users should check with the Forest Service to ensure that all trails are open.
The Johnson Creek Recreation Area, which is part of the Shawnee National Forest, offers fun for the entire family with a beach and swimming area, beach house, picnic area with shelters and grills, two paved boat launches, fishing pier, trailhead, group camping, and equestrian camping with parking to accommodate horse trailers. The campground and boat launches are open year round. (Campers should be aware that camping is not permitted on any property owned by the Illinois CNR.) The beach is open from May 1 through Labor Day. The beach area provides three miles of no-wake recreation without lifeguard supervision. The boat ramps provide water access to boaters, water skiers, jet skiers, kayakers, and canoeists. The Paul Ice Recreation Area, located at the eastern end of Kinkaid Lake, also provides picnic facilities, restrooms, and playground equipment.
The Crisenberry Dam area, known as "The Spillway," is a popular recreation area. When Kinkaid Lake levels are high, water spills over and through the sandstone rock, providing many picturesque photo opportunities. There are picnic tables, grills, and toilet facilities at the bottom of the spillway. The waterfalls can be dangerous during periods of heavy rain, but when water flows moderate, sitting on the rocks under the waterfalls is a favorite Kinkaid Lake activity.
The Kinkaid Lake State Fish & Wildlife Area offers 3,100 acres of hunting for deer, dove, turkey, quail, waterfowl, squirrel, rabbit, and woodcock. The oak and hickory terrain surrounding the lake provides an ideal habitat for deer and turkey. Convenient access to prime hunting is from the Johnson Creek Recreation Area; however, hunting is prohibited within 150 yards of the recreation area. Check with the Illinois DNR for all hunting regulations.
Kinkaid Lake promises fun and relaxation for the entire family, so start planning your trip to this recreational gem in the Shawnee National Forest.
Custom Kinkaid Lake house decor
Read our full review of these personalized lake house signs.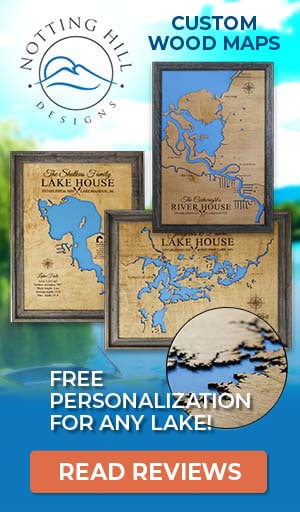 Things to do at Kinkaid Lake
Vacation Rentals
Fishing
Boating
Swimming
Beach
Canoeing
Kayaking
Jet Skiing
Water Skiing
Camping
Campground
Picnicking
Hiking
Biking
Horseback Riding
Hunting
Waterfall
Wildlife Viewing
Birding
National Forest
Playground
Fish species found at Kinkaid Lake
Bass
Black Bass
Bluegill
Catfish
Crappie
Largemouth Bass
Muskellunge
Perch
Pike
Sunfish
Walleye
---
Best hotels and vacation rentals at Kinkaid Lake
The Kinkaid Lake map shown above is a simple and stress-free way to search for trip accommodations. But if you want to take a deeper dive to find the ideal waterfront home, cabin, condo, hotel or resort, visit our favorite lodging partners by clicking the buttons below.
Note: These are affiliate links so we may earn a small commission if you book through them. While there is no extra cost to you, it helps provide resources to keep our site running (thank you)! You can read our full disclosure policy here.
---
Kinkaid Lake photo gallery
New photos coming soon!
Kinkaid Lake statistics & helpful links
We strive to keep the information on LakeLubbers as accurate as possible. However, if you've found something in this article that needs updating, we'd certainly love to hear from you! Please fill out our Content Correction form.
Advertise your Kinkaid Lake vacation rental
LakeLubbers will soon offer homeowners and property managers the opportunity to to showcase their vacation rentals to the thousands of lake lovers searching our site daily for accommodations. If you'd like additional details, please contact our advertising team here.
Looking for the Kinkaid Lake forum?
LakeLubbers previously offered visitors the ability to create accounts and participate in lake forums. When we overhauled the site's content management system in 2021 we had to disable those features. We're evaluating options and welcome your comments and feedback here.
We also encourage you to join our lake-lovin' community on Facebook and Instagram!
Spread the word! Share our Kinkaid Lake article with your fellow Lake Lubbers!