Keri Lake, Zakynthos, Greece
Also known as:  Keri's Lake, Limni Keriou
Welcome to the ultimate guide for history, statistics, local fun facts and the best things to do at Keri Lake.
If you're considering Keri Lake vacation rentals, we've made it super easy to explore accommodations and nearby hotels using the interactive map below. Simply click on a listing to compare similar properties, best rates and availability for your dates. Or keep scrolling to read our Keri Lake guide!
Keri Lake visitor and community guide
The rocky coastline gives way to a pebbly beach that meets the clear, turquoise water of Keri Lake. Although not actually a lake at all, Keri Lake, or Limni Keriou as it is known in Greece, is a popular tourist destination on the Island of Zakynthos. Sand-bottomed Keri Lake is a bay on the southern side of the island at the base of Cape Marthias.
First called a "lake" by Herodotus in the fifth century BC, Limni Keriou served as an ancient harbor for Zakynthos and was used for both war and trade by the Spartans, Athenians and Romans. It was the site of numerous attacks by pirates and conquerors, but today serves as restful retreat on Zakynthos. There is a beach for sunbathing, plus the clear water of the Southern Ionian Sea for swimming and fishing. Lake Keri has ample opportunities for scuba diving including the Blue Caves nearby. For more than a century, the Keri Lighthouse has been guiding ships safely to their destinations, and boat tours offer fantastic views of the Islet of Marathonissi.
The village of Keri is perched on the mountainside above Keri Lake. Surrounded by vineyards and olive groves, Keri is a working village and home to farmers, fishermen and their families. Wandering the narrow streets past old stone houses is the perfect way to become immersed in the culture of the area. After a day spent exploring on land or under water, there are several bars and tavernas that serve the local fish and seafood. Visitors can enjoy the local cuisine while looking out over Keri Lake. Keri is one of 44 villages on the Island of Zakynthos.
About an hour from Celphalonia and Peloponnese and five hours from Athens, Zakynthos (or Zante as it is also known) is the third largest Ionian Island. Named for Zakynthos, the son of the Arcadian chief Dardanus, it covers 100,120 acres and has 76 miles of coastline made up of both rocky cliffs and sandy beaches. The history of Zante stretches back to Neolithic times, and the island was written of by Homer. Zante was part of Odysseus' Kingdom, but over the centuries it changed hands many times falling under the rule of Russia, Turkey, France and England. Along with the other Ionian Islands, Zante was ceded to the Greek State on May 21, 1864, and the Greek flag has flown ever since. Both self-catering villas and vacation rentals are scattered across the island, and Zante has any amenities a visitor might need including hotels, apartments, restaurants and nightclubs.
Zakynthos and Limni Keri have retained the beauty of their natural surroundings, and the wildlife is plentiful. The south side of the island is where the Mediterranean sea turtle, known as Carretta-Carretta, has been laying its eggs for millennia. Monk seals and a variety of water fowl also make their home at Zante.
Days spent swimming or exploring the underwater world of the Ionian Sea, and nights perfumed with local wine and olive oil combine to make Keri Lake an amazing Greek getaway. Set against the backdrop of the turquoise waters and rocky cliffs to the music of the street singers, Limni Keriou is a holiday destination with something to please everyone.
Custom Keri Lake house decor
Read our full review of these personalized lake house signs.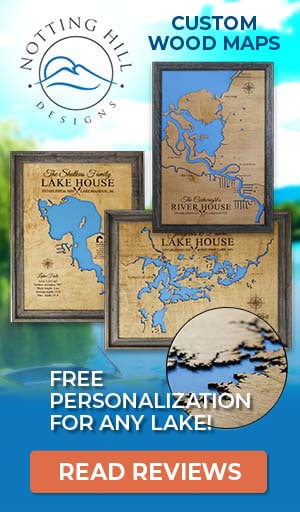 Things to do at Keri Lake
Vacation Rentals
Fishing
Boating
Swimming
Beach
Scuba Diving
Wildlife Viewing
Birding
---
Best hotels and vacation rentals at Keri Lake
The Keri Lake map shown above is a simple and stress-free way to search for trip accommodations. But if you want to take a deeper dive to find the ideal waterfront home, cabin, condo, hotel or resort, visit our favorite lodging partners by clicking the buttons below.
Note: These are affiliate links so we may earn a small commission if you book through them. While there is no extra cost to you, it helps provide resources to keep our site running (thank you)! You can read our full disclosure policy here.
---
Keri Lake photo gallery
New photos coming soon!
Keri Lake statistics & helpful links
Lake Type: Natural Saltwater Lake, Not Dammed
We strive to keep the information on LakeLubbers as accurate as possible. However, if you've found something in this article that needs updating, we'd certainly love to hear from you! Please fill out our Content Correction form.
Advertise your Keri Lake vacation rental
LakeLubbers will soon offer homeowners and property managers the opportunity to to showcase their vacation rentals to the thousands of lake lovers searching our site daily for accommodations. If you'd like additional details, please contact our advertising team here.
Looking for the Keri Lake forum?
LakeLubbers previously offered visitors the ability to create accounts and participate in lake forums. When we overhauled the site's content management system in 2021 we had to disable those features. We're evaluating options and welcome your comments and feedback here.
We also encourage you to join our lake-lovin' community on Facebook and Instagram!
Spread the word! Share our Keri Lake article with your fellow Lake Lubbers!