Lake Prespa, Albania, Greece & Macedonia
Lake Locations:
Albania - Korce - Greece - West Macedonia - Florina - Macedonia - Western Macedonia -
Also known as:  Prespa Lakes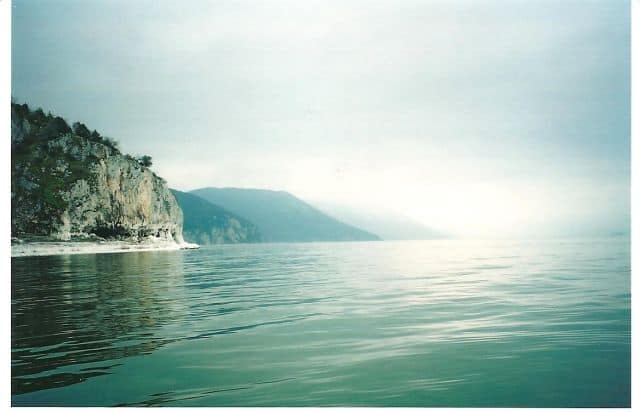 "Three Countries, Two Lakes, One Future" is the motto of Prespa Park, the transnational park protecting Prespa Lake. The words provide balm for a region that underwent political unrest in the 1990s. The area included in Prespa Park is of unsurpassed natural beauty and one that is drawing increasing numbers of tourists and eco-tourists to enjoy it.
There are actually two Prespa Lakes, and both are freshwater tectonic lakes (tectonic refers to the instability in the earth's crust). They are the highest tectonic lakes in the Balkans and some of the oldest in the world. Great Lake Prespa, also known as Limni Megali Prespa and Macro Prespa, has a total surface area of 64,099 acres with 9,291 acres in Greece, 11,243 acres in Albania, and 43,565 acres in Macedonia. Limni Megali Prespa has a maximum depth of 180 feet and an average depth of 59 feet. It stretches 17 miles long and is 11 miles wide. Both lakes are natural and not dammed, but the water levels on Macro Prespa Lake can fluctuate as much as 12 feet because of natural causes. Micro Prespa, or Limni Mikra Prespa as it is also known, only covers parts of two countries with 964 acres in Albania and the bulk of the lake, 10,749 acres, in Greece. It has a maximum depth of 28 feet, an average depth of 13 feet, and is 8 miles long and 4 miles wide.
Great Lake Prespa is six miles from beautiful Lake Ohrid with its spectacular views of the St. Naum Monastery. Prespa Lake sits 492 feet above Lake Ohrid, and some of its water seeps through the karst to feed the underground spring that in turn feeds Lake Ohrid. Galicica Mountain with its national park stands between Lake Ohrid and Limni Megali Prespa. Established in 1958 by the government of the Republic of Macedonia, the 61,776-acre Galicica National Park has trails for hiking and climbing and is a favorite with paragliders. The national park protects several of the area's historic cave churches and their wall paintings as well as the St. Bogorodica Zamuska, a church built in 1361 that has been restored and is now opened to tourists.
The shore of Greater Lake Prespa forms the eastern border of Galicica National Park, and the park includes the island of Golum Grad, which is a nature reserve. Golum Grad is one of five islands on the two Prespa Lakes which also includes Mala Grad, Pirg, Agios Achillaeos and Vidrinec. Agios Achillaeos is in Limni Mikra Prespa and is the site of a 10th century fortress and church built by the Tsar Samuil. The islands are accessible by boat from some of the villages around the lakes.
Boats for hire are available at the villages of Stenjek and Konjsko, and boating and fishing are allowed on both lakes. Anglers can expect to find trout, carp, red finned carp, chub and barbell to challenge them. The lakes are also home to a variety of birds and wildlife, some of which are only found in the area around Prespa Lake. The number of migratory birds and endangered species is one of the things that led the nations of Greece, Albania and Macedonia to establish Prespa Park. The park was created on World Wetlands Day, February 2, 2000 by a joint declaration from the leaders of the three nations. It protects 12,548 acres of wetlands in Greece and 46,752 acres of wetlands in Macedonia including one of the largest breeding colonies of Dalmatian pelicans in the world.
About 28,000 people live around the two lakes, most of whom make their livings from fishing or agriculture. Since the 1970's, however, tourism has been increasing, and today visitors can expect to find campgrounds, hotels, holiday villas, cottages and vacation rentals scattered around the lakes. With the commitment of the three nations to the two lakes, the future is sure to include more people coming to enjoy and explore the international treasure of the Prespa Lakes.
Things to do at Lake Prespa
Vacation Rentals
Fishing
Boating
Camping
Campground
Hiking
Wildlife Viewing
Birding
National Park
Fish species found at Lake Prespa
---
Lake Prespa Photo Gallery
Lake Prespa Statistics & Helpful Links
Spread the word! Share our Lake Prespa article with your fellow Lake Lubbers!