Kabetogama Lake, Minnesota, USA
Lake Locations:
USA - Midwest - Minnesota - Northeast -
Also known as:  Lake Kabetogama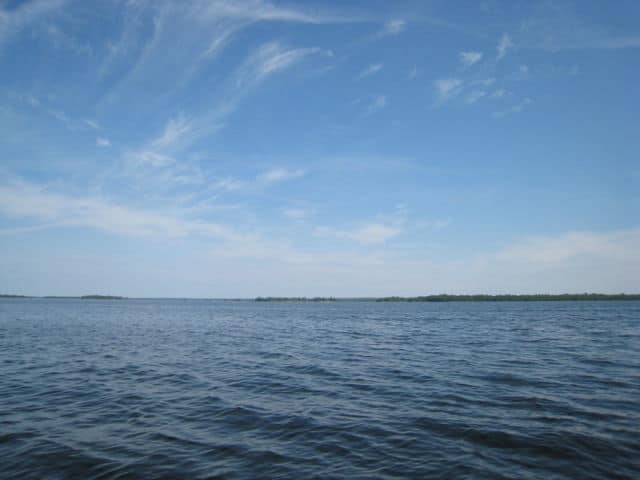 Located just a few miles from the Canadian border in St. Louis County, Minnesota's Kabetogama Lake is every bit as unique as its name implies. This freshwater glacial body is situated within Voyaguers National Park, and is connected to three other lakes in the region: Namakan, Sand Point and Crane Lakes.
Fishing reigns supreme here at Kabetogama Lake, where sauger, bluegill, rock and smallmouth bass dwell among more than 200 craggy islands. Lively schools of crappie congregate along rock walls late in the season; walleyes tempt anglers in mid-June; and northern pike are a wonderful challenge to catch throughout mid-summer.
Recreation opportunities are vast and easily accessible year round at Kabetogama Lake. During the summer, leisurely tanning, tubing and sunset viewing are spectacular. Fall brings about crisp, refreshing temperatures and vibrant maple, tamarack and aspen leaves – wildlife watching is particularly good at this time, as woodland creatures prepare to hibernate during the upcoming cold months.
Throughout the winter, snowmobiling, cross-country skiing, snowshoeing and ice fishing cannot be missed. Meanwhile, spring is the best time for hiking and observing animals, as the world magically renews itself after such long, bitter winter months.
Hiking trails along Kabetogama Lake are unparalleled. To the west, Locator Lake Trail connects with over 20 other lakes. To the east, Cruiser Lake Trail features 21 miles of winding pathways and varied terrain. The Blind Ash Bay Trail winds for 2.5 miles along the Ash River, and is best known for its abundant blueberries in July. The Kab-Ash Trail system provides an additional 24 miles to explore by walking, mountain biking or horseback riding. Canoeing trails are also popular, particularly inside the Kabetogama State Forest. Wildlife watching enthusiasts can hope to spot moose, bear, timber wolf and various birds along the way.
Amenities at Kabetogama Lake include picnic areas, cabins and public lake access points, along with a bog walk and public information center; convenient bait stores and cabin rentals are also numerous. Beautiful real estate properties and vacation rentals are available for those on holiday – or who may be interested in buying a lakeside home.
Kabetogama Lake is located within Voyaguers National Park, a preserve originally named by 18th-century French-Canadian explorers who used these channels to transport goods; however, it was not officially donned a national park until 1975 (after a heated debate that had been ongoing since 1891). The protected area now boasts 218,054 acres of wilderness, amounting to a wildlife watcher's paradise filled with bear, deer, moose and wolf. Aspen, white pine and spruce trees dominate the landscape, along with four lakes and prolific hiking trails.
Kettle Falls is another must-see, a 35-foot drop that is hidden underneath Rainy Lake's dam just a short distance from Kabetogama Lake. Its hotel has been in operation since 1913, and was purchased in 1918 by a man named Robert Williams for the sum total of $1,000 and four drums of whiskey (a comically low price by today's standards).
Also close in proximity to Kabetogama Lake is the Ellsworth Rock Gardens attraction, without question the best picnic spot around. This series of flower gardens and rock sculptures was completed in 1965, after 21 long years of creative labor by artist Jack Ellsworth.
Animal lovers of all ages won't want to miss the Vince Shute Wildlife Sanctuary in Orr, home of the American Bear Association. At least a half-dozen black bears meander about in their natural environment, weighing 125-600 pounds. Visitors can observe these majestic beasts safely and unobtrusively from an elevated observation deck.
Picture yourself drifting off to sleep as the sound of humming crickets echoes off the surface of Kabetogama Lake. Picture yourself awakening in the morning, as renewed and restored as if you hadn't a care in the world. Picture yourself staying at Kabetogama Lake.
Things to do at Kabetogama Lake
Vacation Rentals
Fishing
Ice Fishing
Canoeing
Tubing
Picnicking
Cabin Rentals
Hiking
Biking
Cross-Country Skiing
Snowmobiling
Horseback Riding
Wildlife Viewing
Birding
State Forest
National Park
Fish species found at Kabetogama Lake
Bass
Black Bass
Bluegill
Crappie
Northern Pike
Perch
Pike
Sauger
Smallmouth Bass
Sunfish
Walleye
---
Kabetogama Lake Photo Gallery
Kabetogama Lake Statistics & Helpful Links
Spread the word! Share our Kabetogama Lake article with your fellow Lake Lubbers!