Deer Lake, Minnesota, USA
Lake Locations:
USA - Midwest - Minnesota - Northeast -
Also known as:  Lake of Changing Colors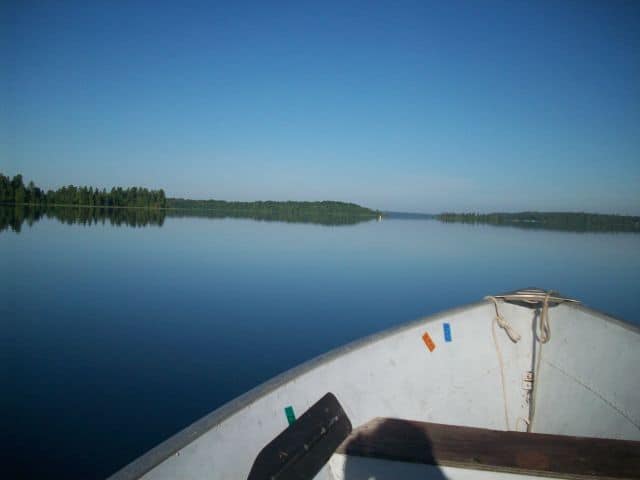 Often called the "Lake of Changing Colors," Deer Lake is a jewel in Minnesota's northwoods country. Located northwest of Grand Rapids in south-central Itasca County, this Deer Lake is not to be confused with a smaller Deer Lake located in northern Itasca County. Part of Minnesota's Northeast tourism region, Itasca County is home to over an astounding 1,000 lakes and acres of forest that lend themselves to a variety of outdoor activities.
For thousands of years, Deer Lake and Minnesota's northwoods have been home to Chippewa, or Ojibwe, people. As early as the 1600s, rich, natural resources attracted explorers and fur traders to the lakes and rivers of northern Minnesota. During the 1800s, the lumber industry began to drastically alter forest landscapes from Michigan to Minnesota. By 1872, a logging camp was established off the northwest shore of Deer Lake. Area logging continued until 1902, when a preservation effort forced the creation of Chippewa National Forest, the country's first congressionally mandated national forest. During the 1890s, railroads appeared and communities around Deer Lake began to grow. Today the lumber industry remains, harvesting and reforesting the landscape to preserve the region's sensitive ecosystems.
The solitude of Minnesota's deep woods and Deer Lake's crystal-clear water have combined to create a unique setting where wildlife, scenery and visitors can intersect. Mineral content of Deer Lake turns the water into a prism of blue and green colors that stand in stunning contrast to the deep evergreen of surrounding forests. The clear water of this 4,032-acre lake is an impediment to daytime fishing. However, it does allow boaters a better view of the many rock hazards lying beneath the surface of Deer Lake.
Boaters, canoers and kayakers enjoy "island hopping." The Lake of Changing Colors has 25 islands scattered throughout its five-mile length. Bear Island was purchased by the Deer Lake Association and Minnesota's Department of Natural Resources for a Wildlife Management Area. Here, birdwatchers may spy eagles perched among the white pines or loons, ducks, and geese nesting along the shore of this 25-acre island.
An additional Aquatic Management Area is found along Deer Lake's Kocemba's Bay. This area of marsh, rocks and bogs makes Deer Lake one of the few natural Muskie-spawning lakes in Minnesota. Additional fish species found in Deer Lake include northern pike, walleye, perch, bluegills, crappie and largemouth and smallmouth bass. After fishing, wildlife watchers can pack their gear and head into the trees for an opportunity to glimpse wolf, coyote, bobcat, lynx or fox that frequent the area.
Deer Lake's sparkling water comes from rainwater, surface and underground springs. Deer River provides the outlet to the Lake of Changing Colors. Part of Dear Lake's rich history can be found in the ruins of an old logging dam located near the current dam site along the northwestern shore. Constructed in 1938 and modified in 1983, Minnesota's Department of Natural Resources manages Deer Lake's dam, creating an average depth of 42 feet and maximum depth of 120 feet.
Deer Lake's public access is limited to Comfort Cove near the southwestern shore. Here, weekend fishermen find a concrete boat ramp and parking for 15 trailers. For those who have the good fortune of an extended stay, the majority of Deer Lake's shoreline is occupied by a few resorts and an estimated 400 cabins and homes.
Beyond Deer Lake, new scenery unfolds around every corner. Only five miles to the southwest, the community of Deer River lies at an entrance to Chippewa National Forest. This 666,542-acre forest contains over 400,000 acres of lakes and wetlands. Approximately three-fourths of the forest lies within Leech Lake Indian Reservation. The Ojibwe and US Forest Service work together to protect the fragile ecosystems unique to the forest while continuing to provide recreational activities. The Forest Service maintains "21 developed campgrounds, 160 miles of hiking trails, 315 miles of snowmobile trails, 280 dispersed camping sites" and opportunities for hunting, fishing, wildlife watching, canoeing, kayaking, horseback riding and snowmobiling.
When you need a touch of "urban life," Grand Rapids and Deer River are less than 15 miles from Deer Lake. Take a break from cookouts and dine in local restaurants, enjoy a day of sightseeing and shopping, play a round of golf, or try your luck at the casinos run by Leech Lake Band of Ojibwe.
Whether you stay for a weekend or a lifetime, it is the water that draws you to Deer Lake. Select your vacation rental or real estate property, then rest under the shade of the pines as you watch daylight dance across the blue water. Launch your canoe and ride the gentle waves to where eagles fly. Watch the sunset turn Deer Lake to liquid gold. Whether you visit or stay, experience Deer Lake — it's all about the water.
Things to do at Deer Lake MN
Vacation Rentals
Fishing
Boating
Canoeing
Kayaking
Golf
Camping
Campground
Cabin Rentals
Hiking
Snowmobiling
Horseback Riding
Hunting
Wildlife Viewing
Birding
National Forest
Ruins
Shopping
Casino Gambling
Fish species found at Deer Lake MN
Bass
Black Bass
Bluegill
Crappie
Largemouth Bass
Muskellunge
Northern Pike
Perch
Pike
Smallmouth Bass
Walleye
---
Deer Lake MN Photo Gallery
Deer Lake MN Statistics & Helpful Links
Spread the word! Share our Deer Lake MN article with your fellow Lake Lubbers!