Josephine Lake, Washington, USA
Lake Locations:
USA - West - Washington - Seattle & Puget Sound -
Also known as:  Lake Josephine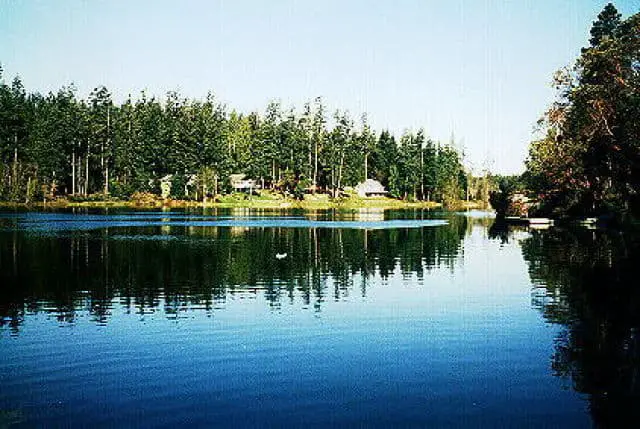 Located on the east side of Anderson Island, Josephine Lake is a residential paradise. Anderson is a large island located in Puget Sound, a waterway with numerous channels and branches. Anderson Island and Josephine Lake have a rich history which has been documented by the Anderson Island Historical Society. The Island received its name in 1841 by Commander Charles Wilkes in honor of Alexander Caulfield Anderson, the chief trader of Hudson's Bay Company. Anderson Island was later charted as Fisgard Island and then called Wallace Island. Neither of the two names persisted, and now the island is simply called Anderson Island. Josephine Lake is a shallow lake with lake residences encircling the shoreline. Charles Hopkins, who purchased land on Anderson Island in 1906, named the lake after his wife and daughter who were named Josephine. Before then, Josephine Lake was named Dahl Lake after the John F. Dahl family who settled on the island in 1889.
Josephine Lake's shoreline is a mixture of residential homes and forests. Also called Lake Josephine, there are a few thousand lots around the lake and in the surrounding area that are part of the Riviera Homeowners Association, known as the Riviera Community Club. Real estate can be found on some of these lots, or interested buyers can choose a vacant lot to build their dream home. In addition to Josephine Lake, the Riviera Community Club also extends to Florence Lake and Pine Lake. Florence Lake drains into Josephine Lake during periods of high water. Josephine Lake water levels remain fairly constant by a control structure built during the mid-1900s at the natural outlet on the lake's south end. These three lakes – Josephine, Florence, and Pine – provide residents and guests with an abundance of water activities.
Anglers enjoy casting in their lines for rainbow trout that are stocked annually in both Josephine Lake and Pine Lake. Members of the Riviera Community Club can fish for free at Josephine Lake, while guests can fish for the day after paying a small fee. Pine Lake is reserved for novice anglers, children 12 and under, where they can have a sporting chance at some of the stocked rainbow trout. Josephine Lake is designated as a quiet lake which is ideal for canoes, kayaks, and boats with small electric motors. Although water skiing and jet skiing are not permitted on Lake Josephine, they are allowed on Florence Lake which is a public lake. The Riviera Community Club has a private boat launch on Florence Lake that can be used by members of the club. Residents of Josephine Lake may also soak in the breathtaking views at a lakeside restaurant, play a round of golf at a nearby golf course, or just enjoy a relaxing swim in the cool refreshing lake waters.
The Anderson Island Historical Society (AIHS) was chartered in 1975, and its headquarters are located west of Josephine Lake on Johnson Farm. The farm was established by John Oscar Johnson and his wife Alma Marie when they migrated to Anderson Island before the turn of the century. The farm is now used as a museum to help preserve artifacts and important historical aspects of Anderson Island. A nature trail can be found at the southern end of Johnson Farm as it meanders its way through beautiful forest and marshy areas. The farm house and many barns can be toured to see what life was like on Anderson Island before the 1940s. Many events are held at Johnson Farm that are free and open to the public.
You don't have to be a resident of Josephine Lake to take pleasure in all the lake amenities. Vacation rental homes are available for relaxing getaways. The Riviera Community Club also provides an RV park and campground for members and their guests. Visitors will find the quiet island environment just what they need to help relieve stress from city life. A ferry travels several times a day from Anderson Island to a dock in Steilacoom, Washington.
Steilacoom is the starting point for adventurous day trips from Anderson Island. For visitors who crave the excitement of big city life, Seattle is an easy day trip north. Sightseers can explore art galleries and museums, watch theatre and music performances, and satisfy their cravings with regional foods and wines. Seattle is also home to the Space Needle, built in 1962 for the World's Fair. An elevator ride will take visitors 520 feet to an observation deck where they will have a spectacular vista of Seattle. Another day trip includes the Gifford Pinchot National Forest and the Mount St. Helens National Volcanic Monument. The 1,312,000 acres of national forest are located southeast of Anderson Island. A little northeast of Anderson Island is the Mount Rainier Forest Reserve and National Park, part of which is included in the Gifford Pinchot National Forest. Adventurous sightseers may want to set aside extra time in their itinerary to climb the 14,410 feet of Mount Rainier to enjoy a magnificent view from the summit. Once on top, visitors my spot Mount St. Helens, Mount Adams, Mount Baker, and Glacier Peaks.
Traveling west of Anderson Island to the Pacific coast is the Olympic National Park. This national park has over 922,000 acres where visitors can hike, picnic, camp or just relax on the beach. In the winter months visitors enjoy the exhilaration of cross-country skiing.
Josephine Lake is an exciting place to vacation or to set down permanent roots. Lake residents and visitors alike enjoy stunning sunsets from lakeside decks while letting the quiet waters of Lake Josephine ease away their cares.
Things to do at Josephine Lake
Vacation Rentals
Fishing
Boating
Swimming
Beach
Canoeing
Kayaking
Water Skiing
Golf
Camping
Campground
Picnicking
Hiking
Cross-Country Skiing
National Park
National Forest
Museum
Fish species found at Josephine Lake
---
Josephine Lake Photo Gallery
Josephine Lake Statistics & Helpful Links
Spread the word! Share our Josephine Lake article with your fellow Lake Lubbers!