Florence Lake, Washington, USA
Lake Locations:
USA - West - Washington - Seattle & Puget Sound -
Also known as:  Lake Florence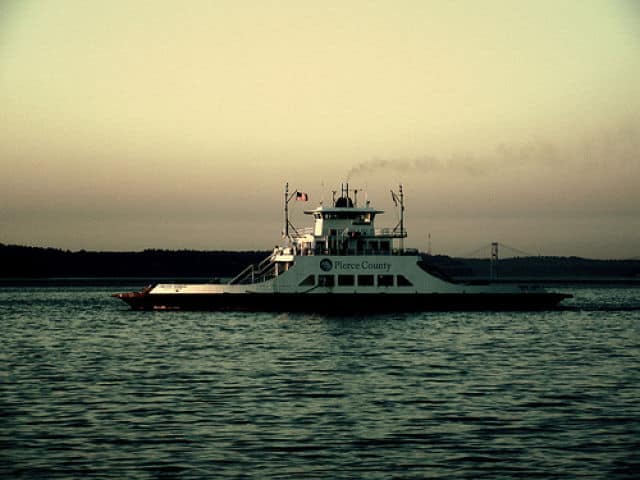 Florence Lake is special to Seattle and Puget Sound residents. Local tribes were familiar with Anderson Island long before its 'official' discovery in 1841. Anderson Island has served as farm land, retirement getaway, and now residential neighborhood to hundreds of citizens and visitors. Reached only by ferry from Steilacoom, the eight square-mile island holds two small lakes. Florence Lake is the public lake while Josephine Lake is private. The two are connected by a small channel, so that water flows from Florence Lake into Josephine Lake during periods of high water. Although small, 63-acre Florence Lake is the destination for water skiing, tubing and power-boating on Anderson Island; Josephine Lake is a no-motors lake.
A number of private homes grace the southern shoreline of Florence Lake. There are far fewer homes along the north shore. Small Lowell Johnson Park, commonly called 'The Old Swimming Hole', provides the only public freshwater beach on Anderson Island. Separate roped-off swimming areas are provided for children and adults, although there are no lifeguards on duty. The area is designated 'no-wake', slow-speed boating for safety. A picnic area features restrooms and a sand-lot volleyball court. Some reports show an unimproved, unofficial boat launch ramp at the park, but official park statements say there isn't one. As another park area is in the process of development as a natural area on the north shore, it is expected that a designated boat launch will soon be available, at least for smaller boats. Given the small size of the lake, it is ideal for paddle-sports such as canoeing and kayaking. Most lakefront property owners have their own docks where they moor their boats.
Largemouth bass and bluegill reproduce naturally in the lake, and the State stocks rainbow trout and brown trout annually. Florence Lake is fed by a number of intermittent brooks, so trout can often be caught from the shore near the outlets. Lake levels at Florence Lake may vary according to precipitation but remain remarkably stable from year to year.
There are no resort rentals directly on Florence Lake, although there are some lodgings nearby on Puget Sound. A number of private owners regularly rent their seasonal homes by the week or month, so visitors can enjoy the views over lovely, wooded Florence Lake. Some of the properties along the lake are members of the Riviera Community Club and have access to the club's facilities on Josephine Lake, plus a boat launch on Florence Lake. Although a part of Pierce County, Anderson island is self-governed in many respects, with its own volunteer fire department, parks and recreation system, road committees, trash pick-up and community activities and by-laws. An elementary school, serving children through the fifth grade, is located on the island; older children take the ferry to Steilacoom, a 20-minute ride away.
Although Anderson Island is small, the park system – entirely maintained by volunteers – includes an extensive network of trails covering tidal flats, woods, marshes and grassy hillsides. The island has abundant wildlife, including raccoons, deer, squirrels, birds of prey and many species of wading and shore birds. There are also kayak tours on Puget Sound to various destinations, a golf course near Josephine Lake, and a restaurant overlooking the water. Because Anderson Island is noted for its solitude and natural environment, several bed & breakfasts and a small inn offer specialty lodgings to vacationers and honeymooners.
The car ferry to Steilacoom is the gateway to the outside world from Florence Lake and Anderson Island. Once on the mainland, 'islanders' will find shopping, services, musical performances and a number of historical destinations within Steilacoom. Tacoma is only about 15 miles to the north, while Seattle is less than an hour away. Between the two larger cities, every possible form of cultural and musical interest will find multiple venues for expression. Nightlife is plentiful. If planning a day away from Florence Lake on the mainland, one needs to remember that the ferry stops running about 10:30 in the evenings, so alternate lodgings should be planned.
Olympic National Park is only a couple of hours to the west. An hour or so to the east, Mount Rainier National Park provides spectacular views, climbing, and hiking trails. Immediately north of the Mount Rainier National Park, North Cascades National Park provides every form of outdoor and wilderness adventure the serious hiker should desire. Charter fishing for salmon is available on Puget Sound, while crabbing in season is a favorite pastime. There is never a shortage of things to do within a short distance of Florence Lake.
Real estate is still available near Florence Lake, although building lots are limited. Existing homes with lake frontage can sometimes be found for sale. Other locations on Anderson Island are also available, sometimes with acreage and Sound shoreline. The island offers the best of both the freshwater and the saltwater world. Won't you plan to spend a few days visiting Florence Lake and experiencing the relaxed island culture? One visit and you'll be hooked more securely than the rainbow trout.
Things to do at Florence Lake
Vacation Rentals
Fishing
Boating
Swimming
Beach
Canoeing
Kayaking
Water Skiing
Tubing
Golf
Picnicking
Hiking
Wildlife Viewing
Birding
National Park
Shopping
Fish species found at Florence Lake
Bass
Black Bass
Bluegill
Brown Trout
Largemouth Bass
Rainbow Trout
Salmon
Sunfish
Trout
---
Florence Lake Photo Gallery
Florence Lake Statistics & Helpful Links
Spread the word! Share our Florence Lake article with your fellow Lake Lubbers!