John W. Flannagan Reservoir, Virginia, USA
Also known as:  Flannagan Reservoir
Welcome to the ultimate guide for history, statistics, local fun facts and the best things to do at John W. Flannagan Reservoir.
If you're considering John W. Flannagan Reservoir vacation rentals, we've made it super easy to explore accommodations and nearby hotels using the interactive map below. Simply click on a listing to compare similar properties, best rates and availability for your dates. Or keep scrolling to read our John W. Flannagan Reservoir guide!
John W. Flannagan Reservoir visitor and community guide
The John W. Flannagan Reservoir is a 1,145-acre lake located in Dickenson County in the southwest Heart of Appalachia region of Virginia. Named in honor of the ninth Virginia District Congressman, John Williams Flannagan, Jr., the John W. Flannagan dam and spillway were completed in 1964 by the U.S. Army Corps of Engineers and provide flood protection and drinking water for areas downstream of Pound River and Big Sandy River. The lake surface is kept at an elevation of 1,396 feet above sea level for recreation during the summer. In the fall, the lake is lowered 16 feet in anticipation of winter and spring runoff. When the dam releases its water, some of the most challenging rapids in the eastern U.S. are created.
Built primarily for flood control, the John W. Flannagan Reservoir is well known for its fishing. The deep cool water is well stocked with variety of sport fish species including: largemouth bass, smallmouth bass, hybrid striped bass, walleye, channel catfish, flathead catfish, crappie, bluegill, rock bass, carp and musky. With 50 miles of beautiful wooded and rocky shoreline, you can cast your line from land or take a boat out on the lake. There are several boat ramps around the lake that will give you easy access to the water. The John W. Flannagan Boat Dock is located at the Junction Area of the lake and provides boaters with docking facilities, a gas station, fishing supplies, and a snack bar.
For outdoor enthusiast, John W. Flannagan Reservoir has a number of campgrounds operated by the U.S. Army Corps of Engineers. Most campgrounds have electrical hookups, shower facilities, and bathrooms. Picnic areas are available on a first come – first served basis except when reserved in advance. There are no developed swimming areas on the lake, but swimming is allowed anywhere in the lake at your own risk unless otherwise posted. For those who would like a little more safety, Dickenson County offers a pool with lifeguard at Bearpen, which is located just outside the Town of Clintwood. Ball fields, tennis courts, and a horse show ring can also be found at some of the campgrounds. The John W. Flannagan visitor center is located at the project office and has a variety of mounted animal and bird species. Rangers are on hand to talk to visitors.
During the first four full weekends in October, the John W. Flannagan Reservoir dam opens its gates to lower the level of the lake. The sudden release of water causes the Russell Fork River to swell quickly and creates challenging Class III to Class V + rapids for rafting and kayaking. The white water draws enthusiasts from all over the world and is a favorite time for visitors to Breaks Interstate Park who can ride the intense rapids through the canyons in the park.
Dickenson County is located in the heart of the Appalachian Mountains and has some breathtaking scenery. Located north of John W. Flannagan Reservoir, the Breaks Interstate Park, is a 4,500 acre recreational and scenic woodland park. The park is one of two interstate parks in the U.S. that sits on both sides of the state line shared by Kentucky and Virginia. The east and west sides of the park are separated by a 1,600 foot deep, 5 mile long canyon that is often referred to as the "Grand Canyon of the South." For visitors to the area, the park offers hiking, bike and driving trails, picnic and recreation areas, a lake with pedal boats, a swimming pool, horseback riding and an amphitheater. Cabin and vacation rentals are available for extended visits along with a large campground.
More than 83 percent of the land surrounding John W. Flannagan Reservoir is wooded and offers some of the best hunting in Virginia. Hunters will find large numbers of turkey, quail, grouse, rabbit, squirrel, and deer.
For hikers and equestrians visiting John W. Flannagan Reservoir, the Cumberland and Pine Mountain Riding and Hiking Trail spans 28 miles from the Breaks Interstate Park to Pound Gap near Pound, Virginia. From this trail, you can enjoy the beautiful scenery of mountain tops from Virginia and Kentucky.
For those who find shopping and sightseeing more appealing, the towns of Birchleaf, Breaks, Clinchco, Clintwood, Haysi and Kingsport are a short drive from John W. Flannagan Reservoir. Shops, galleries, museums, restaurants and historic buldings line the streets of these country towns. As part of the Virginia Coal Heritage Trail, Dickenson County hosts several museums featuring coal mining and railroad memorabilia. The Ralph Stanley Museum and Traditional Mountain Music Center in Clintwood features the life and music of the legendary music performer recognized as a pioneer in traditional Appalachian old-time music.
If you enjoy beautiful mountains, cool clean water, and a country setting, then plan a visit to John W. Flannagan Reservoir in Dickenson County. White water rafting and canoeing, fishing, camping, horseback riding, hiking and biking are only some of the festivities awaiting you.
Custom John W. Flannagan Reservoir house decor
Read our full review of these personalized lake house signs.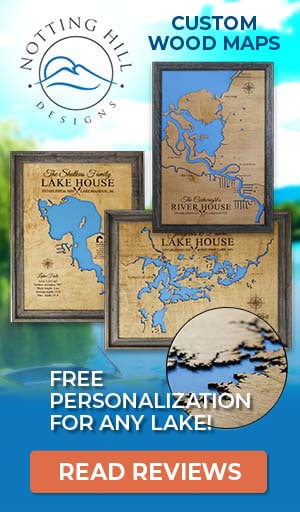 Things to do at John W. Flannagan Reservoir
Fishing
Boating
Swimming
Swimming Pool
Canoeing
Kayaking
Whitewater Rafting
Tennis
Camping
Campground
Picnicking
Cabin Rentals
Hiking
Biking
Horseback Riding
Hunting
Wildlife Viewing
Birding
Museum
Shopping
Fish species found at John W. Flannagan Reservoir
Bass
Black Bass
Bluegill
Carp
Catfish
Channel Catfish
Crappie
Flathead Catfish
Largemouth Bass
Perch
Smallmouth Bass
Striped Bass
Sunfish
Walleye
---
Best hotels and vacation rentals at John W. Flannagan Reservoir
The John W. Flannagan Reservoir map shown above is a simple and stress-free way to search for trip accommodations. But if you want to take a deeper dive to find the ideal waterfront home, cabin, condo, hotel or resort, visit our favorite lodging partners by clicking the buttons below.
Note: These are affiliate links so we may earn a small commission if you book through them. While there is no extra cost to you, it helps provide resources to keep our site running (thank you)! You can read our full disclosure policy here.
---
John W. Flannagan Reservoir photo gallery
New photos coming soon!
John W. Flannagan Reservoir statistics & helpful links
We strive to keep the information on LakeLubbers as accurate as possible. However, if you've found something in this article that needs updating, we'd certainly love to hear from you! Please fill out our Content Correction form.
Advertise your John W. Flannagan Reservoir vacation rental
LakeLubbers will soon offer homeowners and property managers the opportunity to to showcase their vacation rentals to the thousands of lake lovers searching our site daily for accommodations. If you'd like additional details, please contact our advertising team here.
Looking for the John W. Flannagan Reservoir forum?
LakeLubbers previously offered visitors the ability to create accounts and participate in lake forums. When we overhauled the site's content management system in 2021 we had to disable those features. We're evaluating options and welcome your comments and feedback here.
We also encourage you to join our lake-lovin' community on Facebook and Instagram!
Spread the word! Share our John W. Flannagan Reservoir article with your fellow Lake Lubbers!