Intermediate Lake, Michigan, USA
Lake Locations:
USA - Midwest - Michigan - Northwest -
Also known as:  Central Lake, Elk River Chain of Lakes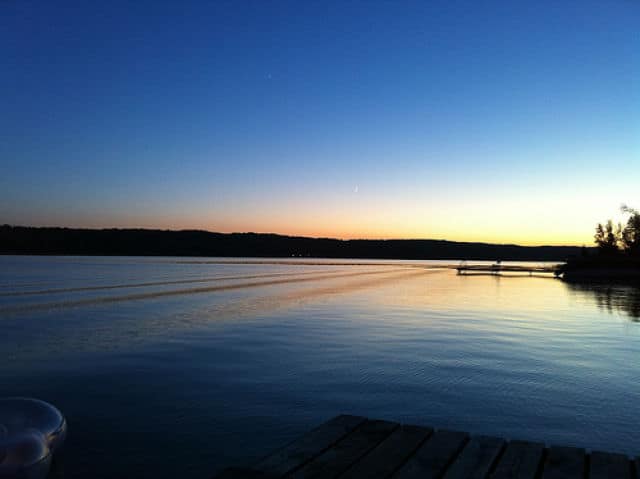 Intermediate Lake, in Antrim County is one of the main lakes in the Elk River Chain of Lakes which include Beals, Scotts, Six Mile, St. Clair, Ellsworth, Wilson, Benway, Hanley, Intermediate, Bellaire, Clam, Torch, Skegemog, and Elk Lakes. The area has been a popular spot for vacationers for well over a hundred years. Originally called Central Lake, the lake itself fills a portion of what was known by Native American residents as "Valley of Natures Choice". Once a smaller lake resembling a broad river, Intermediate Lake was formed when the Intermediate River was dammed in 1900 to provide hydroelectric power for the small town of Bellaire at the south end of the lake. Although no longer used for hydropower, the dam still serves to maintain the lake levels set by the county courts. Local old-timers still argue over the original size of the lake as opposed to its current size, but one thing is clear: the original lake was a popular spot as far back as 1880. Once the Chesapeake and Ohio railroad company built a line along the lakeshore to facilitate logging and sawmill interests, new residents soon followed.
The original Central Lake had several small islands near the south end, one of which held a dance hall. For a dime, locals would row the dancers out to the island for a night of dancing and dining. The damming of the river submerged most of these islands and only the foundation piers of the former dance hall's dock are now visible. The submerged islands harbor a wealth of water birds and waterfowl, including a resident loon breeding population-rare this far south.
Loon watching is a favorite activity at Intermediate Lake, and the endangered loons generate a great amount of interest from naturalists. As loons are particularly susceptible to water level variations, the Antrim County Drain Commissioner attempts to keep the water levels within a few inches both winter and summer-not an easy task with so many small inlets. The submerged islands provide breeding grounds for sea gulls, ducks, and geese. Bald eagles and ospreys fish from the trees on the islands, and cormorants use the shallow waters as a staging area during spring migration. Beavers, otters, mink and muskrat call the 14.7 mile shoreline home.
The 1,570-acre lake supports a coldwater fishery with maximum depths of 80 ft. The water clarity of Intermediate Lake fluctuates over time due to the inflow of multiple streams and run-off from higher ground. This does not affect the pristine quality of the water, however, and it continues to draw thousands of visitors yearly. Intermediate Lake provides one of the best rock and smallmouth bass fisheries in Michigan and occasionally hosts the Michigan Bass Federation's annual championship tournament. Walleye, perch, northern pike and black crappie are also commonly caught, and there is always a chance at the wily muskellunge whose numbers appear to be increasing. A bit farther south, the Cedar River flows into the Intermediate River at Bellaire. The Cedar is considered a Blue Ribbon Trout Stream.
Ice fishing makes Intermediate Lake a popular winter destination, and many accommodations stay open year round. Other activities are scheduled in nearby Mancelona, such as the Mancelona Bass Fest, celebrated for over 50 years. The White Pine Stampede, a 10k ski event from Mancelona to Schuss Mountain Ski Resort, benefits the Children's Hospital. There are several snowmobile rallies and children's skiing events planned throughout the area. The entire area is fortunate to have one of the world's longest systems of interconnecting snowmobile trails.
The village of Central Lake on the northernmost shore provides the necessities visitors desire in the way of boat rentals, marina, store, fuel and small motel. The village-owned Thurston Park provides camping with 47 campsites, a playground, a boat launch and docks. There are plentiful rental and resort accommodations available both near Central Lake and around the shoreline. Central Lake plans plenty of activities to keep visitors happy, including art festivals, craft fairs and the largest Fourth of July Parade in the area. The fireworks over the water are an unforgettable sight. The annual Collectable Car and Truck Show in June attracts antique car enthusiasts from several states. As is required for any older small town, Central Lake boasts an old Inn with at least one-or perhaps three-resident ghosts, just to keep things interesting.
Several private and public campgrounds around Intermediate Lake provide facilities for RV and tent campers. In keeping with its place in the Chain of Lakes vacation wonderland, this tourist mecca will make sure there are activities to please every member of the family-or perhaps the fishing or hunting party. Available housing varies in price, and several new condo developments in the area often have vacancies.
Intermediate Lake is about 275 miles from Detroit and 340 miles from Chicago, certainly do-able for a long weekend. You may find, however, you want to stay a week or two-or maybe the entire summer.
Things to do at Intermediate Lake
Vacation Rentals
Fishing
Ice Fishing
Boating
Camping
Campground
Hiking
Snowmobiling
Hunting
Wildlife Viewing
Birding
Playground
Antiquing
Fish species found at Intermediate Lake
Bass
Black Bass
Black Crappie
Crappie
Muskellunge
Northern Pike
Perch
Pike
Smallmouth Bass
Trout
Walleye
---
Intermediate Lake Photo Gallery
Intermediate Lake Statistics & Helpful Links
Spread the word! Share our Intermediate Lake article with your fellow Lake Lubbers!