Horseshoe Lake, Alberta, Canada
Lake Locations: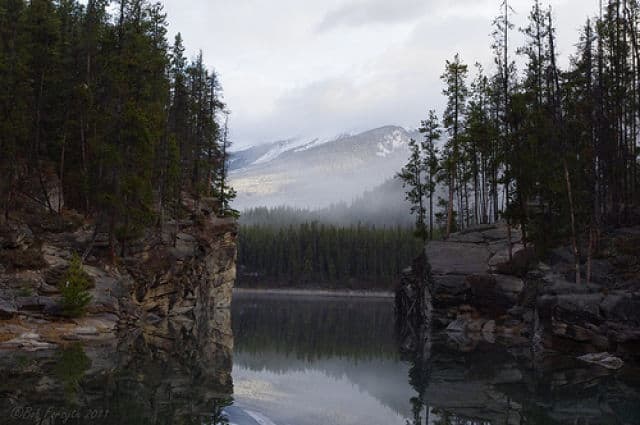 One of the hidden gems in Alberta's Jasper National Park is stunning Horseshoe Lake. This small lake is hemmed by towering cliffs along much of its shoreline and displays sparkling clear water in varying shades of blue. Shaped like a lopsided 'U', the reason for the name is obvious-as is the reason for its great attraction. With Mount Hardesty looming in the background, the lake is both easy to get to and offers some of the best of Jasper's beautiful scenery. Located next to the Icefields Parkway, a small sign next to a pull-off along the road announces Horseshoe Lake. Nearby, a marsh meadow produces a riot of colorful wildflowers in spring. An easy five-minute walk and visitors arrive on a spectacular scene from the north end of the lake. An unmaintained path will allow the adventurous to hike down the shoreline to where the cliffs tower above the clear water.
Located about 20 miles south of the town of Jasper, Horseshoe Lake has a reputation as the best local swimming hole. The water is extremely cold even during hot summers, because the water comes from glacial melt. And unfortunately the lake has attracted thrill-seekers who jump off the cliffs into the water. The park service is trying to discourage this dangerous practice after several accidental injuries, some fatal. Mirroring the unusual boulder formations above water, there are many rocks below the surface, making any diving dangerous. The lake is a good fishery for rainbow trout; the clear water allows the avid angler to precisely place his fly next to the underwater ledges where the fish rest. A small boat launch allows rowboats, canoes and kayaks to be launched, but fishermen regularly use float tubes to fly fish Horseshoe Lake. All small boats must be carried from the road to reach the launch site. Appropriate fishing licenses must be purchased, and all special regulations for Jasper National Park waters must be observed.
There are no services available at Horseshoe Lake, although vault toilets are provided at the parking area. A convenient rock or ledge next to the lake makes an ideal picnic spot for tourists traveling the Icefields Parkway. No authorized hiking trails continue beyond the lakeshore trail, but other nearby areas hold plenty of hiking, mountain biking and horseback riding. One of the closest popular trails is the Valley of The Five Lakes Trail a few miles to the north. The nearly three mile trail has little elevation change and circles four of five small lakes in the valley. Miette Hot Springs and the trailheads to Maligne Canyon, Sulphur Skyline, Bald Hills, Opal Hills, Mount Edith Cavell, Whistlers Mountain and Athabasca Falls are also located in this area of the park.
No camping facilities are found at either Horseshoe Lake or Valley of The Five Lakes, but the Park's Wapiti Campground isn't far to the north on the Athabasca River, along the Icefields Parkway and holds over 350 campsites in summer, reduced to about 90 for winter camping. Some of the sites have electricity while others have few amenities. Rest rooms and hot showers are available, and campfires are permitted in existing metal fire rings only as long as the camper obtains a campfire permit. Bear-proof containers are provided. Wapiti Campground is only about five miles south of the Town of Jasper so it's a short drive for forgotten supplies, needed services and entertainment.
Jasper offers a wealth of entertaining activities to please every visitor. Along with such cultural and historical venues as the Jasper Yellowhead Museum, Jasper also offers restaurants, quaint shops, artisan galleries, a nearby downhill skiing and snowboarding area, helicopter tours, snowmobile trails, cross-country skiing trails, guided horseback treks, fishing guides, rafting expeditions and eco-tours in the surrounding park. The Jasper Tramway operates from April to November, providing a bird's-eye view of the spectacular scenery.
Jasper National Park holds the world's largest Dark Sky Preserve, an area that is kept free of artificial light pollution to promote astronomy. Established in 1907, the park has over 600 miles of trails, thousands of campsites, abundant wildlife, and the largest icefield south of Alaska. Over 230 square miles are covered in ice and snow in the Columbia Icefield. Although the glaciers can be viewed from a distance along the Icefields Parkway, the Icefield Interpretive Centre, 50 miles south of Horseshoe Lake, is open from May to mid-October and offers information, exhibits, guided icewalks and tours. The guided tours are a much safer alternative than trying to walk on the glacier without expert assistance; parts of the glacier have weak spots covered with snow. There is a very real danger of falling into a crevasse without a guide.
The area holds a wealth of lodgings and accommodations to suit every budget. There are private cottage and apartment rentals, cabins, backcountry getaways, inns, hostels and bed-and-breakfasts along with hotels and motels in the area. Most are summer rentals, but a few stay open all winter to accommodate winter sportsmen. Access to Jasper National Park in on good roads via either the Trans-Canada Highway or the Yellowhead/Hwy 16. Edmonton is 200 miles to the east. An even more 'authentic' mode of transportation to Jasper is to take a train to the Jasper Station as was common in the early days of the park. Several VIA Rail trains include Jasper on their schedules. Rental cars are available at the station. Real estate is sometime available near Jasper, nearly always leased land. Jasper National Park encourages those who wish to live in the area full time and work to purchase these leases. So come explore Jasper National Park and don't miss Horseshoe Lake! Bring the fishing tackle!
*There are few available statistics for Horseshoe Lake.
Things to do at Horseshoe Lake AB
Vacation Rentals
Fishing
Boating
Swimming
Canoeing
Kayaking
Tubing
Camping
Campground
Picnicking
Cabin Rentals
Hiking
Biking
Downhill Skiing
Snowboarding
Cross-Country Skiing
Snowmobiling
Horseback Riding
Wildlife Viewing
National Park
Museum
Fish species found at Horseshoe Lake AB
---
Horseshoe Lake AB Photo Gallery
Horseshoe Lake AB Statistics & Helpful Links
Spread the word! Share our Horseshoe Lake AB article with your fellow Lake Lubbers!