Gull Lake, Alberta, Canada
Welcome to the ultimate guide for history, statistics, local fun facts and the best things to do at Gull Lake AB.
If you're considering Gull Lake AB vacation rentals, we've made it super easy to explore accommodations and nearby hotels using the interactive map below. Simply click on a listing to compare similar properties, best rates and availability for your dates. Or keep scrolling to read our Gull Lake AB guide!
Gull Lake AB visitor and community guide
Surrounded by Alberta's wide-open spaces and endless Canadian skies, Gull Lake is located in Alberta's Central tourism region. Well situated between Edmonton and Calgary in south-central Alberta, Gull Lake attracts a growing number of seasonal residents. Gull Lake's 19,917-acre surface area lies across portions of rural Lacombe and Ponoka Counties in Canada's Mountains West tourism region.
Records indicate that as early as 1850, an Oblate missionary, Father Albert Lacombe, came to the Gull Lake area to help resolve tensions between native Blackfeet and Cree people. Several decades later, in 1883, the first settler came to live in what would become the neighboring community of Lacombe. In 1908 the Blindman River Electric Power Company tapped into the water power of Gull Lake by building a dam at the lake's outlet. After the dam was destroyed in 1910, lake water levels began to fall. The Summer Village of Gull Lake rebuilt the dam in 1921, hoping to slow receding lake levels. In 1977 a pipeline and canal were built to divert water from the Blindman River into Gull Lake. Since that time, water levels have been stabilized well below the dam. With a maximum depth of 26 feet and average depth of 18 feet, Gull Lake is now considered a terminal basin. Alberta's Ministry of Environment controls the pumps that bring water from Blindman River.
Gull Lake water levels and water quality are monitored regularly. The Gull Lake Management Plan continues to evolve through active participation of Gull Lake property owners and county governments. The lake's fragile ecosystem is constantly being challenged by development along the 36-mile shoreline. The Summer Village of Gull Lake sits at the southeastern end of the lake and has a population exceeding 200. The northwestern shoreline holds the Summer Village of Parkland Beach and a population of approximately 150. These numbers will certainly grow as new development is underway with a potential capacity of 1,530 residential lots and 9,180 recreational units.
Numerous private campgrounds and resorts are found along the 36-mile shoreline of Gull Lake. Public access is limited to provincial-owned land. One of Alberta's first provincial parks, Aspen Beach Provincial Park, is located at the southwestern end of Gull Lake. Included in the park's 531 acres are two campgrounds, Lakeview and Brewers. Together, these grounds provide 559 campsites (many pull-through), water, sewer and some power. A sandy beach, picnic area, showers and washrooms add to the convenience of this scenic park. A boat launch is found at each campground with Brewer's being suitable for small boats only. Activities include swimming, water-skiing, windsurfing, boating, and hiking the wooded trails. Visitors may also access Gull Lake through provincial land along Birch Bay on the western shore. Power-boaters should be watchful for marked areas where boating is not permitted or speed limits apply.
Summer or winter, sport fishing is a popular attraction on Gull Lake. Among the species found in the lake are northern pike, walleye, lake whitefish, white suckers, burbot, spot-tail shiners and brook stickleback. Gull Lake is also an excellent site for bird watching. While fishing the marshy waters at the lake's north end, keep an eye out for ring-billed gulls, black terns, common goldeneye, American widgeons, mallards, blue-winged teal, white-winged scoters, ommon mergansers, common loons and red-winged blackbirds.
The surrounding communities of Rimbey, Bentley and Red Deer provide shopping for campers or lakeside residents. Additional shops, restaurants and services can be found in historic Lacombe, less than ten miles east of Gull Lake. Approximately 75 miles north of Gull Lake is Edmonton, the capital of Alberta. With a metro population approaching 1 million people, Edmonton is a growing, modern city. In addition to cultural and sporting attractions, West Edmonton Mall, North America's largest shopping and entertainment center provides hours of family fun. The mall boasts "800 shops and services, over 100 eating establishments, and nine world-class parks and attractions."
Drive 120 miles south of Gull Lake and experience the "new west" in Calgary. This city of over a million people rises out of Alberta's prairies with views of the Canadian Rockies to the west. Known for its year-round celebrations and sporting events, Calgary hosts the Calgary Stampede, a 10-day rodeo event promoted as the "greatest outdoor show on earth."
Winter is a part of life in Alberta. Activities change easily with the seasons, offering more opportunities to visit and enjoy Gull Lake. Ice-fishing and cross-country skiing are part of lake life as winter sets in. Snowmobiling is restricted to the lake only, sharing the surface with motorcycle ice racing.
Gull Lake's western horizon includes the grandeur of the snowcapped Canadian Rockies, home to Banff, Jasper, Kootenay and Yoho parks. In direct contrast to these majestic peaks, the expanse of Gull Lake's vast surface and gently rolling shoreline overwhelm you. Feel the enormity of endless blue skies, clean and fresh air, and miles of waving wheat fields. This is the heartland of Alberta. Here, vacation rentals and real estate properties offer a relaxed pace for city dwellers and permanent residents. Escape in a canoe or kayak on a warm summer day, escape to evening cook-outs with family and friends, escape to scenic sunsets and the call of the loons. Escape to Gull Lake.
Custom Gull Lake AB house decor
Read our full review of these personalized lake house signs.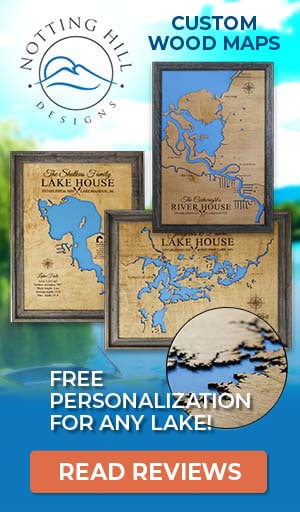 Things to do at Gull Lake AB
Vacation Rentals
Fishing
Ice Fishing
Boating
Swimming
Beach
Canoeing
Kayaking
Water Skiing
Camping
Campground
Picnicking
Hiking
Cross-Country Skiing
Snowmobiling
Wildlife Viewing
Birding
Provincial Park
Shopping
Fish species found at Gull Lake AB
Burbot
Carp
Northern Pike
Perch
Pike
Stickleback
Sucker
Walleye
Whitefish
---
Best hotels and vacation rentals at Gull Lake AB
The Gull Lake AB map shown above is a simple and stress-free way to search for trip accommodations. But if you want to take a deeper dive to find the ideal waterfront home, cabin, condo, hotel or resort, visit our favorite lodging partners by clicking the buttons below.
Note: These are affiliate links so we may earn a small commission if you book through them. While there is no extra cost to you, it helps provide resources to keep our site running (thank you)! You can read our full disclosure policy here.
---
Gull Lake AB photo gallery
New photos coming soon!
Gull Lake AB statistics & helpful links
We strive to keep the information on LakeLubbers as accurate as possible. However, if you've found something in this article that needs updating, we'd certainly love to hear from you! Please fill out our Content Correction form.
Advertise your Gull Lake AB vacation rental
LakeLubbers will soon offer homeowners and property managers the opportunity to to showcase their vacation rentals to the thousands of lake lovers searching our site daily for accommodations. If you'd like additional details, please contact our advertising team here.
Looking for the Gull Lake AB forum?
LakeLubbers previously offered visitors the ability to create accounts and participate in lake forums. When we overhauled the site's content management system in 2021 we had to disable those features. We're evaluating options and welcome your comments and feedback here.
We also encourage you to join our lake-lovin' community on Facebook and Instagram!
Spread the word! Share our Gull Lake AB article with your fellow Lake Lubbers!