Hess Lake, Michigan, USA
Also known as:  Big Brooks Lake
Welcome to the ultimate guide for history, statistics, local fun facts and the best things to do at Hess Lake.
If you're considering Hess Lake vacation rentals, we've made it super easy to explore accommodations and nearby hotels using the interactive map below. Simply click on a listing to compare similar properties, best rates and availability for your dates. Or keep scrolling to read our Hess Lake guide!
Hess Lake visitor and community guide
Hess Lake is a natural freshwater lake in the West Central tourism region of Michigan. Located in Newaygo County in Brooks Township, just southeast of the village of Newaygo, this 755-acre lake is a great place to spend relaxing downtime, and there's something here for the whole family, with a great variety of indoor and outdoor activities available year round.
Fishing is of course popular, with blue gill, northern pike, largemouth bass, and speckled bass being some of the most readily available types of fish that anglers often find on their hooks. Hess Lake is known as the best bass fishing in the county. Boating is greatly enjoyed, and motorboats are allowed on this lake whose shoreline measures nearly 6 miles. Sunbathing and relaxing on the beach are great draws in the summer months, and swimming is popular on the sandy-bottomed northwestern side of the lake. Canoes, kayaks, pontoon boats, jet skis, float planes, and other small watercraft typically dot the shallow lake, whose average depth is 6 feet with a maximum depth of 30 feet.
Hunters and trappers enjoy the heavy forest and array of wildlife on view. Winter months bring out cross-county skiers and snowmobile enthusiasts as well as ice fishing lovers. Campers nestle into the white pine and white oak forests. Off-road vehicle trails and designated biking and hiking trails are wonderful ways to explore scenic lookouts.
Families who enjoy active vacations will love the area around Hess Lake. Outdoor choices such as golf, horse riding, farmers markets, attending fresh-air concerts and specialized seasonal festivals, picnicking, window shopping, visiting state parks, motocross riding, sightseeing, berry picking, and bird watching are just the tip of the iceberg.
Those who crave more organized activities for the younger people in their groups can visit one of the family fun centers or other consolidated recreational areas in Newaygo County. Boasting mini golf, video arcades, bowling, riding stables, first-run movie theaters, an observatory, an alpaca farm, a paint-your-own-pottery studio, a historic touring village, and a working farm with up-close experiences with farm animals, youngsters will never be bored–and the adults will enjoy themselves right alongside the kids.
The Hess Lake Improvement Association (HLIA), an area organization dedicated to preserving the quality of the waters and ecosystem of the lake, has been in existence since the 1930s. This group is active in helping to minimize the environmental impact of the heavy development along the lake's shore. With more than 500 private residences, rentals, and vacation homes counted around the perimeter of the lake, there is a great need to educate local residents about the ways they can lessen the intrusion of pollutants on the lake; their goals seem to be coming to fruition, as the lake's excessive nutrients have decreased over the past decade. Part of the cause of the lake's highly organic makeup is its low flush rate, which leaves fertilizers in the lake for a longer period of time and allows significant growth of plant life.
Five smaller inlet streams on its southwest and southeast sides feed into Hess Lake, and one major stream is the lake's only outlet. Brooks Creek, draining Hess Lake at its northeast corner, feeds into Brooks Lake. The waters then enter the Muskegon River and eventually fill Lake Michigan. Water from Hess Lake travels more than 40 miles between exiting at Brooks Creek and entering Lake Michigan. In the early twentieth century, a dam called the Hess Lake Control Structure was built at the inlet of Brooks Lake to help control water levels. In 1965, Hess Lake's official level was set by court order at 763.6 feet; this was noted to be its officially reported and normal elevation, although seasonal rains and dry periods cause that level to fluctuate throughout the year.
Brooks Township fully contains nine lakes and holds parts of two others. Hess Lake, which was once known as Big Brooks Lake, is part of the Muskegon River Watershed. (Brooks Lake, which sits to the northeast of Hess Lake, was once called Little Brooks Lake.) The watershed's lakes are noted to have significant wetlands surrounding many of them, with some rare species found on land and in the waters there. The bald eagle, common loon, golden-winged warbler, cerulean warbler, wood turtle, lake sturgeon, and pug-nose shiner are all endangered species that have established habitats in this watershed–another reason to protect it from deterioration. More than 15 rare plant, butterfly, and moth species are also found there.
Newaygo is the closest village to Hess Lake, its population standing at around 1650. The Muskegon River runs through the village of Newaygo, putting water-based activities at the top of the list for local residents and travelers alike. The Huron-Manistee National Forest was established in 1945, when the Huron National Forest (established 1909) and the Manistee National Forest (established 1938) were combined to help preserve and recover these important woodlands. Huron-Manistee National Forest now holds nearly one million acres of land, including nearly 6,000 acres of wetlands; of the total acres protected, 3,950 of those exist in Brooks Township.
Destination travelers will find an abundance of summer cottage rentals, vacation homes, inns, campgrounds, and other lakeside accommodations around Hess Lake. Hundreds of choices on the lake and in the very close-by areas allow singles, couples, families, and large groups–from a family reunion to a class trip to a group of retirees RVing cross-country–an excellent opportunity to stay awhile and enjoy the many gems this area has to offer. For those looking for a wonderful but more remote retreat than Lake Michigan, Hess Lake is found in the lower peninsula of the state near the eastern shore of Lake Michigan. Tourism is the largest economic factor in this area, with manufacturing and agriculture coming in a distant second, so there is always something fun and interesting to do and see. More than 230 natural lakes are found in Newaygo County, as are hundreds of miles of streams; the area lures water lovers from all over with its beautiful and abundant choices. Grand Rapids is a short 40-minute drive to south, and Muskegon is a brief distance to the west. Whether interested in a weekend getaway or finding land to build a summer home or retirement home, Hess Lake is worth considering as a destination.
Custom Hess Lake house decor
Read our full review of these personalized lake house signs.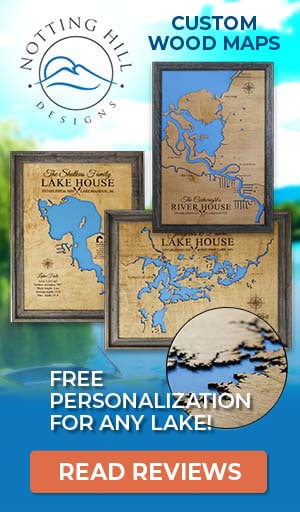 Things to do at Hess Lake
Vacation Rentals
Fishing
Ice Fishing
Boating
Swimming
Beach
Canoeing
Kayaking
Jet Skiing
Golf
Camping
Campground
Picnicking
Hiking
Biking
Snowmobiling
Horseback Riding
Hunting
Wildlife Viewing
Birding
State Park
National Forest
Miniature Golf
Movie Theater
Shopping
Fish species found at Hess Lake
Bass
Black Bass
Carp
Largemouth Bass
Northern Pike
Pike
Sturgeon
---
Best hotels and vacation rentals at Hess Lake
The Hess Lake map shown above is a simple and stress-free way to search for trip accommodations. But if you want to take a deeper dive to find the ideal waterfront home, cabin, condo, hotel or resort, visit our favorite lodging partners by clicking the buttons below.
Note: These are affiliate links so we may earn a small commission if you book through them. While there is no extra cost to you, it helps provide resources to keep our site running (thank you)! You can read our full disclosure policy here.
---
Hess Lake photo gallery
New photos coming soon!
Hess Lake statistics & helpful links
We strive to keep the information on LakeLubbers as accurate as possible. However, if you've found something in this article that needs updating, we'd certainly love to hear from you! Please fill out our Content Correction form.
Advertise your Hess Lake vacation rental
LakeLubbers will soon offer homeowners and property managers the opportunity to to showcase their vacation rentals to the thousands of lake lovers searching our site daily for accommodations. If you'd like additional details, please contact our advertising team here.
Looking for the Hess Lake forum?
LakeLubbers previously offered visitors the ability to create accounts and participate in lake forums. When we overhauled the site's content management system in 2021 we had to disable those features. We're evaluating options and welcome your comments and feedback here.
We also encourage you to join our lake-lovin' community on Facebook and Instagram!
Spread the word! Share our Hess Lake article with your fellow Lake Lubbers!