White Lake, Michigan, USA
Lake Locations:
USA - Midwest - Michigan - West Central -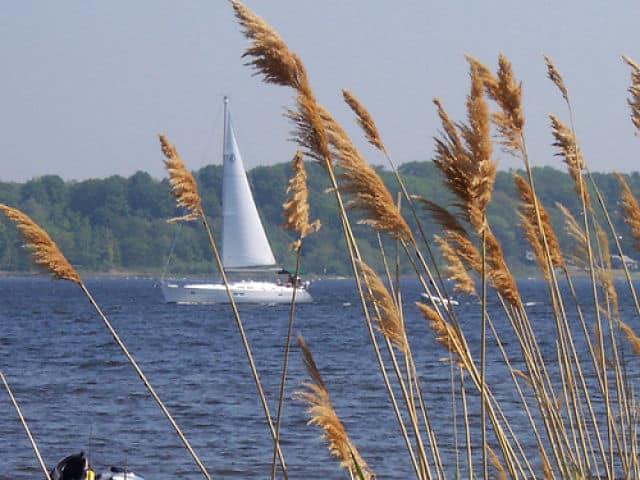 Will White Lake again become the economic driver for the cities of Whitehall and Montague in Michigan's West Central Region? That's entirely possible if the ambitious years of efforts by citizens and municipalities in the area get their wish. White Lake suffered for a hundred years from the ill effects of early numerous sawmills and logging activity and later heavy manufacturing along its shoreline. Those years of heavy metal pollution and surface run-off, side effects of the industries that supported the populace, left polluted sediments distributed throughout the 2,500-acre lake. All industrial pollution was ended by the mid-1980s, as it was along most of the Great Lakes and their attached inland lakes. With the assistance of Federal and State dollars, and plenty of work by interested citizens, much of the polluted sediments have been dredged out and shoreline rehabilitation begun. White Lake can now be added to the growing list of Michigan lakes that have 'come clean', providing new opportunities for recreation and enjoyment on the water.
White Lake is ideally located to provide shelter and moorings for Lake Michigan's large fleet of pleasure boaters. The lake is less than 15 miles by water north of the Muskegon harbor. The deep-water channel connecting the lake to Lake Michigan is a minimum 12 feet in depth and can accommodate most pleasure craft. And the lake supports a full nine marinas with a total of over 800 slips, fuel, food, lodgings and local attractions! The desire is to make White Lake a destination point along the Lake Michigan shore much like some of the better-known harbor destinations.
White Lake has plenty to offer both the Great Lakes sailor and the vacationing visitor or fisherman. Like nearby Muskegon, the cities of Whitehall and Montague are less up-scale than many of those farther north like Traverse City and Charlevoix. They are therefore a bit less expensive to those on a budget and will attract more visiting boaters as time goes on. And the lake is already a favored destination among fishermen!
According to fishing blogs, White Lake is known for the deep grass fishing for largemouth bass and smallmouth bass. Walleye, northern pike, bluegill, crappie and rock bass also draw fans. Charter service can be arranged for fishing trips on the 'big water' of Lake Michigan, too, so anglers can engage in their favorite sport in a variety of habitats. Marinas and local parks provide boat launch space to visiting fishermen, or they can travel light and rent a suitable boat from several of the marinas. Public docks provide space for children and those with limited mobility to fish without leaving the shore.
White Lake is an all-sports lake, and all types of water sports are enjoyed. The shoreline is well-populated with year-round homes and summer cottages. Residents and visitors enjoy pontooning, water skiing, jet-skiing, tubing, wake-boarding, swimming, canoeing and kayaking. A copy of the boating regulations is a good idea for the first-time visitor as some areas are 'no-wake', and the lake is regularly patrolled to ensure safety. Both Whitehall and Montague maintain city parks on the lake with picnic areas, playgrounds, boat launch and swimming areas, although the latter don't have lifeguards on duty. Montague also maintains a small beach on Lake Michigan north of the channel for the enjoyment of residents and visitors.
In the interest of encouraging lake visitors to investigate what the town has to offer, the Whitehall Municipal Marina is investing in bicycles for transient boaters to use to get around town. They are also providing free passes to the historic 95-year-old Howmet Playhouse which produces both plays and musical events. The twin towns at the north end of the lake offer every amenity from shopping to dining, fitness centers, museums and galleries. The area is a fine place to shop for antiques, with several shops near the downtown area. On the outskirts of town, the Hart-Montague Bike Trail State Park offers 22 miles of cycling trails and is the first linear state park in Michigan. The area offers several other trails for both walking and cycling. In winter, some of the trails outside of the city limits are open for snowmobiling. Both the area around the White River – where it flows into the lake – and the marshy perimeter areas of the lake offer fine bird watching. The marsh at White River also supports a large number of mute and tundra swans.
An annual Maritime Family Sailing Regatta is one of the features of the traditional Maritime Festival held at Goodrich Park each summer. Local White Lake Yacht Club stages sailing races every Saturday and Sunday through the summer, and an annual Chamber Music Festival offers a week of music and lecture each August. Paddle sport fans will enjoy a canoe or raft trip down the White River from a canoe livery outside of town. And no visit would be complete without spending a few hours at the White River Light Station-Museum at the south pier. Originally built in 1871, the original light was powered by 'lard oil' and could be seen for 11-1/2 miles out on the lake. The light station was built after the Federal Government provided funds to dredge the more direct channel to Lake Michigan and avoid the old circuitous White River natural outlet. The light was officially decommissioned in 1960.
As White Lake has long been a favorite vacation area in Muskegon County, many vacation cottages and private home rentals exist on the lake. Several campgrounds are located in the area – even one owned by the City of Montague. Although not on the lake itself, this is a convenient place to park the RV and simply walk a short distance to the lake or city amenities. Several traditional hotels and motels exist in the area, and there are even a few resorts on the lake and channels. Real estate opportunities exist in the area, often with lake views or actual lake frontage.
So, come see for yourself what a beautiful area White Lake has become. Water quality is good and getting better all the time. Come in the boat and sail in, or bring the boat and sail out! There's something for every visitor here . .White Lake aims to please!
Things to do at White Lake MI
Vacation Rentals
Fishing
Boating
Sailing
Swimming
Beach
Canoeing
Kayaking
Jet Skiing
Water Skiing
Tubing
Camping
Campground
Picnicking
Hiking
Biking
Snowmobiling
Birding
State Park
City Park
Museum
Playground
Antiquing
Shopping
Fish species found at White Lake MI
Bass
Black Bass
Bluegill
Crappie
Largemouth Bass
Northern Pike
Perch
Pike
Smallmouth Bass
Sunfish
Walleye
---
White Lake MI Photo Gallery
White Lake MI Statistics & Helpful Links
Spread the word! Share our White Lake MI article with your fellow Lake Lubbers!