Cold Lake, Alberta & Saskatchewan, Canada
Lake Locations:
Canada - Alberta - Saskatchewan -
Also known as:  Big Fish Lake (historical)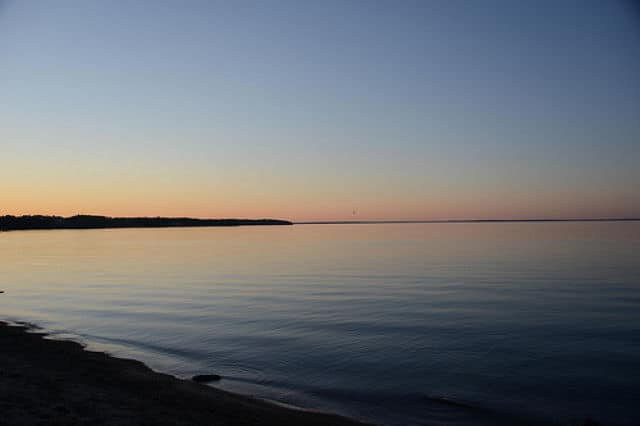 It's hard to believe that a water body named Cold Lake would be a summer water sports paradise, but this large lake on the Alberta-Saskatchewan border is exactly that. Located 175 miles northeast of Edmonton, two-thirds of the lake lie in the province of Alberta, with the other third in Saskatchewan. The lake is accessible to summer water sports enthusiasts and to winter sports fans. The City of Cold Lake is a major destination for lake tourism. Both Alberta and Saskatchewan have provincial parks along the lake, protecting the majority of the shoreline. Two First Nations Reserves make other small portions unavailable to development, keeping the shoreline natural and in many areas accessible only by boat. One of the largest lakes in Alberta, Cold Lake is noted for the size of its lake trout, explaining the historical name of Big Fish Lake attached to it in times past. A record 52-pound trout was once caught here, and eager anglers have been trying ever since to match that catch.
Over 92,000 acres of water surface have made Cold Lake attractive to water lovers since the days when major trading companies had fur trading posts here. One sailing club still holds weekly races among its members; although most of their craft are larger keeled boats, they have a system of handicapping that gives even the smaller craft a fighting chance to win. Cold Lake is popular among power boaters, water skiers and tubers, along with sailboarders and wake-boarders. The marina at Cold Lake is the largest inland marina in western Canada and maintains 250 berths for overnight, weekly and monthly rentals. The marina offers fishing licenses, recreation equipment, boat rentals, fishing tackle, water skis and an excellent lakeside restaurant. It is here that visiting anglers arrange for fishing and power boat charters from local proprietors. The City of Cold Lake naturally becomes the home base for lake visitors.
Cold Lake is deep, reaching 325 feet. The depth allows for a large variety of fish to inhabit the water including walleye, sauger, yellow perch, northern pike, lake trout, lake whitefish, cisco, burbot, white sucker and longnose sucker. Ice fishing is popular during the winter. The large lake freezes completely, usually in December, and remains frozen until at least March. The ice fishermen are usually after the big lakers, although they can also catch perch, pike and other species. Fishing licenses from both Alberta and Saskatchewan are honored everywhere on the lake. Trophy pictures of family anglers with a huge lake trout adorn the den walls of many a regular Cold Lake ice angler. Several hotels and bed-and-breakfasts cater to these sportsmen year round. A handful of bed-and-breakfasts overlook the lakefront in the City of Cold Lake. The Cold Lake Municipal District is located on the lakeshore and provides alternate lodgings for those who enjoy camping close to nature. A swimming beach, picnic grounds, lookout platforms, drinking water and showers are all provided. Other camping and swimming areas are located within several areas of the Cold lake Provincial Park.
Both Cold Lake Provincial Park and Saskatchewan's Meadow Lake Provincial Park have camping and picnicking on the lakeshore. Meadow Lake, however, offers only remote primitive camping at the lake, with full service camping areas in other areas of the large, popular park. Cold Lake Provincial Park encompasses several areas along the shoreline on the north, west and south sides of the big lake. These hold full-service campgrounds, swimming areas, fish cleaning stations, car-top boat launch, playgrounds, a dump station and many trails, both marked and unmarked. The area is considered ideal for bird watching with the trails providing access to marshes and forest stands. A full 11.5 kilometers of trails in the park cover a variety of terrain and provide excellent cross-country skiing, hiking and mountain biking opportunities.
Cold Lake comprises one end of the Iron Horse Trail. Built on a former railway easement, the Iron Horse has the distinction of being the longest continuous recreational trail in Alberta. The trail is open to motorized vehicles and connects to the Trans Canadian Snowmobile Trail-a popular winter sport here. Even limited downhill skiing is provided for in a small snow park located between the City of Cold Lake and the main section of the provincial park. Although the surrounding landscape is relatively flat, provisions have been made for beginning and intermediate downhill skiing, and lessons are available.
The City of Cold Lake is part of the municipal district of Bonnyville with two distinct sections: the part called North Cold Lake is on the lake itself, while South Cold Lake is a bit farther south along the Kingsway Highway. Between the two sections, every necessary service is provided for with hotels, shopping, golf courses and cultural venues. South Cold Lake has developed outside the gates of Canada's busiest fighter pilot training base. A large international training event called Maple Flag brings allied and Canadian pilots to Cold Lake each spring and allows the larger community to view some of the world's most sophisticated military equipment. The aerial displays are breathtaking. The 4 Wing base is an integral part of the Cold Lake community and provides the valuable expertise of trained military engineers and staff to community development projects.
Maple Flag is just one of the events that draws visitors to the Cold Lake area. The Agricultural Society produces a full season of rough stock events such as the Cold Lake Buck Off, Rodeo & Chuckwagon races and a Bull-a-rama, leaving no doubt that Cold Lake is truly a western community. In addition, Cold Lake offers a number of cultural activities that will please most visitors. The Cold Lake Museums are a series of four museums housing an Aboriginal Gallery, Heritage Gallery, Oil and Gas Gallery, and Air Force Museum which are all connected by a covered walkway. Several visual and performing arts groups produce exhibits and performances open to the public.
Located at the south end of the increasingly productive tar sands near Fort McMurray, Cold Lake is experiencing a booming energy production economy. Housing is becoming limited with oil production employees and visitors to 4 Wing. New condos and apartment complexes have been built to accommodate all of the new residents. Real estate is still available, but very little will be found directly along the lakeshore. A few private rentals are available on occasion but may take some effort to locate. The area is still very popular with birders, fishermen, snowmobilers, campers and boaters. There's still plenty of open water and plenty of fish and fun for everyone. So, make time in your schedule for a visit to Cold Lake. Like so many others, you'll fall in love with this vibrant community surrounded by unspoiled wilderness and acres upon acres of pristine water.
Things to do at Cold Lake
Vacation Rentals
Fishing
Ice Fishing
Boating
Sailing
Swimming
Beach
Water Skiing
Golf
Camping
Campground
Picnicking
Hiking
Biking
Downhill Skiing
Cross-Country Skiing
Snowmobiling
Horseback Riding
Birding
Provincial Park
Museum
Playground
Shopping
Fish species found at Cold Lake
Burbot
Cisco
Lake Trout
Northern Pike
Perch
Pike
Sauger
Sucker
Trout
Walleye
Whitefish
Yellow Perch
---
Cold Lake Statistics & Helpful Links
Spread the word! Share our Cold Lake article with your fellow Lake Lubbers!