Greers Ferry Lake, Arkansas, USA
Welcome to the ultimate guide for history, statistics, local fun facts and the best things to do at Greers Ferry Lake.
If you're considering Greers Ferry Lake vacation rentals, we've made it super easy to explore accommodations and nearby hotels using the interactive map below. Simply click on a listing to compare similar properties, best rates and availability for your dates. Or keep scrolling to read our Greers Ferry Lake guide!
Greers Ferry Lake visitor and community guide
People who love the outdoors will love Greers Ferry Lake. The lake offers ample opportunities for hiking, biking, boating, hunting, and world class fishing. With nearby shopping, multiple golf courses, and an interesting social environment, there is something for everyone. Tucked in the foothills of the Ozark Mountains between Clinton and Heber Springs, Arkansas, Greers Ferry Lake is a recreation paradise waiting to be savored.
Built by the U. S. Army Corps of Engineers, Greers Ferry Dam is a concrete, gravity dam on the Little Red River. The dam and resultant lake were built by the Corps for flood control, hydroelectric power generation, and as a drinking water reservoir for Cleburne County. In his last major appearance, President John F. Kennedy dedicated Greers Ferry Dam in 1963. President Kennedy spoke of the prosperity and recreation opportunities the lake would bring to the region, and his words still ring true today.
Greers Ferry Lake has a well earned reputation as one of the most pollution free lakes in the nation, and one of the cleanest and most scenic places in the mid-south. The area is home to two of the finest wildlife refuges in Arkansas. Mallards make their home at the Henry Gray/Hurricane Lake Wildlife Refuge. With about 15,000 acres on a large rice farm, Bald Knob National Wildlife Refuge is home to a large concentration of waterfowl, and visitors can sometimes catch a glimpse of wintering bald eagles. Greers Ferry Lake Wildlife Management Area is almost 9,000 acres of land above the conservation pool designated for hunting. Bow hunting is the only hunting permitted; archers can hunt for white-tailed deer, rabbit, squirrel, and Eastern wild turkey. Duck hunters will find many duck blinds and plenty of waterfowl to challenge them.
The fishing on Greers Ferry Lake is unsurpassed. Beginning and professional anglers are sure to have success fishing for largemouth bass and white bass hybrids. The Lake holds world records for walleye at 22 pounds 11 oz. and hybrid striper at 27 pounds 5 oz. The Lake is also home to the Devils Fork Fish Tournament Center. Trout fishing is managed by the U. S. Army Corps of Engineers and the Arkansas Game and Fish Commission. Water is piped from the dam to Collins Creek in a continuous stream to promote trout reproduction. There is a handicap accessible place on Collins Creek Trail for fishing. Downstream from the dam on the Little Red River, anglers will find exceptional trout fishing. There are brook, cutthroat, and rainbow trout. In 1992 Heber Springs resident, Rip Collins, caught a world record German brown trout weighing an unbelievable 40 pounds 4 oz. A replica of the trout is on display at the visitor center.
The William Carl Garner Visitor Center is managed by the U. S. Army Corps of Engineers. In addition to admiring Mr. Collins' trout, visitors can enjoy an exhibit area of the Little Red River from prehistoric times to the present. There is also an audio-visual presentation titled "The saga of the Little Red River: A tale of two centuries."
The U. S. Army Corp of Engineers also manages some well maintained camping areas and three nature trails for hiking and biking around the lake. The Buckeye National Trail, Collins Creek Trail, and the Mossy Bluff National Nature Trail, part of which looks over the Greers Ferry National Fish Hatchery, give visitors a chance to explore the lake and surrounding area. The Josh Park Memorial Trail is a multipurpose fitness trail that hosts an annual cross country meet for several schools. Perhaps the most interesting hiking on Greers Ferry Lake, however, is the Sugar Loaf Mountain National Trail.
Visitors have been hiking Sugar Loaf Mountain for years, long before Greers Ferry Lake was formed. Hikers and photographers were drawn to the spectacular views of the Ozarks from 1,001 feet above sea level. Sugar Loaf Mountain got its name because of an erosion process called pedimentation. The rocky top of the mountain protects the soft shale and sandstone beneath, creating a flat topped mountain with nearly vertical walls, like a loaf. With the construction of the dam and lake, Sugar Loaf Mountain was flooded and became an uninhabited island. Hiking the mountain today starts with a boat ride from one of the local marinas to the "shore" of the mountain.
Sugar Loaf Mountain National Trail is Arkansas' first nationally designated hiking trail. It is a winding trail that leads hikers past wildflowers in the spring and summer and flaming leaves in the fall. There are a variety of trees and bushes, including sumac, oak, and redbud, as well as wild grape, huckleberry, and prickly pear cactus. The mountain acts as a game refuge, and a lucky hiker may startle small animals, including rabbits and squirrels on their way to the summit. The rocks forming the mountain are over 300 million years old, and at places on the trail, hikers can walk under massive stone walls and past giant stone formations to one of the most beautiful panoramic views of the Ozarks.
The fun doesn't stop with hunting, fishing, and hiking. Sailboats, house boats, motor boats, and party barges all share the waters of Greers Ferry Lake. There is also scuba diving, water skiing, and swimming. Since 1987, the local Chamber of Commerce has played host to the World Champion Cardboard Boat Races. Participants build a person powered boat out of corrugated cardboard and race on a course on the lake. The race has been featured on ESPN and the Tonight Show.
With the challenging golf courses in the Ozark foothills, where you may find yourself teeing over water or canyons, and the shopping in Cleburne County's historic downtown, a visit to Greers Ferry Lake has something for everyone.
Custom Greers Ferry Lake house decor
Read our full review of these personalized lake house signs.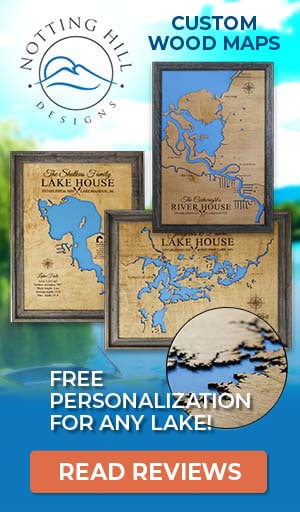 Things to do at Greers Ferry Lake
Vacation Rentals
Fishing
Boating
Sailing
Swimming
Water Skiing
Scuba Diving
Golf
Camping
Hiking
Biking
Hunting
Wildlife Viewing
Birding
National Wildlife Refuge
Shopping
Fish species found at Greers Ferry Lake
Bass
Black Bass
Brown Trout
Largemouth Bass
Perch
Rainbow Trout
Trout
Walleye
White Bass
---
Best hotels and vacation rentals at Greers Ferry Lake
The Greers Ferry Lake map shown above is a simple and stress-free way to search for trip accommodations. But if you want to take a deeper dive to find the ideal waterfront home, cabin, condo, hotel or resort, visit our favorite lodging partners by clicking the buttons below.
Note: These are affiliate links so we may earn a small commission if you book through them. While there is no extra cost to you, it helps provide resources to keep our site running (thank you)! You can read our full disclosure policy here.
---
Greers Ferry Lake photo gallery
New photos coming soon!
Greers Ferry Lake statistics & helpful links
We strive to keep the information on LakeLubbers as accurate as possible. However, if you've found something in this article that needs updating, we'd certainly love to hear from you! Please fill out our Content Correction form.
Advertise your Greers Ferry Lake vacation rental
LakeLubbers will soon offer homeowners and property managers the opportunity to to showcase their vacation rentals to the thousands of lake lovers searching our site daily for accommodations. If you'd like additional details, please contact our advertising team here.
Looking for the Greers Ferry Lake forum?
LakeLubbers previously offered visitors the ability to create accounts and participate in lake forums. When we overhauled the site's content management system in 2021 we had to disable those features. We're evaluating options and welcome your comments and feedback here.
We also encourage you to join our lake-lovin' community on Facebook and Instagram!
Spread the word! Share our Greers Ferry Lake article with your fellow Lake Lubbers!