Felsenthal Lock and Dam, Arkansas & Louisiana, USA
Also known as:  Lack Jack Lee
Welcome to the ultimate guide for history, statistics, local fun facts and the best things to do at Felsenthal Lock and Dam.
If you're considering Felsenthal Lock and Dam vacation rentals, we've made it super easy to explore accommodations and nearby hotels using the interactive map below. Simply click on a listing to compare similar properties, best rates and availability for your dates. Or keep scrolling to read our Felsenthal Lock and Dam guide!
Felsenthal Lock and Dam visitor and community guide
The Felsenthal Lock and Dam, also known as Lake Jack Lee, is located in South Central Arkansas at the confluence of the Ouachita and Saline Rivers. A small portion of the 15,000-acre lake is located in the state of Louisiana, and the rest is sprawled across Arkansas' Ashley, Bradley, and Union Counties. Construction of the reservoir and dam was completed in 1984 by the U.S. Army Corps of Engineers for flood control, energy, and recreational purposes. The lock is 84 feet wide and 600 feet long, and impounds a slack-water pool that stretches for roughly 100 miles.
The Felsenthal Lock and Dam is part of the Ouachita River Basin, which is characterized by hilly wetlands and the 605-mile Ouachita River running through it. Local recreational activities include boating, camping, fishing, hunting, and hiking. Fishing is fruitful year round in these waters, and common species include black bass, crappies, sunfish, bream, freshwater drum, rock bass and chain pickerel. Additionally, the lake is stocked with largemouth bass on an annual basis. Two day-use facilities are located at Lake Jack Lee, including a picnic area, playground, and fishing pier. Boat launches, parking lots, and restrooms are also available to the public.
The Felsenthal National Wildife Refuge proudly boasts the status of the largest green tree reservoir in the world – common arboreal species include nuttall oak, sweetgum, and willow oak. Attracting 400,000 visitors per year, the preserve is composed of 65,000 acres of protected wetlands, hardwood forests, one 3-acre pond, one 1-acre pond and the Felsenthal Lock and Dam. It also contains archaeological sites belonging the Caddo tribe – some dating as far back as 5,000 years. These Native Americans are best remembered for their phenomenal ceramic and copper artisan creations. Various ceremonial sites revolving around corn and tobacco harvests can be found throughout the park, along with ancient burial mounds and artifacts. Conveniently situated within the Mississippi flyway (one of the four major migratory bird pathways), the refuge was established in 1970 with four central purposes in mind: providing a habitat for migratory birds and endangered species, protecting cultural resources, and providing public recreation and environmental education.
The Felsenthal Lock and Dam area is home to 100 species of birds (including bald eagles and endangered red-cockaded woodpeckers), American alligators and black bears, which can be observed on the several hiking trails and 11 camping spots throughout the park. Youth turkey hunts, fishing derbies, and other special events are offered seasonally. During the autumn months, Lake Jack Lee's elevation rises by five feet, and spillage into nearby ponds and sloughs raises the park's water surface area from 15,000 to 36,000 acres. Hunters love the influx of winter waterfowl that this flooding tends to bring.
South of the Felsenthal Lock and Dam, in the state of Louisianna, sits the Upper Ouachita National Wildlife Refuge. Established in 1978, the 14,500-acre preserve is 18 miles long and 10 miles wide. Its hardwood forests, reforested farmland, lakes and waterways provide an exceptional habitat for geese, ducks, and water birds, The endangered Louisiana black bear also finds sanctuary among these grounds, along with alligators, turkey, deer, bald eagles, beavers, and squirrels. Various conservation efforts are in place to foster the survival of local wildlife, including prescribed burns, farming, silvicultural treatments (the thinning of trees), invasive species control, forest restoration and the cultivation of moist soil habitats.
Just five miles east of Felsenthal Lock and Dam, on Highway 83, lies the town of Crossett. Here, visitors will enjoy the Crossland Zoo and the historic Wiggins Cabin/Old Company House. Just east of Crossett you'll find El Dorado, which has consistently featured a "showdown at Sunset" performance every Saturday night since the 1980s. This reenactment imitates the 1902 shootout between two rivaling El Dorado families: the Tuckers and the Parnells. The city is also home to the South Arkansas Arts Center, South Arkansas Symphony, and South Arkansas Arboretum.
Visitors with a sense of adventure and a love of the water will appreciate all that Felsenthal Lock and Dam has to offer. Local attractions surrounding Lake Jack Lee make for a unique and varied experience, and one that you are not soon to forget.
Custom Felsenthal Lock and Dam house decor
Read our full review of these personalized lake house signs.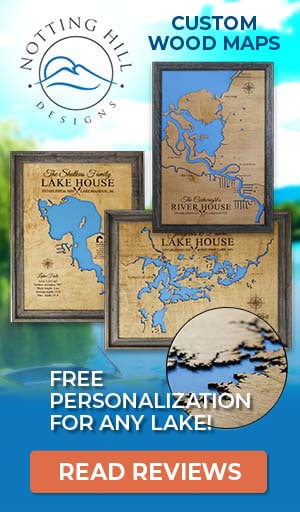 Things to do at Felsenthal Lock and Dam
Fishing
Boating
Camping
Picnicking
Cabin Rentals
Hiking
Hunting
Wildlife Viewing
Birding
National Wildlife Refuge
Playground
Fish species found at Felsenthal Lock and Dam
Bass
Black Bass
Chain Pickerel
Crappie
Freshwater Drum
Largemouth Bass
Pickerel
Pike
Sunfish
---
Best hotels and vacation rentals at Felsenthal Lock and Dam
The Felsenthal Lock and Dam map shown above is a simple and stress-free way to search for trip accommodations. But if you want to take a deeper dive to find the ideal waterfront home, cabin, condo, hotel or resort, visit our favorite lodging partners by clicking the buttons below.
Note: These are affiliate links so we may earn a small commission if you book through them. While there is no extra cost to you, it helps provide resources to keep our site running (thank you)! You can read our full disclosure policy here.
---
Felsenthal Lock and Dam photo gallery
New photos coming soon!
Felsenthal Lock and Dam statistics & helpful links
We strive to keep the information on LakeLubbers as accurate as possible. However, if you've found something in this article that needs updating, we'd certainly love to hear from you! Please fill out our Content Correction form.
Advertise your Felsenthal Lock and Dam vacation rental
LakeLubbers will soon offer homeowners and property managers the opportunity to to showcase their vacation rentals to the thousands of lake lovers searching our site daily for accommodations. If you'd like additional details, please contact our advertising team here.
Looking for the Felsenthal Lock and Dam forum?
LakeLubbers previously offered visitors the ability to create accounts and participate in lake forums. When we overhauled the site's content management system in 2021 we had to disable those features. We're evaluating options and welcome your comments and feedback here.
We also encourage you to join our lake-lovin' community on Facebook and Instagram!
Spread the word! Share our Felsenthal Lock and Dam article with your fellow Lake Lubbers!