Greenlee Lough, England, United Kingdom
Also known as:  Roman Wall Loughs
Welcome to the ultimate guide for history, statistics, local fun facts and the best things to do at Greenlee Lough.
If you're considering Greenlee Lough vacation rentals, we've made it super easy to explore accommodations and nearby hotels using the interactive map below. Simply click on a listing to compare similar properties, best rates and availability for your dates. Or keep scrolling to read our Greenlee Lough guide!
Greenlee Lough visitor and community guide
Located in Northumberland National Park, Greenlee Lough is Northumberland County's largest natural lake. Considered one of the Roman Wall Loughs, Greenlee sits in close proximity to Hadrian's Wall, one of England's historic treasures. The lake area is designated as a Site of Special Scientific Interest (SSSI), a National Nature Reserve and a European Special Area of Conservation (SAC), making it a part of the growing trend toward nature-based tourism.
Glacially carved Greenlee Lough is owned by Northumberland National Park and managed jointly by Northumberland Wildlife Trust, Northumberland National Park Authority and Natural England. Greenlee Lough is located three miles northeast of the park's visitor center and car park at a section of Hadrian's Wall called Steel Rigg. A 1640-foot (500-meter) boardwalk takes visitors from the public road at Hadrian's Wall across private land to the shore of Greenlee Lough. With displays of woodland, reedbeds, fen and peat mires, the signed footpath educates visitors about the diversity of Northumberland's native landscape.
Known for its natural setting and rich biodiversity, 111-acre (45-hectare) Greenlee Lough is only a portion of the 482-acre (195-hectare) National Nature Reserve. Serving as a home to rare plant species, the shallow six-foot (1.8-meter) depths of Greenlee Lough provide the habitat for shining pond weed, stoneworts and bladderwort (a carnivorous plant). On rare occasions visitors will capture glimpses of otter and roe deer among the wildlife attracted to the two-mile (3-kilometer) shoreline. Throughout the year migratory birds and waterfowl come to the shore and open water of Greenlee Lough. Visitors are welcome to view the displays of color and song from a bird hide located on the north side of the lake. Wintering species include the whooper swan, widgeon, teal golden eye, tufted duck and mallard. Summer migrations include mute swans, reed bunting and sedge warbler. The large heath butterfly is also among the other winged creatures seldom found outside of Northumberland County and Greenlee Lough.
To protect the sensitive environment of Greenlee Lough, access to the shoreline is limited. Anyone interested in fishing Greenlee Lough must receive permission from the current owner of the lake's fishing rights and have an Environment Agency National Rod License. Open for brown trout fishing from May 1st to October 31st, Greenlee is also home to pike, perch, roach, eels and the rare native white clawed crayfish. Serious anglers and fly fishermen will enjoy seeking out nearby River Tyne and River Coquet, two of England's premier fisheries and home to salmon, sea trout and brown trout.
Greenlee Lough sits within two miles (3 kilometers) of the two additional Roman Wall Loughs. Broomlee Lough is said to be the site of hidden Danish treasure and the lake where King Arthur received and returned his sword Excalibur. At Crag Lough, Hadrian's Wall is built upon the cliffs that rise above its southern shore. The impressive rock formation is part of Whin Sill, a large volcanic intrusion running through much of south and east Northumberland offering exceptional views of the countryside.
Ruins of walls, forts, towers and old gateways that dot Hadrian's Wall have been designated a UNESCO World Heritage Site. From approximately AD 43 to 410 the Roman Empire occupied portions of Great Britain naming the land Britannia. During the reign of Emperor Publius Aelius Hadrianus (AD 117 to 138) the 73-mile east-west wall was built across England. Whether the wall was built to mark Rome's northern boundary, create a defense against northern invasion, or occupy the time of Rome's isolated soldiers is still under discussion.
Set along the heights of Whin Sill, the ruins of Housesteads Roman Fort remain one of the more popular attractions along Hadrian's Wall. Found immediately east of Crag Lough, Housestead is the most complete Roman fort in Britain and includes the remains of a granary, barracks, hospital, kitchen and hypocaust (underground heating system). A museum on the grounds interprets over 2,000 years of English history. Housestead also provides a second car park available to Greenlee Lough visitors.
While visiting Greenlee Lough, follow the urge to explore the surrounding countryside. Northumberland National Park has over 600 miles (900 kilometers) of trails running from just south of Crag Lough north to the Scottish border. Along the way walkers, horse riders and cyclists will find opportunities to enjoy the scenery and observe the wildlife. Take in rock climbing, bird watching tours, or fell running races and you will discover the beauty of moors, hills, forests and rivers.
Trek south of Greenlee Lough and Northumberland National Park and you will enter a range of hills called the North Pennines. Designated as an Area of Outstanding Natural Beauty (AONB) and a UNESCO Global Geopark, the North Pennines include a unique mix of moors, meadows, rivers, rare flora and fauna. According to the North Pennines AONB Partnership, the region covers almost 770 square miles (2,000 square kilometers) including "40% of the UK's upland hay meadows; 30% of England's upland heathland and 27% of its blanket bog; 80% of England's black grouse; red squirrels, otters and rare arctic alpine plants."
In the midst of unspoiled wonders and fascinating history, it is not surprising that visitors to northeast England will find an excellent selection of holiday vacation rentals, bed & breakfasts (B&Bs), self-catering cottages, and real estate properties near Greenlee Lough. The charming villages of Hexham, Whiteside, Barden Mill and Haltwhistle all sit within minutes of Greenlee Lough offering services, shops and accommodations. Select from camping barns to castles and enjoy your time at lovingly preserved and unforgettably beautiful Greenlee Lough.
Custom Greenlee Lough house decor
Read our full review of these personalized lake house signs.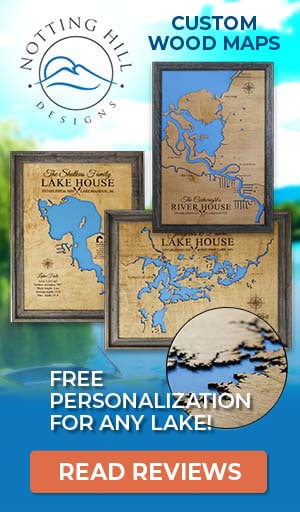 Things to do at Greenlee Lough
Vacation Rentals
Fishing
Hiking
Rock Climbing
Horseback Riding
Wildlife Viewing
Birding
National Park
Museum
Ruins
Fish species found at Greenlee Lough
Brown Trout
Eel
Perch
Pike
Roach
Salmon
Trout
---
Best hotels and vacation rentals at Greenlee Lough
The Greenlee Lough map shown above is a simple and stress-free way to search for trip accommodations. But if you want to take a deeper dive to find the ideal waterfront home, cabin, condo, hotel or resort, visit our favorite lodging partners by clicking the buttons below.
Note: These are affiliate links so we may earn a small commission if you book through them. While there is no extra cost to you, it helps provide resources to keep our site running (thank you)! You can read our full disclosure policy here.
---
Greenlee Lough photo gallery
New photos coming soon!
Greenlee Lough statistics & helpful links
We strive to keep the information on LakeLubbers as accurate as possible. However, if you've found something in this article that needs updating, we'd certainly love to hear from you! Please fill out our Content Correction form.
Advertise your Greenlee Lough vacation rental
LakeLubbers will soon offer homeowners and property managers the opportunity to to showcase their vacation rentals to the thousands of lake lovers searching our site daily for accommodations. If you'd like additional details, please contact our advertising team here.
Looking for the Greenlee Lough forum?
LakeLubbers previously offered visitors the ability to create accounts and participate in lake forums. When we overhauled the site's content management system in 2021 we had to disable those features. We're evaluating options and welcome your comments and feedback here.
We also encourage you to join our lake-lovin' community on Facebook and Instagram!
Spread the word! Share our Greenlee Lough article with your fellow Lake Lubbers!