Great Moose Lake, Maine, USA
Lake Locations:
USA - New England - Maine - Kennebec & Moose River Valleys -
Also known as:  Moose Pond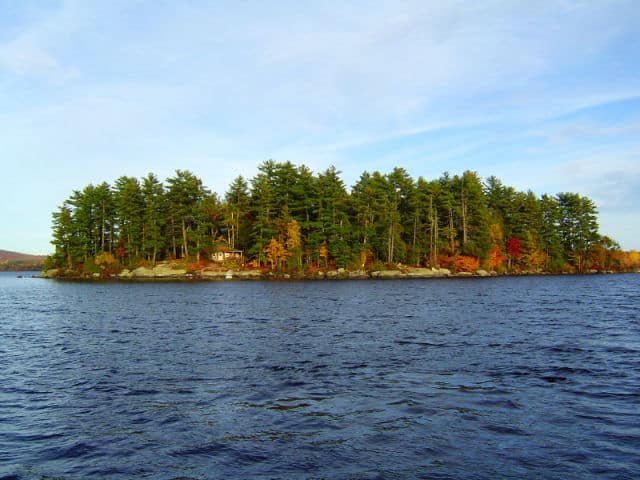 Vacations are a time to sleep in. She knows that. She just can't help herself. Mornings are so beautiful at Great Moose Lake she has been waking up early to watch the sunrise. She takes her coffee to the deck of the house where they are staying and watches the sun greet the day. A bald eagle soars across the water, and the solitude of the lake in the Maine Highlands fills her. In a couple of hours the kids will be up swimming and jet skiing, darting back and forth across Great Moose Lake. For now the lake belongs just to her and the eagle fishing for breakfast.
People have been coming to relax at Great Moose Lake or Moose Pond as it is also known for hundreds of years. The first vacation lodges were built around the lake in the 1800's. Today they have been replaced by lakefront vacation rentals and waterfront cabins. The shoreline is still relatively undeveloped, and there are build-able waterfront lots as well as real estate for sale for those wishing to make their stays more permanent.
Moose Pond is at the head of the Sebasticook River watershed, and the Sebasticook River and Black Stream make up its outlet. It is an impoundment originally created by the Great Moose Lake Dam. The dam, however, was damaged during a flood in 1987. It was replaced in 1991 by the Morgan Dam which was named in honor of nearby Hartland's town manager Ms. Peggy Morgan.
Great Moose Lake's quiet, private nature makes it the perfect place to explore by canoe or kayak. It is frequented by loons, ducks, deer and the moose that give it its name. There are logging trails near the lake for hiking and exploring the peaceful Maine countryside. With over 3,584 acres of water, there is also plenty of room to water ski, jet ski and boat. Anglers will find healthy populations of small mouth bass, white and yellow perch, pickerel, chub and brookies to challenge them. The Maine Department of Inland Fisheries and WIldlife stocks Moose Pond with brown trout.
Beautiful changing leaves and crisp apples give way to maple syrup candy made in deep drifts of clean snow as fall turns to winter in Maine. Moose Pond is a year round destination. After a day cross country skiing, downhill skiing or snow mobiling a lake front home at Great Moose Lake makes the perfect base to return to. Relax in front of the fire with hot chocolate and Scrabble while the snow blankets the world outside. When the urge to be around other people strikes, Hartland has a variety of restaurants and amenities.
Just 80 miles east of Great Moose Lake, Acadia National Park is a great day trip. Acadia National Park was the first national park established east of the Mississippi River. It includes 1,530 foot Cadillac Mountain, the highest peak on the US Atlantic Coast. Visitors can explore Maine's rocky coast, watch the surf crash at thunder hole, or climb the Precipice.
There is more than enough to do at Great Moose Lake to entertain the whole family. Perhaps the best part of a trip to this Kennbec and Moose River Valleys lake, however, is doing nothing, basking in the peace and quiet of beautiful Moose Pond.
Things to do at Great Moose Lake
Vacation Rentals
Fishing
Boating
Swimming
Canoeing
Kayaking
Jet Skiing
Water Skiing
Cabin Rentals
Hiking
Downhill Skiing
Cross-Country Skiing
Wildlife Viewing
Birding
National Park
Fish species found at Great Moose Lake
Bass
Brown Trout
Carp
Perch
Pickerel
Pike
Smallmouth Bass
Trout
Yellow Perch
---
Great Moose Lake Photo Gallery
Great Moose Lake Statistics & Helpful Links
Spread the word! Share our Great Moose Lake article with your fellow Lake Lubbers!