Great Falls Lake, Tennessee, USA
Also known as:  Great Falls Reservoir, Rock Island Lake
Welcome to the ultimate guide for history, statistics, local fun facts and the best things to do at Great Falls Lake.
If you're considering Great Falls Lake vacation rentals, we've made it super easy to explore accommodations and nearby hotels using the interactive map below. Simply click on a listing to compare similar properties, best rates and availability for your dates. Or keep scrolling to read our Great Falls Lake guide!
Great Falls Lake visitor and community guide
One of the best-kept secret destination lakes in the Middle Tennessee area is Great Falls Lake. The 1800-acre reservoir formed behind Great Falls Dam offers 120 miles of shoreline and a wide variety of boating and fishing experiences to those lucky enough to find it. The lovely, high-end homes scattered along the lakefront show the lake's attributes have been discovered by a favored few. The reservoir floods areas behind the dam 22 miles along the Caney Fork and 10 miles along the Collins River plus a short stretch along the Rocky River. This creates a rocky, isolated island midstream at the confluence of the three watercourses. The loosely-knit community that grew up along the shoreline is called Rock Island, a name it shares with the State Park on the north bank. Here, residents and visitors can fish, water ski, enjoy wake-boarding, canoeing, pontooning, paddle boating, tubing and fishing. Residents often entertain neighbors and guests on their covered docks. Great Falls Lake is truly a lakelubber's dream come true.
There are no statistics available to show how deep Great Falls Lake actually is, but reports say it is very deep. That is not surprising as the Great Falls Dam towers 92 feet above the river bed below the dam, and the resulting lake fills the deep gorge. Fishing is a favorite activity at Great Falls Lake, with tournaments being held weekly from the sole marina on the lake. Anglers try their luck fishing for largemouth bass, spotted bass, crappie, black bass and muskie. There is a public boat launch located within the Rock Island State Park on the north side of the lake near the dam. Visitors can rent boats and water sports equipment at the marina which also offers a restaurant and acts as host for many of the community activities on the lake. Fishermen must have appropriate Tennessee fishing permits and obey all regulations.
Some of the most spectacular sights near Great Falls Lake are the Caney Fork Gorge below the dam and the waterfalls formed in the gorge. The Great Falls are a series of cascade waterfalls that spill into the Caney Fork. Twin Falls are a series of waterfalls pouring from the limestone bluff along a hundred-foot stretch. The falls are actually created by the rising water and increased water pressure from Great Falls Reservoir, forcing water through the limestone caverns in the rock and creating the waterfalls at the escape points. The falls are an unintended consequence of building the dam. Higher water results in heavier flow from the falls. In winter, the falls often freeze into an 80-foot-high cascade of ice. Water leaks constantly from the reservoir these natural channels drain.
Rock Island State Park encompasses 883 acres along both Great Falls Lake and the Caney Fork Gorge. Most visitor amenities are below the dam, including trails, look-out points, deep pools for fishing, whitewater for rafting and kayaking, and campgrounds. The Center Hill Dam, 60 miles below the Great Falls Dam, backs up water almost to the Great Falls Dam tail-waters. Campgrounds, a swimming beach, picnic areas, sports fields, pontoon boat tours, live animal programs and interpretive hikes all offer something for visitors to enjoy. Another state park serves visitors on Center Hill Lake: Edgar Evins State Park. Several additional recreation areas and small protected areas complete access to visitors. Unless the hydroelectric plant at Great Falls Dam is actively generating, water levels in the river are only a trickle. When water is released, whitewater is produced by the mass of rushing water, making this an ideal spot for adventurous kayaking.
Hiking the trails provided in Rock Island State Park draws photographers and nature lovers as they enjoy the views of the river and the gorge. Most trails are below the Great Falls Dam and either climb the limestone bluff above the falls or follow the rivers. Most are not considered difficult trails, although hikers should be prepared for some climbing and rough terrain. Unfortunately, few state park visitors are even aware of the beautiful lake above the dam, leaving Great Falls Lake quite private and deserted except for anglers and residents. A five-mile run is scheduled at the state park each year and draws many participants.
This area of middle Tennessee is noted for Civil War history and Bluegrass music. Nearby Sparta is known as the home of the Bluegrass movement and is the hometown of famed Lester Flatt. An annual Liberty Square Lester Flatt Celebration produces a fine one-day festival of bluegrass with well-known bluegrass musicians, craft show, food, vendor booths, classic car show, and a fireworks display. A few miles to the west, Mainstreet McMinnville features professionally-guided tours which include caving, river rafting, rappelling, canoeing and kayaking, hiking, backpacking and survival and rescue instruction. Self-guided historical tours lead to two Civil War Trails markers, part of a national system. The area is also rich in antique stores, bed-and-breakfasts and local craft artisens. Both towns provide restaurants and other services. Only a few miles away, Big Bone Cave is often open for tours. This cavern was used for saltpeter mining during both the War of 1812 and the Civil War. Artifacts are found here showing evidence of human visits far back into antiquity. Big Bone Cave is notable for the 1811 discovery of the fossil skeleton of a giant ground sloth, which gave the cave its name. The skeleton is preserved at the Academy of Natural Sciences in Philadelphia.
Great Falls Dam is the only dam outside of the Tennessee River Watershed owned and operated by the Tennessee Valley Authority. Many attempts were made to dam the wild and unpredictable Caney Fork before the effort was successful. Many dams were washed away, and with them, mills and other structures. It wasn't until 1916 that the Tennessee Electric Power Company finally succeeded in building a reliable dam. The dam and generating unit were later bought out by the TVA. A few remnants of these former attempts at taming Caney Fork still exist, including the old mill site below the dam in Rock Island State Park.
Visiting Rock Island State Park is easy. Finding lodgings at Great Falls Lake is a bit harder. A few private cottages and homes are sometimes available for rent, but there is no resort or tourism-geared hotel. Real estate is available, however, often with water frontage. A few building lots may exist. There are campsites available below the dam where cabins may also be rented. Hotels and motels can be found in both Sparta and McMinnville. A visit to Great Falls Lake is well worth a visit. Come see what Rock island has to offer.
*Great Falls Lake has the capacity for 30,000 acre-feet of flood storage but does not list the actual capacity of the reservoir under normal conditions.
Custom Great Falls Lake house decor
Read our full review of these personalized lake house signs.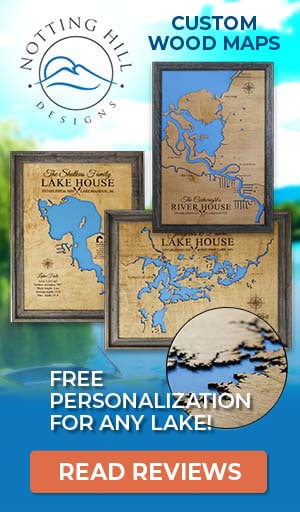 Things to do at Great Falls Lake
Vacation Rentals
Fishing
Boating
Swimming
Beach
Canoeing
Kayaking
Water Skiing
Tubing
Camping
Campground
Picnicking
Cabin Rentals
Hiking
Waterfall
State Park
Antiquing
Fish species found at Great Falls Lake
Bass
Black Bass
Crappie
Largemouth Bass
Muskellunge
Pike
Spotted Bass
---
Best hotels and vacation rentals at Great Falls Lake
The Great Falls Lake map shown above is a simple and stress-free way to search for trip accommodations. But if you want to take a deeper dive to find the ideal waterfront home, cabin, condo, hotel or resort, visit our favorite lodging partners by clicking the buttons below.
Note: These are affiliate links so we may earn a small commission if you book through them. While there is no extra cost to you, it helps provide resources to keep our site running (thank you)! You can read our full disclosure policy here.
---
Great Falls Lake photo gallery
New photos coming soon!
Great Falls Lake statistics & helpful links
We strive to keep the information on LakeLubbers as accurate as possible. However, if you've found something in this article that needs updating, we'd certainly love to hear from you! Please fill out our Content Correction form.
Advertise your Great Falls Lake vacation rental
LakeLubbers will soon offer homeowners and property managers the opportunity to to showcase their vacation rentals to the thousands of lake lovers searching our site daily for accommodations. If you'd like additional details, please contact our advertising team here.
Looking for the Great Falls Lake forum?
LakeLubbers previously offered visitors the ability to create accounts and participate in lake forums. When we overhauled the site's content management system in 2021 we had to disable those features. We're evaluating options and welcome your comments and feedback here.
We also encourage you to join our lake-lovin' community on Facebook and Instagram!
Spread the word! Share our Great Falls Lake article with your fellow Lake Lubbers!