Evergreen Lake, Illinois, USA
Lake Locations:
USA - Midwest - Illinois - Central -
Also known as:  Evergreen Reservoir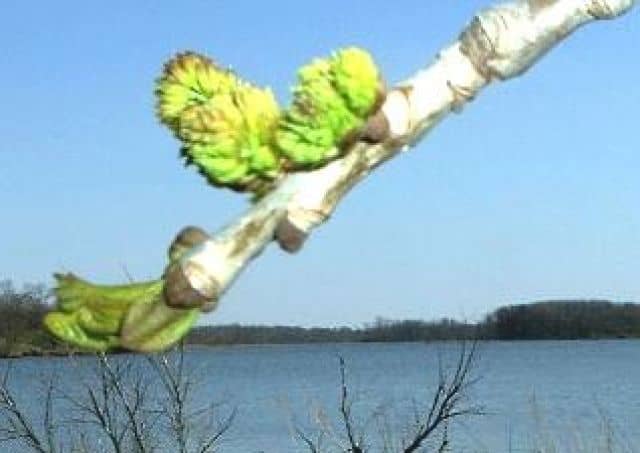 One of Central Illinois' best-kept secret lies just north of Bloomington: Evergreen Lake. When the growing city needed additional water supply in 1971, Six Mile Creek was dammed to create new Evergreen Lake. Then, needing even more water storage, the dam was enlarged in 1995. The resulting 900-acre reservoir is crowned by 2200-acre Comlara County Park to provide recreational opportunities for everyone. In the 40 years of its existence, Evergreen Lake has developed into one of the favorite fishing and camping destinations in central Illinois. The fishery has been so successful that record game fish are regularly reeled in. With the Bloomington area home to two major universities and two smaller colleges, beautiful Comlara County Park opened up a wealth of recreational activities for the energetic young adults.
Comlara County Park encompasses the entire 22-mile shoreline of Evergreen Lake. Stocked regularly by the Illinois Departtment of Natural Resources, the lake holds black crappie, bluegill, channel catfish, largemouth bass,
muskellunge, saugeye (hybrid walleye), smallmouth bass, walleye, white crappie, yellow bass, bullhead and carp. Largemouth bass, musky and saugeye are regularly stocked. Repeatedly, fishermen surveyed claim Evergreen to be their most productive lake. Trophy musky, walleye and bass have been pulled from the waters in recent years. The carp have produced a regular group of bowhunting fans, and discussion is underway to develop a commercial fishery for carp in the future to reduce their numbers.
Comlara Park makes fishing especially easy; the lake has a 10 hp limit on boat motors, with certain areas off-limits to all motors during waterfowl breeding season. Irregularly-shaped with multiple arms and bays, the lake is also a great place for ice fishing. Two boat launch ramps are located on the lake: one within the Comlara Main Recreation Area and another in the White Oak Area. An Evergreen Lake watercraft registration is required on all watercraft, including sailboards. Registrations can be obtained at the Comlara Park Visitor's Center or at self-registration drop boxes located at the boat launch facilities. The park also rents canoes, kayaks, paddleboats, and rowboats with or without a 5 hp motor. A bait shop is also open during the summer months. Several fishing docks allow access for fishing from the shore.
Although the low horsepower limit precludes waterskiing and personal watercraft, visitors enjoy non-motorized water sports such as sailboarding, sailing and paddling. Accessible playgrounds, picnic areas and two swimming areas are provided in addition to a full-service campground. Glasener Beach provides a sand beach, a large area for sun bathing, a giant water umbrella and beach playground. Rental tubes are also available. Reservations are recommended on summer weekends due to the campground's popularity. Over 20 miles of hiking trails are provided within the park, with some suitable for mountain biking.
Comlara Park management maintains several separate accessible conservation areas surrounding Evergreen Lake, including Deer Island Area, Lake View Area, Mallards Bay Conservation Area, Six Mile Creek Area, Southeast Conservation Area, Southwest Conservation Area and White Oak Area. McLean County Parks & Recreation has worked with outside organizations to improve nesting habitat for a wide range of species including programs for waterfowl nesting and blue-bird houses. Wildlife is abundant and the park is a favorite among photographers. The trails are open year-round for cross-country skiing, snowshoeing and snowmobiling in some areas.
For visitors who seek more variety during a week's stay at the campground, nearby Bloomington and Normal hold a wealth of entertainment options. As college towns, there are a number of nightclubs and entertainment venues highly attractive to young adults. The daring can find paintball, indoor rock-climbing facilities and other active sports. The Constitution Trail in Normal is a multi-use trail with over 14 miles of hard surface. The trail is perfect for walking, jogging, rollerblading, biking, cross-country skiing, or strolling. The towns also offer plenty of restaurants, theater events, and cultural activities.
Athletes arrive annually for the Evergreen Lakes Triathlons. The area holds multiple golf courses, a small winery and numerous antique shops and farm markets. Families with children can easily spend days checking out the small amusement park with lots of kiddie rides, miniature golf, the Illinois State University Planetarium, year-round Pepsi Ice Center and the Miller Park Zoo. And those who prefer air conditioning and room service to camping and hot dogs on the grill will find plenty of choices in the city for lodgings, including chain hotels, bed-and-breakfasts and small inns.
There is no available real estate directly on the Evergreen Lake shoreline, but the nearby countryside contains all types of real estate, from existing homes and condos to buildable properties and acreage. Only 135 miles from downtown Chicago and 160 from St Louis, Evergreen Lake is the perfect distance for a close-to-home vacation or seasonal residence. And a weekend fishing or picnicking trip will only take a couple of hours of travel time on good highways. Come check out enjoyable Evergreen Lake next time you're looking for a weekend break. You'll soon decide to make Evergreen Lake a regular weekend getaway.
Things to do at Evergreen Lake
Vacation Rentals
Fishing
Ice Fishing
Boating
Sailing
Swimming
Beach
Canoeing
Kayaking
Tubing
Golf
Camping
Campground
Picnicking
Hiking
Rock Climbing
Biking
Cross-Country Skiing
Snowmobiling
Wildlife Viewing
Playground
Amusement Park
Miniature Golf
Antiquing
Fish species found at Evergreen Lake
Bass
Black Bass
Black Crappie
Bluegill
Carp
Catfish
Channel Catfish
Crappie
Largemouth Bass
Muskellunge
Perch
Pike
Saugeye Perch
Smallmouth Bass
Sunfish
Walleye
White Crappie
Yellow Bass
---
Evergreen Lake Photo Gallery
Evergreen Lake Statistics & Helpful Links
Spread the word! Share our Evergreen Lake article with your fellow Lake Lubbers!