Electra Lake, Colorado, USA
Lake Locations:
USA - West - Colorado - Southwest -
Also known as:  Cascade Reservoir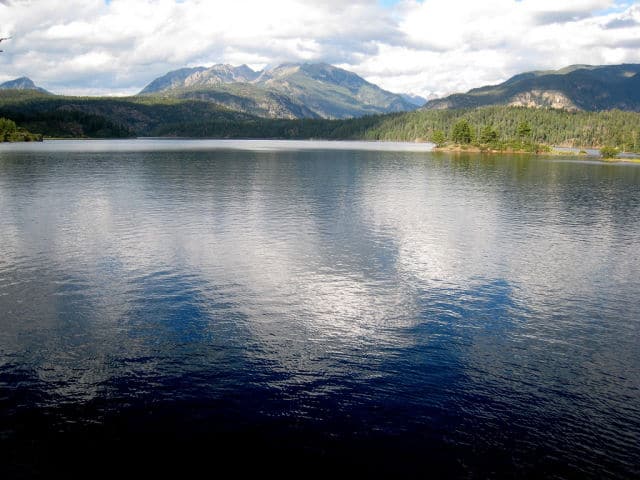 The majestic peaks of the San Juan Mountains stand guard over the breathtaking beauty of southwestern Colorado's Electra Lake. Found 25 miles north of Durango in La Plata County, Electra Lake is not just a destination – it is a chance to experience the rich heritage and breathtaking beauty of the American West.
Electra Lake is an off stream reservoir serving as the primary water storage facility for the Tacoma Project's power generation. Water from Cascade Creek, Little Cascade Creek and Elbert Creek are diverted through four dams to fill Electra Lake. Cascade Creek Diversion Dam diverts water from Cascade Creek to Little Cascade Creek. Aspaas Dam diverts water from Cascade Creek and Little Cascade Creek into the north end of Electra Lake. Stagecoach Dam is also located at the north end of Electra Lake and serves as the reservoir's spillway. Terminal Dam was the first dam constructed around 1906 and reconstructed in 1980 and 1981 to impound 22,000 acre-feet of water and create Electra Lake.
Today Electra Lake, also known as Cascade Reservoir, is owned and operated by Xcel Energy. In conjunction with Xcel Energy, daily management of recreation at Cascade Reservoir is handled by the Electra Sporting Club. Drawn to the beauty and sporting opportunities of Electra Lake, the Electra Sporting Club formed in 1910 to help preserve and enjoy the recreation found at Electra Lake. Today the organization maintains a small staff, new clubhouse and restaurant along the lake's 10-mile shoreline.
Although privately maintained, Electra Lake is open to the public during daylight hours from June to October. Fishing is the most popular recreation at Electra Lake, so anglers will want to arrive early. To maintain the serenity of the lake, the Electra Sporting Club maintains a daily visitor limit. No fishing license is required on Electra Lake, but a visitor's fee is assessed. Cascade Reservoir is managed as a cold-water fishery producing large quantities of brown trout, brook trout, rainbow trout and cutthroat trout. Tossing a line from the shore or canoe may also bring in a bullhead or bluehead sucker.
Three recreation areas are available for public use. Nunn Recreation Area is located at the southwest end of four-mile long Electra Lake. Here you will find a parking lot that will accommodate vehicles and trailers, a boat ramp, floating dock, fish cleaning station, restroom, picnic tables and cooking grills. The Westinghouse Parking and Picnic Area is located on the west shore. A restroom, picnic table, parking and path to shoreline fishing are found here. The same facilities and amenities are found at the Edison Parking and Picnic Area on the east shore of Cascade Reservoir. There are no campgrounds at Electra Lake. Campers will find campsites within the San Juan National Forest at Haviland Lake, another excellent fishing lake, about a half-mile southwest of Electra Lake.
Mule deer, elk, black bear, mountain lions, Rocky Mountain big horn sheep, wild turkey and blue grouse are among the wildlife roaming the mountains around Electra Lake making wildlife watching, photography, hiking and mountain biking popular pastimes. With altitudes nearing 14,000 feet, the San Juan Mountain peaks see snowfall almost year around. That means world-class ski facilities, winter sport parks, lodges and resorts are only minutes away from Electra Lake.
While you are canoeing around islands, coves and bays on picture-perfect Electra Lake, don't be surprised if you hear the distant sound of a steam locomotive. The Durango & Silverton Narrow Gauge Railroad runs past Electra Lake on a scenic ride you will not want to miss. Originally built to bring silver and gold ore out of the mountains, this historic train has been in continuous operation since 1882. Today, the ride between Silverton and Durango is rated on of the world's top ten train rides.
Located in Colorado's Southwest Tourism Region, the old mountain community of Durango is now a modern city with approximately 15,000 residents who lovingly care for their historic downtown. Located 25 miles south of Electra Lake, Durango offers a wide selection of restaurants with mouth-watering cuisine, unique shops offering everything from fine art to fishing gear, and entertainment for the kids at museums and the Durango Recreation Center.
The Animas River runs near Electra Lake and through the city of Durango. The Animas is a "gold medal" fishery known for the highest quality rainbow and brown trout. Some stretches of water are restricted to fly fishing only, but all stretches of water are open for fun and sports. For those who prefer to ride the waves, the Animas River provides Class I through Class III rafting depending on the season and river's flow.
Historic Mesa Verde National Park lies 56 miles west of Durango. Over 4,000 archeological sites are preserved within this park, the first national park established to "preserve the works of man." The remains of cliff dwellings, pithouses and masonry towers provide a glimpse into the lives of ancestral Puebloans who lived on the mesas for over 700 years, from A.D. 600 to A.D. 1300.
Electra Lake is surrounded by the wild beauty of San Juan National Forest. The alpine meadows, steep rocky cliffs, sparkling water and amazing wildlife combine to make Electra Lake a prize among Colorado lakes. Real estate properties and vacation rentals can be found within view of Electra Lake, and throughout La Plata County. Choose from a select number of cabins and homes that dot the shoreline and hillsides of Electra Lake and treasure the rare opportunity to own a piece of the American West.
Things to do at Electra Lake
Vacation Rentals
Fishing
Boating
Canoeing
Camping
Campground
Picnicking
Cabin Rentals
Hiking
Biking
Wildlife Viewing
Birding
National Park
National Forest
Museum
Fish species found at Electra Lake
Brook Trout
Brown Trout
Cutthroat Trout
Rainbow Trout
Sucker
Trout
---
Electra Lake Photo Gallery
Electra Lake Statistics & Helpful Links
Spread the word! Share our Electra Lake article with your fellow Lake Lubbers!