Echo Reservoir, Utah, USA
Lake Locations:
USA - West - Utah - Mountainland -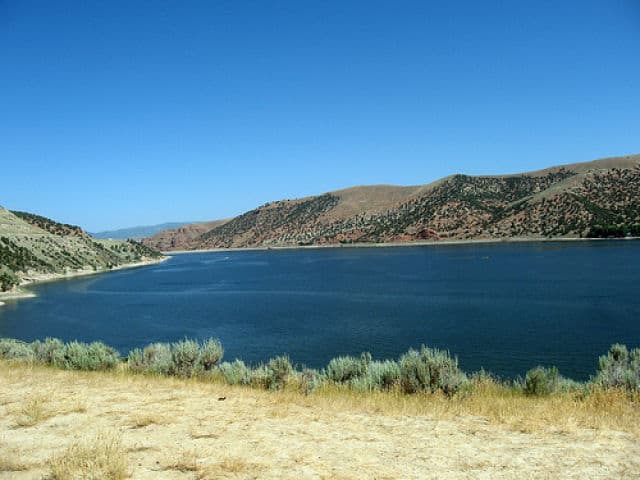 Echo Reservoir sits almost smack in the middle of the countryside between Salt Lake City and the Utah/Wyoming border. It's hard to miss, as Interstate 80 runs right along its shore for about 3 miles. It was created in the early 1930s to help retain the water that thawed from the nearby Uintas Mountains and subsequently caused overflow of the reservoir's sole tributary – the Weber River. It was one of several reservoirs constructed at the time.
Echo Reservoir's main purposes are irrigation, recreation, flood control, and hydropower. The Bureau of Reclamation owns and operates the dam; the Bureau also administers recreation, fish, and wildlife services and programs on the lake. The Weber River Water Users Association operates the irrigation water distribution system. Echo Reservoir is classified as mesotrophic (moderate nutrient levels). This is most likely due to farmland runoff and the natural results of the high recreational activity on the water.
Sitting at an elevation of 5,560 feet above sea level, most of the terrain around Echo Reservoir is sagebrush and grass. The one area around the lake with nice shade trees is privately owned with a marina, campground, boat ramp, boat rentals, convenience store, and restroom facilities. Fees are charged for all activities. South of this private establishment is a free public boat launch.
With a surface area of almost 1,400 acres, Echo Reservoir hosts quite a bit of activity year round. In late summer the water levels drop enough that recreation drops off also. But that doesn't keep the fishermen away. Echo Reservoir is a prime spot, and the anglers who know about it don't really care if anyone else realizes it or not. Yellow Perch, Brown Trout, Rainbow Trout, Small and Largemouth Bass, and Channel Catfish are well stocked and seem to get better every year.
Summertime recreation choices at Echo Reservoir include mountain biking, horseback riding, ATV trails, camping, canoeing, all of the normal fun lake stuff, nearby alpine slides and even hot air balloon rides. In the winter, skiing is the most popular choice, but there are always snowshoeing, cross country skiing, snowboarding, snowmobiling, tubing and sleigh rides too.
Nearby you will find Park City, the world famous site of the Sundance Film Festival. There are also several other reservoirs in the vicinity – Jordanelle, East Canyon, Pineview, and Deer Creek are all relatively close. And with Salt Lake City so near, it would almost be a crime not to swing into town for some fun. Or, Yellowstone National Park isn't that far away either. The Echo Reservoir area could easily be a base of operations for a multi-week vacation!
This Mountainland region of Utah is really an outdoor lover's paradise. The extreme heat of summer decreases tourism in August, but in general the area is hopping. Whether you visit in the summer or the winter, there is plenty of fun to be had by all parties. The beauty of the area is unmatched, and the memories just waiting to be made here can be too.
Things to do at Echo Reservoir
Vacation Rentals
Fishing
Boating
Canoeing
Tubing
Camping
Campground
Hiking
Biking
Snowboarding
Cross-Country Skiing
Snowmobiling
Horseback Riding
Wildlife Viewing
National Park
Fish species found at Echo Reservoir
Bass
Black Bass
Brown Trout
Catfish
Channel Catfish
Largemouth Bass
Perch
Rainbow Trout
Trout
Yellow Perch
---
Echo Reservoir Photo Gallery
Echo Reservoir Statistics & Helpful Links
Spread the word! Share our Echo Reservoir article with your fellow Lake Lubbers!