East Grand Lake, Maine, USA
Lake Locations:
USA - New England - Maine - Aroostook County -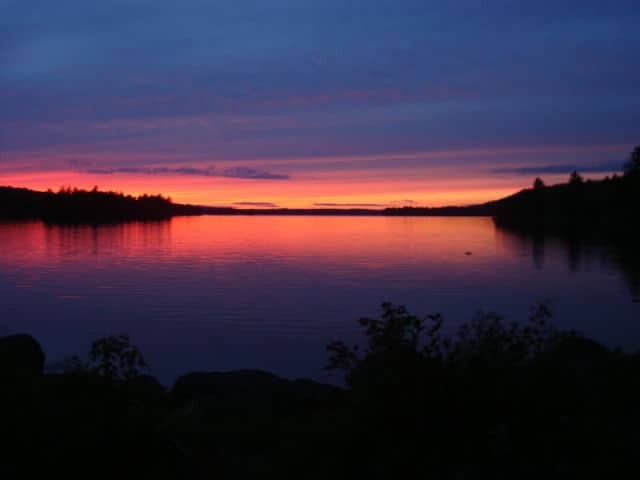 East Grand Lake is a part of the Maine's Chiputneticook chain of lakes, along with North, Palfrey and Spednic Lakes. Lengthwise, it is cut nearly precisely in half by the border shared by the U.S. and the New Brunswick province of Canada. The lake is 22 miles long and four miles wide, covering an impressive 16,070 acres. It boasts a maximum depth of 128 feet, and serves as a part of the Saint Croix River Basin for the East Branch of the St. Croix River. A proud part of the Aroostook County Tourism Region, these 365 miles of rocky shoreline are fringed with thick, unspoiled woodlands.
East Grand Lake's Forest City Dam is an earth embankment dam with a gated timber spillway. Only the western 147 feet, or one quarter, of the 544-foot long dam resides on U.S. territory – the rest is situated in Canada. Maximum height for the U.S. portion of the dam is 12 feet, with a 55-foot wide grated timber crib spillway, elevated 437.27 feet above mean sea level.
Facilities at East Grand Lake include boat docks and public parking. Campgrounds feature conveniences like water and electric hookups, laundromats, playgrounds and swimming pools. Just southwest of the lake lies the municipality of Danforth, where visitors can find gas stations, supermarkets, convenience stores and a handful of restaurants. Shore lots, real estate and vacation rentals are available.
Fishing is the name of the game at East Grand Lake, a place known statewide for its cold water game fish – namely landlocked salmon, lake trout, brook trout and smallmouth bass. The lake's fish have a fascinating evolutionary history. About 12,000 years ago, the entire area was blanketed by the Atlantic Ocean and all of the corresponding saltwater salmon in it. When the glaciers melted after the last ice age, water levels dropped dramatically, trapping water inside nooks and crevices that have become today's lakes and ponds. The Atlantic salmon populations were forced to adapt in order to survive in these landlocked freshwater lakes, and evolve they did – today they are one of the most successful species in the area. Other modern varieties of fish at East Grand feature white perch, yellow perch, round whitefish, and chain pickerel. Most species rely heavily on the large population of smelt present in these waters.
East Grand Lake boasts one of the most successful landlocked salmon hatcheries in Maine, and catches of six to eight pounders are common. Smallmouth bass range from two to six pounds, and Maine lake trout from four to 12 pounds(but catches of up to 26 pounds have been recorded). The best time to fish East Grand Lake is during May, June and September for salmon; and June and July for smallmouth bass. Salmon like to congregate at lake branches like Meeting House Point, Five Islands, Hayes Point, Caribou Point and Little River Cove. Bass are plentiful at big English Cove, Norway Point,and The Arm. If you plan to fish both the U.S. and Canadian sides of the lake, make sure to first acquire fishing licenses from both countries. Fishing schools and sporting camps are available nearby, and are happy to provide instruction and advice.
East Grand Lake's blue, crystal waters also offer a variety of other recreational activities for visitors and residents. Swimming is a simple way to enjoy nature at its finest, as is quietly sailing or canoeing through this pristine basin. Kayaking and boating also offer opportunities to appreciate the lake's stunning panoramas, providing possibilities to glimpse wildlife like deer, coyote, bear, and moose. Interesting bird species include bald eagles, black-back woodpeckers, chickadees and yellow-bellied flycatchers, which can be observed throughout the miles of forested trails surrounding the lake. Unforgettable picnics can be had at the Greenland Islands, a 6.1-acre piece of wooded land situated near the entrance to the Greenland Cove Campground. During the colder winter months, visitors can enjoy cross-country skiing, snowmobiling, snowshoeing and partaking in the annual ice fishing derby held in January. A year-round must-see for history buffs is the Grand Lake Stream Historical Society Museum, which provides information about the lake area's past and traditions.
With its rich history and environmental significance, East Grand Lake is a veritable New England treasure. Both visitors and residents alike marvel at the numerous opportunities to glimpse the phenomenal bird and wildlife species with which they share this sparkling habitat.
Things to do at East Grand Lake
Vacation Rentals
Fishing
Ice Fishing
Boating
Sailing
Swimming
Swimming Pool
Canoeing
Kayaking
Camping
Campground
Picnicking
Hiking
Cross-Country Skiing
Snowmobiling
Wildlife Viewing
Birding
Museum
Playground
Fish species found at East Grand Lake
Bass
Black Bass
Brook Trout
Chain Pickerel
Lake Trout
Perch
Pickerel
Pike
Salmon
Smallmouth Bass
Smelt
Trout
White Perch
Whitefish
Yellow Perch
---
East Grand Lake Photo Gallery
East Grand Lake Statistics & Helpful Links
Spread the word! Share our East Grand Lake article with your fellow Lake Lubbers!