Beech Hill Pond, Maine, USA
Lake Locations:
USA - New England - Maine - Down East & Acadia -
Also known as:  Beech Hill Lake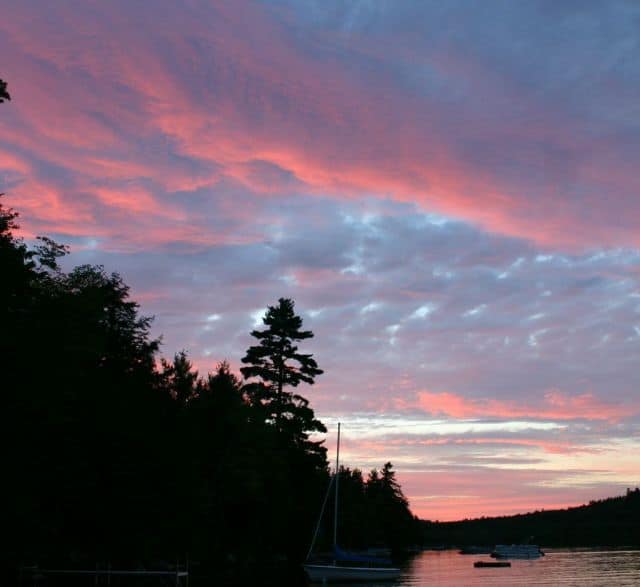 The coffee cup warms her hands as she sits on the dock in the early morning chill, watching a pair of loons glide across the water, their distinctive calls cutting the air. In a few hours there will be boats and children swimming and splashing in the clear, clean water, but for now there is calm, respite and the natural beauty of Downeast Maine. This is morning on Beech Hill Pond.
Also known as Beech Hill Lake, the 4.5-mile long, one-mile wide spring-fed lake is rimmed with New England saltboxes and quaint cottages. Fortunately, the boulder-filled and tree-lined shore still feels undisturbed enough to offer guests as much seclusion as they seek. Most of the homes around the lake are vacation rentals, but there is some real estate for sale for those lucky enough to find it. It's hard to imagine anyone wanting to leave this place, and there will always be more people that want to stay.
With 1,422 acres of water, there is more than enough space for boating, sailing, water skiing, and jet skiing, but Beech Hill Pond is still quiet enough for canoes and kayaks. The coves and shore offer plenty of places to explore, and a large rock about a half-mile into the lake is popular with boaters and swimmers. Quite a few of the vacation rentals come equipped with their own kayaks and boats. For those that don't, however, there are local outfitters that will deliver boat rentals. In 1983, the Town of Otis built a public boat landing above the lake's outlet on the southwest shore. It provides access to Beech Hill Lake for those not staying at the waterfront.
Beech Hill Pond is well known as a great cold water sport fishery. In fact, in 1958 Hollis Grindle pulled the Maine State Record lake trout out of Beech Hill Pond. The 31.5-pound, 41-inch long fish still holds the record today, and lake trout, or toque as they're known locally, draw anglers from all over. There are also abundant populations of landlocked salmon, brook trout, smallmouth bass, and pumpkinseed sunfish. In the winter, there is also ice fishing on the lake.
Just 30 minutes from Bar Harbor, Beech Hill Lake offers visitors a quiet Maine retreat while providing them access to restaurants, shops and the rich history of Hancock County. Guest can spend the day whale watching or looking for puffins from a touring schooner on Frenchman's Bay and return home to their cottages in the evening to watch the loons and bald eagles that make Beech Hill Pond their home. The lake is only a few miles from Otis, and Ellsworth, the county seat, is only 10 miles away. The first schooner was built in Ellsworth in 1773, and the shipyards were active until the early 20th century. With its seafaring history, it is a charming place to explore.
People come from around the world to visit Acadia National Park, just 30 minutes from Beech Hill Pond. The first national park east of the Mississippi, Acadia National Park offers miles of hiking and biking trails up the mountains and around the rocky coast, giving access to some of the most breathtaking views on the east coast. Visitors can hear the surf pound and boom at Thunder Hole or look down on the world from the Precipice, 1,000 feet up the east face of Champlain Mountain. For those willing to get up early, sunrise from Cadillac Mountain is awe inspiring. At 1,530 feet, it is the highest point on the Atlantic Coast, and anyone that sees the sunrise from here is the first to see the sunrise on the east coast.
Beech Hill Pond is also near Lamoine State Park, offering beautiful views of Frenchman's Bay, camping and saltwater fishing. The lake is the perfect home base for a variety of down east Maine attractions. Its quiet family friendly nature also makes it the perfect place to recover from a world that sometimes moves too quickly.
Things to do at Beech Hill Pond
Vacation Rentals
Fishing
Ice Fishing
Boating
Sailing
Swimming
Canoeing
Kayaking
Jet Skiing
Water Skiing
Camping
Hiking
Biking
Birding
State Park
National Park
Fish species found at Beech Hill Pond
Bass
Black Bass
Brook Trout
Lake Trout
Pumpkinseed
Salmon
Smallmouth Bass
Sunfish
Trout
---
Beech Hill Pond Photo Gallery
Beech Hill Pond Statistics & Helpful Links
Spread the word! Share our Beech Hill Pond article with your fellow Lake Lubbers!