Donner Lake, California, USA
Lake Locations:
USA - West - California - Gold Country -
Also known as:  Truckee Lake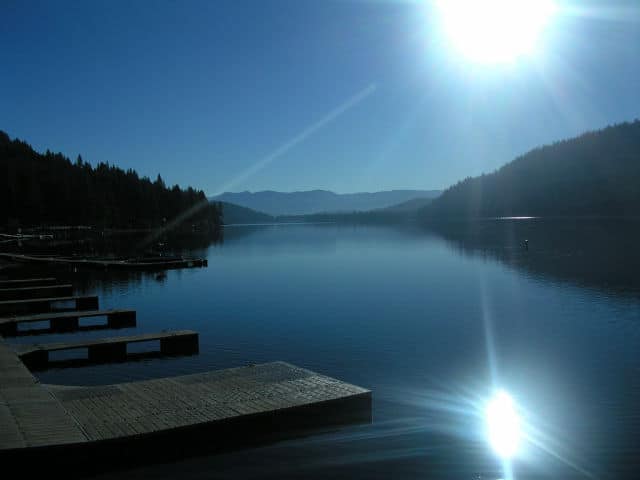 Steeped in the history of America's Emigrant Trail, Donner Lake sits in California's beautiful Sierra Nevada Mountains. Found within Nevada County's charming community of Truckee, Donner Lake is a pleasant 100-mile drive east of Sacramento, 17 miles from Lake Tahoe, and less than 40 miles from Reno, Nevada.
Evidence of human habitation at Donner Lake covers at least 6,000 years. People of the Washoe tribe were among the native populations who hunted, fished and freely moved through the passes of the High Sierras. By the middle of the 19th century, Americans were taking their dreams of a new beginning and moving west to build a future in California. Crossing the country in wagon trains was wrought full of hazards and hardships, and none was greater than crossing the High Sierras. During the winter of 1846-1847 the Donner Party (also called the Donner-Reed Party) found themselves unprepared when a brutal mountain blizzard trapped the party east of Donner Lake (then called Truckee Lake).The party lost at least 39 men, women and children to starvation and cold, leaving 48 survivors to tell the story of their suffering and struggle to survive. A monument now stands near the campsite in honor of the thousands who crossed the Emigrant Trail.
Named for the party leader, George Donner, Donner Lake is a beautiful alpine lake. Donner and Summit Creeks helped create Donner Lake when glaciers carved a path along a rock fault carrying debris that formed a natural dam. Today Donner Lake is approximately 2.6 miles long and .75 miles wide with a maximum depth of 230 feet and an average depth of 108 feet. Snowmelt provides the majority of inflow to Donner Lake with the water level now controlled by a man-made dam built in 1928. Owned and operated by Nevada Energy and Truckee-Carson Irrigation System, water from Donner Lake is distributed throughout the Truckee River system.
Donner Lake's 960 acres of sparkling water and eight-mile shoreline are open to camping, picnicking, boating, fishing, water-skiing, and hiking. When the snow begins to fall visitors can cross-country ski and snowshoe along hiking trails. With the town of Truckee lying at the east end of Donner Lake and Donner Lake Memorial State park lying along the lake's southern shore, you will find fun and adventure around every corner. Over 30 public piers are used for fishing and boating with beautiful 10-acre West End Beach attracting swimmers and sunbathers. For added safety, lifeguards are on duty seasonally. Shoreline Park, located along the north shore, has a fishing dock designed for those with limited mobility. Additional park features include a small-craft launch, picnic area and restrooms. Shoreline Park and China Cove have been identified as excellent scuba diving sites.
A fee-based public boat ramp has been built at Donner Lake's northwest corner where you can launch your power boat, sailboat, canoe, kayak or personal water craft (check for future restrictions on personal water craft). A full-service marina with boat rentals is available for those who have a last minute urge to fish. Truckee Lake is periodically stocked with trout and claims to have some of California's largest lake trout. Other species include rainbow trout, brown trout and Kokanee salmon. Before casting your line, remember that a valid fishing license is required.
Surrounded by Tahoe National Forest, and sitting east of the crest of the Sierra Nevada mountain range, Donner Memorial State Park maintains more than three miles of water front along Donner Creek and Donner Lake's southeastern shore. Over 150 campsites with tables, stoves and bear-resistant food lockers sit among the towering lodgepole pines and white fir trees. Restrooms and showers are provided with some sites able to accommodate RVs. The park does not provide a boat launch, but families come to enjoy outings at the beach and picnic grounds available in the day-use area.
Hikers have several trail options within Donner Lake Memorial Park. A half-mile nature trail and separate lakeside trail include interpretive signs and chance encounters with deer, squirrels, chipmunks, porcupines, raccoons, beavers and birds native to the area. A 2.5-mile scenic hiking trail follows a path through time as it traces portions of the historic Emigrant Trail. At several points near Donner Lake and along the park's trails, visitors can enter the back country and join the 2,650-mile Pacific Crest Trail running from Mexico to Canada. Those who head into the mountains will find additional trails for horseback riding and mountain biking.
A major attraction at Donner Lake Memorial State Park is the Emigrant Trail Museum. A history of Donner Lake is told from the time of the region's first native inhabitants through the construction of the transcontinental railroad. The stories of the Emigrant Trail and Donner Party are told through film, exhibits, displays and park personnel. Erected in 1918, the Pioneer Monument and sites of Donner Party cabins sit near the museum.
While the southern shore of Donner Lake parallels Placer and Nevada County lines, the historic community of Truckee lies within Nevada County in California's beautiful Gold Country. Surrounded by spectacular scenery and some of the best snow skiing, snow shoeing and snowboarding in the Sierra Mountains, Truckee has become an ideal vacation destination. Here you can explore historical attractions, browse appealing little shops, sample the selection of cozy restaurants, and drink in the hospitality and charm of small town life. Whether you bed down at a campground, select a distinctive vacation rental, pamper yourself at a lakeside resort, or purchase a real estate property with a view of Donner Lake, you will know you have arrived at a unique destination. As Truckee's Chamber of Commerce states, Donner Lake is "so far from everything that you know, so close to everything that you want."
Things to do at Donner Lake
Vacation Rentals
Fishing
Boating
Sailing
Swimming
Beach
Canoeing
Kayaking
Water Skiing
Scuba Diving
Camping
Campground
Picnicking
Cabin Rentals
Hiking
Biking
Downhill Skiing
Snowboarding
Horseback Riding
Wildlife Viewing
Birding
State Park
National Forest
Museum
Fish species found at Donner Lake
Brown Trout
Kokanee Salmon
Lake Trout
Rainbow Trout
Salmon
Trout
---
Donner Lake Photo Gallery
Donner Lake Statistics & Helpful Links
Spread the word! Share our Donner Lake article with your fellow Lake Lubbers!