Doctors Lake, Florida, USA
Lake Locations:
USA - South - Florida - North -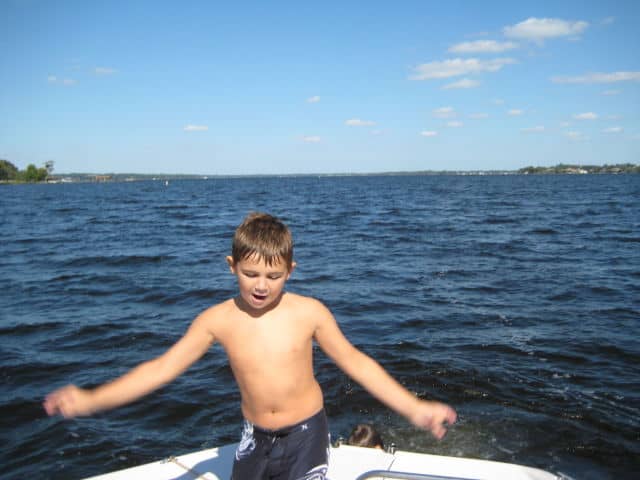 Doctors Lake is a 3,500-acre tidal freshwater embayment located on the west side of the St. Johns River in Clay County, Florida, just 37 miles from the river's confluence with the Atlantic Ocean. Doctors Lake is connected to the St. Johns River by a narrow 1/4-mile wide tidal inlet known as Doctors Inlet. The lake is an elongated estuary about five miles long and one mile wide. Due to its proximity to the Atlantic Ocean, the water of Doctors Lake is brackish.
Most of the 13-mile shoreline of Doctors Lake is surrounded by residential development with docks and bulkheads. The community of Orange Park is located on the north side of the lake, and Lakeside is situated on the western shore. The only undeveloped areas around Doctors Lake are the wetlands of Swimming Pen Creek on the lake's southwestern end.
The St. Johns River Water Management District and the Doctors Lake Restoration Group have been working to improve this beautiful lake's water quality. Due to the single tidal inlet from the river and little tributary inflow from wetland creeks, water circulates slowly through Doctors Lake. The increased storm water runoff from rapid residential development, combined with this slow circulation, can lead to algal blooms during warm weather. Efforts have focused on reducing storm water runoff.
Doctors Lake Park is a Clay County recreation area located south of Orange Park in the community of Fleming Island. This one-acre park provides a picnic area with a covered pavilion, a 320-foot fishing pier, and boat access to the lake.
Fishing is one of the most popular activities at Doctors Lake. Warm temperatures and brackish water combine nicely to create fishing conditions that engender the loyalty of anglers from miles around. Blue crabs are found at Doctors Lake, a delicacy that you must try at least once in your lifetime. Jumbo crabs also swim the waters, making a fine addition to a nice lemon-butter sauce. And if you're in possession of a casting net, throw it in and see if you can catch enough shrimp to fill your plate. Beyond these sumptuous lake lurkers, you can find bluegill, black crappie, largemouth bass, speckled trout, and yellowmouths. Whatever your pleasure, you can certainly catch your fill here at Doctors Lake.
To go fishing, you need a boat, and boating for pleasure and for sport is certainly an enjoyable activity at the lake. Boat slips, boat ramp, and boat rentals are available to the public at the local marina. Depending on your desires and personality, you can rent a leisurely pontoon boat or an adrenaline-pumping speedboat. And if you're looking for something extra-special, splurge on a houseboat and enjoy your vacation sleeping, eating, and living on the water.
Bring your camera and photographer's eye when visiting Doctors Lake. The forested wetlands around the lake's undeveloped creeks provide tree canopies of cypress, red maple, blackgum, wax myrtle, Carolina willow, and sweetgum. Many species of birds make their homes in the trees, including cardinals, bluejays, tufted titmice, red-bellied woodpeckers, Carolina wrens, and warblers. Aquatic wildlife paddle through the water and glide through the air, so keep your eyes peeled for cormorants, coots, belted kingfishers, mallards and other domesticated ducks. Spectacular sunsets paint the scenery at night, reflecting beautifully on the rippling lake waters. So pack your bags for lots of fun and relaxation at Doctors Lake.
Things to do at Doctors Lake
Vacation Rentals
Fishing
Boating
Swimming
Picnicking
Wildlife Viewing
Birding
Fish species found at Doctors Lake
Bass
Black Bass
Black Crappie
Bluegill
Crappie
Largemouth Bass
Sunfish
Trout
---
Doctors Lake Photo Gallery
Doctors Lake Statistics & Helpful Links
Spread the word! Share our Doctors Lake article with your fellow Lake Lubbers!