Devils Kitchen Lake, Illinois, USA
Lake Locations:
USA - Midwest - Illinois - Southern -
Also known as:  Crab Orchard National Wildlife Refuge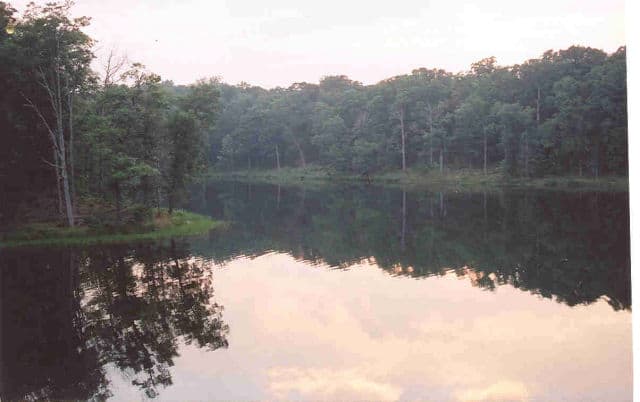 Devils Kitchen Lake is one of three lakes (the other two are Crab Orchard Lake and Little Grassy Lake) that are part of the Crab Orchard National Wildlife Refuge in southwestern Williamson County of Illinois. The refuge is maintained by the Department of the Interior's Fish and Wildlife Service. Devils Kitchen Lake has an 810-acre surface area and was formed by the impounding of southern Illinois' Grassy Creek. It is about 4 miles long and 0.25 miles wide.
The area which Devils Kitchen Lake now lies was once a valley where early pioneers often camped, taking pause from their journeys in order to rejuvenate. Vegetation from the valley was not removed before being flooded, so there are still standing trees in the lake. Therefore, swimming is prohibited due to standing timber, with fines imposed for violators. Three boat ramps and a campground are available. Outboard motors are limited to 10 horsepower, and the southeast end of the lake is reserved for electric motors and paddlers. The U.S. Fish and Wildlife Service maintains a recreational user fee. Patrons can obtain a one-day, 5-day or yearly pass at the Visitor's Center located on Route 148 South.
Before the days of the Crab Orchard National Wildlife Refuge, the lands surrounding Devils Kitchen Lake consisted of farms. But as a result of excessive use, the land's resources were exhausted and 32,000 acres of it were handed over to the Resettlement Administration in 1936 for a new plan. The Crab Orchard Creek Project, as the administration's plan was called, outlined the construction of three lakes for recreation and industrial water supply. The project was transferred to the War Department during World War II and then again to the Department of the Interior's Fish and Wildlife Service, delaying Devils Kitchen Lake's completion until 1959.
The lake's intriguing name has two origins. One refers to a large, black rock ledge that overlooked the valley where travelers set up their camp fires and cooked their meals. Black, having a particularly dark connotation at the time, helped give rise to "Devil's Kitchen." Eleanor Roosevelt is credited with the other name origin. During World War II, when work on the Crab Orchard Creek Project was stopped, homeless people inhabited the facilities. When work was resumed after the war, Franklin and Eleanor visited the area to view the project's progress. When Eleanor walked into the messy cook house, she is reported to have said "This truly is the Devil's kitchen."
Devils Kitchen Lake is one of few lakes in Illinois where rainbow trout still abound. These freshwater fish like the cool, deep water of the reservoir that measures up to a maximum depth of 90 feet. Anglers can also find crappie, bluegill, bass and redear fish. Due to the 10 horsepower limit, the lake is quiet and calm, providing opportunities to glimpse deer or wild turkey near the water's edge. Other wildlife that make Crab Orchard National Wildlife Refuge their home include American bald eagles, river otters, water birds such as American coots, turtles, bobcats, raccoons, opossums, beavers, quail, and cottontail rabbits.
Visitors should also take advantage of the many other attractions that Williamson County has to offer. After a long, relaxing trip on Devils Kitchen Lake, explore other parts of the Crab Orchard National Wildlife Refuge. Visit one or two of the ten award-winning wineries and vineyards or gallivant the time away in one of the neighboring towns. A historical museum, golf courses, art and cultural activities, exquisite dining experiences, and antique shopping are just few of the possibilities awaiting you in Williamson County. Comfortable accommodations are available. The county has a varied selection of inn, motel, suite and cabin lodgings.
Things to do at Devils Kitchen Lake
Fishing
Boating
Golf
Camping
Campground
Cabin Rentals
Wildlife Viewing
Birding
National Wildlife Refuge
Museum
Antiquing
Shopping
Fish species found at Devils Kitchen Lake
Bass
Bluegill
Crappie
Rainbow Trout
Redear Sunfish (Shellcracker)
Sunfish
Trout
---
Devils Kitchen Lake Photo Gallery
Devils Kitchen Lake Statistics & Helpful Links
Spread the word! Share our Devils Kitchen Lake article with your fellow Lake Lubbers!