DeGray Lake, Arkansas, USA
Lake Locations:
USA - South - Arkansas - Ouachitas -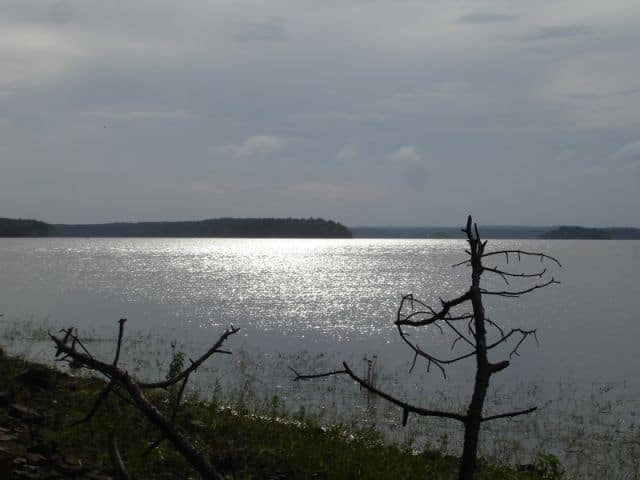 DeGray Lake is nestled in the foothills of the Ouachita Mountains, in an area logically known as the Ouachita Mountain Region of Arkansas. This section of Arkansas is known for its scenic views, which are both breathtaking and the ideal surroundings for a relaxing retreat. Created as a recreational lake, DeGray Lake offers many entertaining activities including boating, swimming, scuba diving, fishing and camping.
In addition to its recreational purposes, DeGray Reservoir was authorized to control floods and produce hydroelectric power by the River and Harbor Act of 1950. It was later commissioned to supply water through the Water Supply Act of 1958. DeGray Dam was completed in 1972 after impounding of the Caddo River. The DeGray Dam and Power Plant is the first pumped-storage electric generation facility built by the Corps of Engineers. A conventional hydraulic turbine is located downstream from the dam and is used to generate electricity for parts of Arkansas, Oklahoma and Texas. Additionally, the Water Supply Act dictated that Hot Spring, Clark and Garland Counties would receive water from DeGray Lake. Due to its recreational value and water supply, DeGray Lake has become an important resource to the Ouachita Mountain Region.
The DeGray Lake area is rooted in history, which can be traced back to AD 700. The Caddo Native Americans originally inhabited the region, giving the Caddo River its name. In 1541, when the Caddo Native Americans were still living in the area, the explorer DeSoto passed through during his expeditions. Fur trappers soon arrived to the region, and called their first settlement the DeGray community, giving the future DeGray Lake its name. The DeGray Lake Visitor Center has a display of Caddo artifacts.
With 208 miles of shoreline and 13,400 surface acres of water, DeGray Lake visitors will enjoy many recreational activities. Anglers can cast in their line and try to catch a number of game fish, including largemouth bass, smallmouth bass, spotted bass, walleye, channel catfish, blue catfish and flathead catfish. Hunters will find designated hunting areas, where they may encounter white-tailed deer, black bear and bobcat. Lake visitors who enjoy nature watching or bird watching should cast their eyes above and around for bald eagles, ducks, loons, wild turkeys and herons. Additionally, a State Wildlife Management Area (WMA) was established on DeGray Lake and consists of approximately 31,800 acres of land and water. The WMA provides opportunity for hunting and wildlife viewing while protecting the natural habitat of the animals that make DeGray Reservoir their home.
DeGray Lake visitors who like to camp will be pleased to find campsites dotting the lake's shoreline. Catering to every kind of camper, Lake DeGray offers full hook-ups as well as primitive camp sites. In addition to camping, there is a choice of Corps-operated recreational areas with boat ramps, more than a dozen swimming beaches, and a state park to enjoy. In fact, the DeGray Lake Resort State Park is the only state resort park in Arkansas. The State Park offers an 18-hole championship golf course, a convention center, lodge, tennis courts, swimming pool, and a full-service marina.
Although DeGray Lake has no lakefront residential development, the DeGray and Hot Springs areas offer mountain hideaways and country style cottages available for sale or vacation rental. Visitors and residents alike can enjoy the rustic feel of the Ouachita Mountains foothills and still be close to lake amenities.
DeGray Lake visitors may want to take a short drive to visit Hot Springs National Park, protected by an Act of Congress since 1832. The park is the oldest in the National Park System. The hot springs have been used for years as therapeutic baths for many ailments, and people from all walks of life flocked to the resort that was nicknamed "The American Spa". Today visitors can unwind and relax in the spa-like settings that fill the bathhouses. The bathhouses, now called Bathhouse Row, are where the refreshing waters of the hot springs emerge, and bathing in the hot springs are only permitted in the bathhouses. In addition to the bathhouses, Hot Springs National Park offers hiking, scenic drives and picnicking. With all Hot Springs has to offer, lake visitors do not need to leave empty handed. Visitors are encouraged to collect the crystal clear spring water in bottles or jugs to take home with them.
While in Hot Springs, DeGray Lake visitors should spend some time touring the Ouachita National Forest which covers 1.8 million acres in central Arkansas and southeastern Oklahoma. The Forest is located primarily in the Ouachita Mountains and offers many nature-loving activities. The trails that meander through the Forest provide places for hiking, horseback riding, off-road vehicle riding and mountain biking. In addition to the trails, visitors will enjoy fishing in the many streams and lakes, as well as hunting and camping.
The beauty of Lake DeGray will remain for years to come due to "Keeping DeGray Lake Beautiful", which established community improvement and beautification through litter control, waste reduction and recycling. Lake visitors can help by taking part in making sure they do not leave anything behind after visiting DeGray Lake. Whether visitors want to sunbathe on one of the many beaches, or cast in their line for a relaxing time of fishing, they will find DeGray Lake has just what they are looking for and will return time and time again to enjoy the natural beauty around them.
Things to do at DeGray Lake
Vacation Rentals
Fishing
Boating
Swimming
Swimming Pool
Beach
Scuba Diving
Golf
Tennis
Camping
Picnicking
Hiking
Biking
Horseback Riding
Hunting
Wildlife Viewing
Birding
State Park
National Park
National Forest
Fish species found at DeGray Lake
Bass
Black Bass
Blue Catfish
Catfish
Channel Catfish
Flathead Catfish
Largemouth Bass
Perch
Smallmouth Bass
Spotted Bass
Walleye
---
DeGray Lake Photo Gallery
DeGray Lake Statistics & Helpful Links
Spread the word! Share our DeGray Lake article with your fellow Lake Lubbers!